Leo is the royal sign of the zodiac. Gold is its metal and the splendour of the golden sunshine represents the lion's force of creation. The symbol of Leo symbolizes the cave of the heart. The principle of the heart is the principle of pulsation; it is linked to the soundless sound called anahata, the Sanskrit name for the heart center. In the cave of the heart, the initiates tune into the pulsation as the music of the soul. The radiant golden face of the lion with golden rays emanating from his heart is a meditation on the qualities of this sign.
The central star of the constellation Leo is called Regulus and it is also called the heart of the lion. Through Regulus the transmission of Sirius' spiritual energies into our system takes place.
I used a photo of a statue in Rajahmundry, India, to design the figure of the lion. I placed a radiant sun and the glyph of the sign at the heart of the lion. Coloured concentric circles indicate the pulsation. Above the head you see the constellation Leo; Regulus is directly above the head of the lion.
See more pictures on the site with my paintings. If you want to print the image, you can download the file in medium and high resolution format.
The different zodiacal signs are clustered in groups – you can see here all my Leo paintings.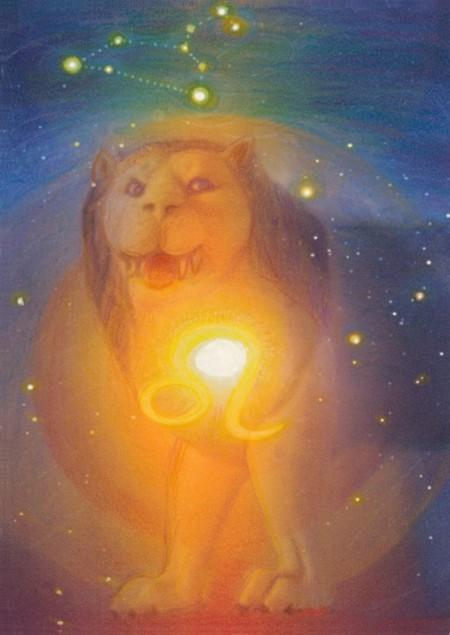 12 April 2019, pencils and photo work