Lemon Butter Pasta with Artichoke
…
every time I promise myself that I will cut down on carbs, something pulls me in
…
a picture here, an ingredient there
…
and off I go reaching for rice, bread or pasta (or all three together
!!
)
…
I call it the "Greedy Eyes" syndrome
…
this time it was the artichokes
…
they were not on my shopping list – far from it, they were not even on my mind zone
…
but once I saw these, I convinced myself that I will buy these for a nice Mediterranean salad
…
oh boy, was I fooling myself
...
by the time I reached home, the only thing on my mind was a buttery lemony pasta with these hearts for my heart
...
old habits die hard
!! đŸ˜Š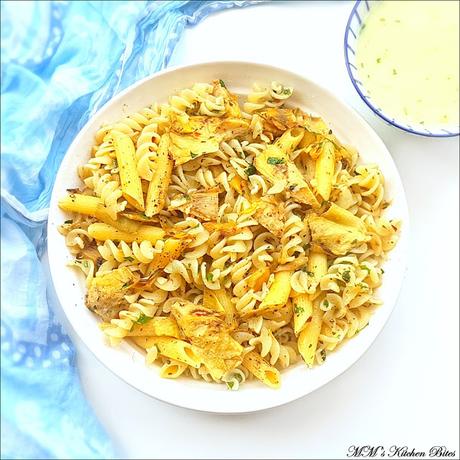 Lemon Butter Pasta with Artichoke
Ingredients:
Pasta of your choice, 450gms

Artichoke Hearts, marinated in oil*, 250gms ( *I used fresh grilled artichokes bought from Waitrose, if using jarred/canned- ensure you use the ones marinated in oil and not in brine)

Shallot, finely chopped/minced, 1 small to medium

Garlic, peeled and minced/crushed, 2

Parsley leaves, finely chopped, 2 tbsp

Thyme leaves, finely chopped, ½ tbsp

Lemon juice, from 1 lemon

Lemon zest, from 1 lemon

Stock of your choice, ½ cup (or just use pasta water)

Salt, to taste

Pepper, to taste

Chilli flakes, to taste

Extra Virgin Olive Oil, 2 tbsp (if using jarred/canned artichokes, use the oil from the jar)

Butter, 2-3 tbsp

Parmesan, shaving

s, to serve
Instructions:
Bring a large pan of heavily salted water to the boil.  Cook the pasta according to package instructions or until al dente (reserve about a cup of pasta water for sauce)
(** Please don't wait for pasta to cook before starting on the sauce. Start the sauce when you put the water to boil**)
Meanwhile, heat a large fry pan/skillet over medium high heat and add extra virgin olive oil.
Add the shallots, garlic and chilli flakes to the pan. Sauté together for a couple of minutes till the shallots soften.
Add the artichokes, lemon zest and thyme. Toss through and sauté for about 5 minutes to let the artichokes color a little.
Stir in half of the parsley.
Lower the heat; add the butter, lemon juice and ½ cup of the stock/pasta water to the pan.
Season with salt and pepper and let the sauce simmer on low heat till the pasta is ready.
When the pasta is cooked, drain and toss it in the pan with the sauce and remaining parsley.
If the pasta seems too dry, add the reserved pasta water 1 tablespoon at a time, to loosen it a bit.
Add additional salt, pepper, and lemon to taste, if desired.
Finish with some Parmesan and/or parsley to serve.