Once we had finalized Leh Ladakh as our holiday destination, we started searching for tour organizers who could plan the best itinerary for us within our budget.
We had always planned our trips in past, but for Leh Ladakh, we decided to hire a travel agency because Ladakh is not your usual getaway location where you can just pack your bags and leave.  We need to consider every aspect and required proper planning like a well-laid itinerary, experienced & expert drivers (who are acquainted with driving on the deadliest roads in Ladakh), decent accommodations, and permits.
But choosing the right tour agency online is a daunting task.  Therefore, we first asked people we knew who had travelled before to Leh Ladakh. Through them, we got to know 2-3 travel agencies and after inquiry with them, we selected Chalbanjare as our tour organizer.
View this post on Instagram

A post shared by Jenifer $ayyed (@shaandaar_jenie)
Chalbanjare Tours
Mr. Kunal from Chalbanjare customized our trip and gave us the most affordable package (It cost me less than my Darjeeling trip excluding flight charges, Stoked? Keep reading)
 They did a fabulous job by making the most scenic itinerary covering almost all the popular places. The entire trip experience was impressive.
On the below-mentioned itinerary, the Leh market visit was only for the first day.  But when we visited Leh market which is vivid and lively, we wanted to see more of it, so the next day also we went to the market in the evening. Then on our last night, we again visited Leh market and said our 'Goodbye'.   Mr. Kunal didn't charge us extra for these two visits and we were overwhelmed by his service.
I definitely recommend Chalbanjare for the Leh Ladakh trip.
---
Now before I share our trip cost, have a look at our itinerary, so you will get a clear idea of all the places included in our package.
Trip Itinerary Daywise
Day 1 Shanti Stupa, Leh market, Leh Palace
Day 2 Leh-Sham valley
Day 3 Leh-Hunder (Nubra valley)
Day 4 Hunder-Turtuk, White sand dunes
Day 5 Hunder- Pangong lake
Day 6 Pangong-Leh
Day 7 Leh departure
This was our itinerary. There were two more places which we had skipped during our travel- Thang village and Hemis monastery.
Here is our Leh Ladakh Tour Package for 6 people for 7 days and 6 nights.
Sight-seeing places
Please refer to the above-mentioned itinerary and read my post below.
Leh Ladakh Trip in 7 days: All about our Epic Itinerary
2. Accommodations
The tour agency will give you options to select the accommodation ranging from low budget to mid-budget to expensive ones.
We had chosen mid-budget hotels for our stay as we wanted decent and hygienic rooms without pinching much in our pockets.
In Leh city, we stayed at Sankar residency for 3 nights, then Naycho resort in Hunder for 2 nights, and Native Hut in Pangong for 1 night.
3.  Transport
They had provided Van and Innova for Leh city sight-seeing and Tempo traveller for other places. Our expert driver made our journey smooth & safe.
They also provided a pickup and drop facility on our day of arrival and departure.
4. Foods & Drinks
View this post on Instagram

A post shared by Jenifer $ayyed (@shaandaar_jenie)
In our package, two meals were included in our hotel stay.
The meals were satisfactory.
5. Permits & Oxygen cylinder
They provide oxygen cylinders in case of any emergency. It was kept in our tempo.
Thankfully we didn't require O2 as we were healthy, taking proper rest and acclimatization.
MyOxy -The only fresh canned oxygen approved by FDA
Our tour agency had applied permits and taken approval for all of us.  You don't need a permit to visit Leh city and the places in Leh. 
You will need to obtain Inner Line Permit (ILP) to visit areas like all of Nubra valley- Khardung La, Diskit, Hunder, Turtuk, and Pangong Tso.
Our Tour Package
7 Days Trip 6 Adults
Hotels: Mid budget 3 (Double Room)
Permits Included
Transport Van & Innova for Leh city. Tempo traveller for other places.
Oxygen cylinder Included
Food and drinks Two meals were included
Sightseeing Included
Total 120000 INR approx
Cost per person 20000 INR approx
*Disclaimer: So this was our tour package. Kindly remember, that the cost may differ according to your accommodations, time of visit, availability, etc.
This post is meant only for the tour package knowledge.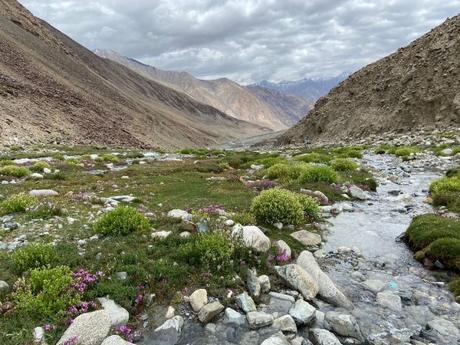 Now I am adding other charges which were not included in our package- flight charges, a one-time daily meal, snacks, cafes, and shopping.
This will give you a brief idea of the individual cost for the Leh Ladakh trip.
Leh Ladakh Trip Cost per person
Expenses for 7 days trip *Approximate Cost per person
Airfare 15000 (Delhi-Leh)
Tour package cost per person 20000
One time daily meal & snacks 4000
Cafes 2000
Shopping 2000
Total 43000 INR
I hope my travelogue will help you to plan a budget trip to Leh Ladakh.  Hope you found this post 'useful & interesting'.
If you have any queries, please comment below.  If you have any suggestions, please comment on them too.
PIN THIS POST!