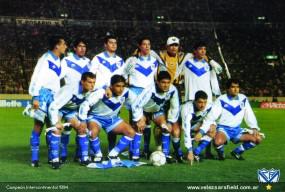 We will do our best to have a historic team each day in order to give you a better perspective of the game from as many angles as possible. These brief blurbs will for many bring back memories or even learn a thing or two. It is the aim of us here at Simply Fútbol as we don't just want to cover the game for you, we feel it.
Today's team is the 1994 Vélez Sarsfield side that faced Champions League winners AC Milan in Japan.
This team had come off a dramatic win the Copa Libertadores against Telê Santana's São Paulo at the Morumbí.  The Tricolor Paulista looked to three-peat and thus assert themselves further as the most dominant side in football at the time.  That match will be remembered by the finish via penalty kicks as well as the beginning.  That is mostly because there is one name that shone all by itself- Vélez Sarsfield's charismatic and temperamental goalkeeper José Luis Chilavert.
Of course the squad came in to this encounter as heavy underdogs but it would be their work rate in the midfield as well as the power they had in the attack as Omar Asad fought for every single ball against players the likes of Mauro Tassoti, Franco Baresi, Alessandro Costacurta and Paolo Maldini.
Asad generated the penalty kick in the 50th minute that would be executed by Roberto Trotta.  Seven minutes later, Asad would cash in on a Milan error and would score the second and final goal of the evening.
This match was the one that was talked about in Joe McGinniss' book The Miracle of Castel Di Sangro.
FOLLOW ME ON TWITTER