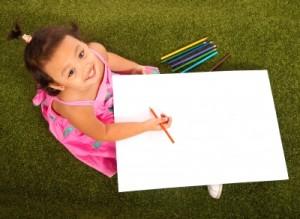 I Promise I Won't Draw on Your Walls.
A few weeks ago, my husband asked me if I needed anything from the store.  I asked him if he would pick up my youngest son a coloring book because he kept grabbing my pen from me when I wasn't watching and kept telling me that he wanted to draw.  I took the pen away from him and he was devastated, even though I tried to reassure him that I would let him draw as soon as he woke up from a nap since daddy hasn't brought him his surprise coloring book yet.
My Toddler's Very First Coloring Book
When my son woke up from his nap, I immediately showed him the coloring book that daddy brought home just for him.  He seemed excited and I asked him if he wanted to draw.  He said, "sure" in his cute little boy voice.  I asked his older brother to go grab a few crayons and to bring them into the living room for his baby brother to use.  I tore a page out of his coloring book and sat him on the floor with a few crayons.  As a seasoned mom, I should have know better than to hand my toddler crayons freely on the floor.  I am not really sure what I was thinking but thankfully it didn't end to badly, my toddler only colored on one of his toys with the crayons.
Contain Your Toddler in a High Chair During Art Time
After his toy incident I have been putting my son into his high chair when he wants to draw, so that he can't create artwork all over the house when he escapes from our sight faster than we can keep up with him.  I am trying to avoid his artwork from being published all over the house, especially, wall art that toddlers are famous for.  I know because my older children created art work in various places when they were his age.  In the high chair the only damage that he can do is draw on his high chair which is easy to clean compared to other surfaces in the house.
Create a Safe Place For Your Toddler to Color Even If You Don't Have a High Chair
If you don't have a high chair to place your toddler in, create a safe place for them to color or draw at that is easy to clean up if they miss the paper and accidentally get some of their artwork on other surfaces besides the paper that they are coloring or drawing on.  I remember when I was a child, I had my very own table and chair set that I could sit down and color or draw at.  My mom didn't like us to color or use the kitchen table set because she was afraid that we would mess it up.  In our house we don't have room for a small table set for the baby and if he didn't have the high chair I would have to allow him to sit in my lap at the kitchen table to draw.  If you are worried about the kitchen table being ruined with your child's artwork, cover it with a plastic table cloth or put down some newspapers so that if your toddler misses their paper the table is not harmed.
Removing Unwanted Artwork is Time Consuming
Removing artwork from your walls and furniture can be a very tedious process depending on the type of materials that your toddler choose to use for their work.  Creating a safe place for your child to color or draw, will save you time, energy, and elbow grease.  I remember when my older son and his friend got a hold of a sharpie marker and had a field day marking up the wall in my son's bedroom.  I spent a few hours with hair spray and other cleaners scrubbing marker off of the wall.  I was able to get most of it off or the wall.  I now make sure that I keep sharpies hidden from my toddler.