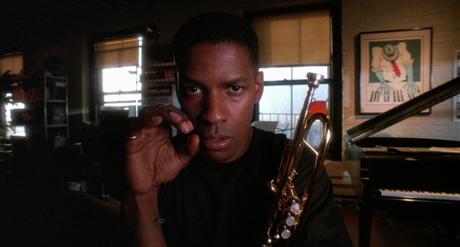 Bleek Gilliam (Denzel Washington) practicing imaginary scales in
Mo' Better Blues
(1990)
Play for Your Supper
From the reverse racism and self-loathing of A Soldier's Story to the lofty sentiments expressed in his Oscar® winning performance as Private Trip in Glory, Denzel Washington was on his way to forging an outstanding career as one of Hollywood's most reliable — and versatile — screen actors.
He already won more hearts with honey than with vinegar in the delightful comedy-crime drama The Mighty Quinn. Now, Denzel (or "Dee," as he was known to intimates) was steeling himself for the musical, verbal and romantic calisthenics of Mo' Better Blues from 1990.
Written, produced and directed by Shelton Jackson "Spike" Lee, Mo' Better Blues had the undeserved distinction of following his topical and highly controversial third feature, Do the Right Thing (1989). Suffering mixed reviews by comparison, Mo' Better Blues is better known as the first of Denzel's four outings (to date) with the Atlanta-born, Brooklyn-bred Mr. Lee. Their chemistry on and off the screen would, in years to come, result in what many critics regard as both artists' best work.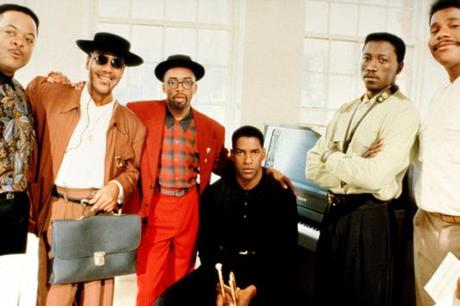 The Bleek Quintet: Jeff Watts, Giancarlo Esposito, Spike Lee, Denzel, Wesley Snipes & Bill Nunn
The action of Mo' Better Blues revolves around Bleek Gilliam (Washington), a smooth-talking, easygoing trumpet player. Bleek, as descriptive a name as it implies, harbors a soft spot for childhood buddy Giant (the 5'6" tall Lee), who acts as his band's no-account manager. Giant has a 24/7 gambling habit that lands him in hot water with the local bookie (Rubén Blades). Robbing Peter to pay Paul, he's also in debt to two take-no-shit loan sharks named Madlock (Samuel L. Jackson, in a trial run for his role as hit man Jules Winfield in Pulp Fiction) and Rod (Leonard L. Thomas).
As in practically all of Lee's work, there are multiple plot lines that vie for audience attention. However, the main thrust here concerns Bleek's love life — or rather, the dilemma of being caught between two bodacious babes. Who will win first place in his heart? Is it the overly ambitious, light-skinned lounge singer Clarke Betancourt (Cynda Williams) who longs to join Bleek's jazz band, or the earthier and more level-headed Indigo Downes (Joie Lee, Spike's real-life sister)? Complicating matters to some extent is the unassuming Bleek's rivalry with his quintet's tenor saxophonist, the flashy Shadow Henderson (Wesley Snipes).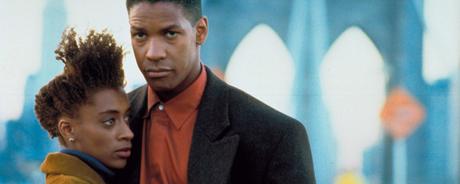 Indigo (Joie Lee) & Bleek (Denzel) sharing down time
In line with both his earlier and later efforts, Mo' Better Blues expands upon Lee's love of sports and jazz. According to the director, he basically grew up in a jazz household. This was reflected in his father, jazz musician Bill Lee's background score, as well as the participation on the soundtrack of trumpeter Terence Blanchard with the Branford Marsalis Quartet. Blanchard coached Denzel for months on end until he felt reasonably assured the star was capable of giving the appearance of someone who could go beyond tooting his horn.
"When Spike called me to do this," Blanchard told Los Angeles Times critic Leonard Feather, "it seemed like a tough assignment." Fortunately for him, Denzel had prior experience with playing the piano in high school, as he demonstrated in The Mighty Quinn. Blanchard also wrote out the fingering for all the tunes and the beginning portions of his solos. "I figured that actually teaching him to play the horn was going to take too much concentration away from his acting."
In all, Lee used his familiarity with the genre to channel the well-documented friction that existed between two legendary jazz giants, Miles Davis and John Coltrane. It was common knowledge that Miles, at the time the Kind of Blue album was being cut for Columbia — while simultaneously appearing in nightclub dates with "Trane" — would express his constant annoyance with the player's longwinded, spiritually-motivated sax solos.
In Mo' Better Blues, there's a scene early on where Bleek steps backstage for a breather between sets. He runs into Giant, who takes him to task for allowing Shadow to "show off" by hogging the limelight in Bleek's absence. Returning to the stage, Bleek gets back at both Giant and Shadow: with his dark shades and head bent low so as to commune more closely with his instrument, Bleek strikes an iconic Miles Davis-like pose as he purposely cuts short Shadow's groove with a muted turn on his trumpet.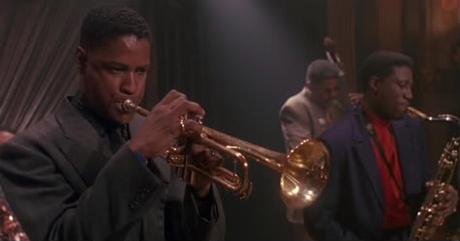 Bleek & Shadow Henderson (Wesley Snipes) try to top one another, as Bottom (Bill Nunn) plays on
Talking with Washington about the film for the 2006 DVD edition of Inside Man, Lee acknowledged the existence of a downside to the jazzman's lifestyle. He raised the issue of what happens when an artist devotes his entire life to his art; and then, when something unexpected happens, how it can prevent him from doing what he loves most. "What's going to happen to [Bleek] when he can no longer play?" he queried. Far be it for me to give away the game, but a situation does occur — when Bleek steps in to save his manager from those vicious loan sharks — that changes the situation for all concerned.
Family Time
There are two scenes of urban family life in Mo' Better Blues that bookend the picture. In the prologue, a young Bleek (Zakee Howze) resents having to practice his trumpet. He'd rather play ball with his friends than work endlessly on his scales. But Bleek's iron-willed mother Lillian (Abbey Lincoln) insists he finish his scales before running off into the street.
In the final scene, Bleek's son Miles (guess who he's named after?), also played by Howze, is seen practicing his scales. His friends call out to him from the street, pleading with Miles to come and play. Only, this time Bleek's son is allowed to scurry off and join his pals in their game. Consequently, the film ends on a poignant note. Lee relied on the same dialog in each of these scenes, while ingeniously utilizing subtle gradations of tone, looks and shading that, true to the nature of jazz per se, were remarkably effective in delineating character.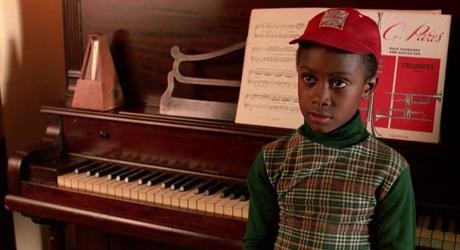 Young Bleek (Zakee Howze) wants to go out and play ball
Speaking of character, audiences learned a thing or two from Do the Right Thing about associating Lee's eccentric personalities with their given names. The viewer is bombarded with an assortment of colorful monikers, among them Bleek's pianist Left Hand Lacey (Giancarlo Esposito), bass player Bottom Hammer (Bill Nunn), drummer Rhythm Jones (Jeff "Tain" Watts, the only trained musician in the group), the aforementioned Shadow, Giant and Indigo, and Moe and Josh Flatbush (John and Nicholas Turturro), the Jewish nightclub owners.
Along these same lines, Denzel mentioned, in that same 2006 talk with Lee, that he and his cohorts were free to ad lib more in Mo' Better Blues than in other pictures. Indeed, the nearly all-male ensemble fires off one-liners faster than those rapid-fire bebop notes Bleek practices ad infinitum in his apartment. This scene is an excellent example of what Lee calls his trademark "money shot," i.e., the background appears in constant motion around a stationary figure or two. Here, Bleek, motionless save for the twitching of his eyes and the constant flexing of his fingertips, goes over the music in his head, whereas the camera takes a 360-degree pan of the room behind him.
The extensive use of improvisation, especially backstage, drew the gentle ire of the late Roger Ebert in his initial critique of the film. Knowing that Roger had freely admitted to limitations in his knowledge of music (many if not all of his reviews hardly mention a movie's score), we must take issue with his assessment. This is a jazz-based feature, is it not? And, as indicated above, improvisation is the life essence of jazz. It's what makes the music original and unique. Too, it can be a hit or miss affair, but that's the chance you take when you're trying to be innovative. Incidentally, the rambunctious Robin Harris, who passed away months before the film's release, delivers a particularly raunchy standup routine as the motor-mouthed comic, Butterbean Jones.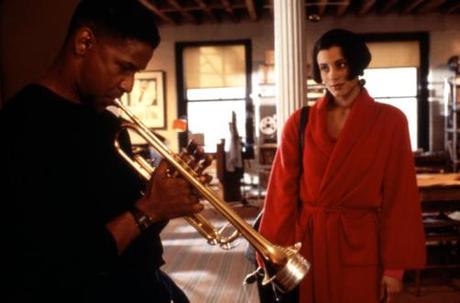 Bleek entertains Clarke (Cynda Williams) in his apartment
Lee's eye for detail and economy of means and time (helped in large measure by longtime cinematographer Ernest Dickerson) contributed to the film's most startling fantasy element: that of Bleek's coitus interruptus, a virtuoso sequence in which he inadvertently calls Indigo by Clarke's name, while doing the same for Clarke with Indigo's name. The women take turns berating him for his slip-up. Meanwhile, Bleek stares blankly at one, then the other, then turns his visage toward the camera in glassy-eyed disbelief at the sheer inanity of his actions.
The issue of whether jazz was or was not the exclusive property of those who invented it is addressed in the bit where Bleek complains to Shadow that he doesn't see his people appreciating their own music. "I see Japanese, I see West Germans in the audience," he notes. "We will go to see some crossover created by other people, but we don't come to see our own. It incenses me," Bleek goes on, that "our own people don't realize our own heritage, our own culture. This is our music, man."
"That's bullshit, man!" Shadow snaps back. "Out of all the people in the world, you never gave nobody else a chance to play their own music."
"I'm talkin' about the audience," Bleek shouts right back at him. Shadow is indignant. "That's right! The people don't come because you grandiose motherfuckers don't play shit that they like. If you play the shit that they like, then people will come. Simple as that."
And if Denzel Washington and Spike Lee continue to make movies that treat their subjects with as much dignity, respect, pride and affection as they did in Mo' Better Blues, then audiences will continue to flock to see them. It's as simple as that!
(To be continued….)
Copyright © 2016 by Josmar F. Lopes