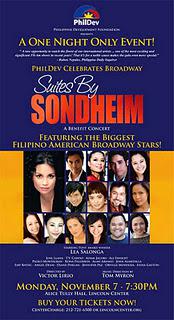 Philippine Development Foundation USA ("PhilDev") announces that it will hold its annual fundraising gala at the prestigious Alice Tully Hall, Lincoln Center with a concert event entitled "PhilDev Celebrates Broadway: Suites by Sondheim," on Monday, November 7, 2011, 7:30 p.m.
Directed by actor, director and producer Victor Lirio, with music direction and original orchestrations by Tom Myron, the concert will present "a carousel of Sondheim's worlds and extraordinary characters from such musicals as 'Company,' 'West Side Story,' 'Saturday Night,' 'Sweeney Todd,' 'Anyone Can Whistle,' 'Follies,' 'A Little Night Music,' 'Merrily We Roll Along' and 'Sunday in the Park with George.'
In a letter Sondheim wrote to Lirio, he expressed: "I am delighted that you want to devote an evening to my work. Thank you so much for the compliment."
The concert--conceived and co-produced by Lirio, artistic director of Diverse City Theater Co. (DCT),with PhilDev Trustee Ronna Reyes Sieh--will be the first New York gala for PhilDev. It also marks the first all-Filipino concert at Lincoln Center presenting top Filipino-American talents who have all made marks on Broadway in leading roles.
Tony Award winner Lea Salonga ("Miss Saigon," "Les Miserables," "Flower Drum Song," Disney's "Mulan" and "Aladdin") leads an impressive cast of Filipino-American Broadway stars. Joining her are Joan Almedilla ("Miss Saigon," "Les Miserables"); Alan Ariano ("Miss Saigon," "The Encounter"); Emy Baysic ("Miss Saigon," "Mamma Mia"); T.V. Carpio ("Spiderman: Turn Off the Dark"); Angel Desai ("Company"); Ali Ewoldt ("Les Miserables," "West Side Story"); Rona Figueroa ("Miss Saigon," "Les Miserables," "Lennon," "Nine"); Lydia Gaston ("The King & I," "Miss Saigon"); Adam Jacobs ("Les Miserables," "The Lion King"); Jose Llana ("The King & I," "Spelling Bee," "Flower Drum Song," "Wonderland"); Orville Mendoza ("Pacific Overtures," "Miss Saigon"); Paolo Montalban ("Pacific Overtures," "The King & I," ABC/Disney's "Cinderella" as Prince Charming opposite Brandy); Emily Morales (Lincoln Center's "South Pacific"); Jennifer Paz ("Miss Saigon," "Les Miserables," "Joseph and the Amazing Technicolor Dreamcoat," "Jesus Christ Superstar"); and Diane Phelan ("South Pacific," "West Side Story").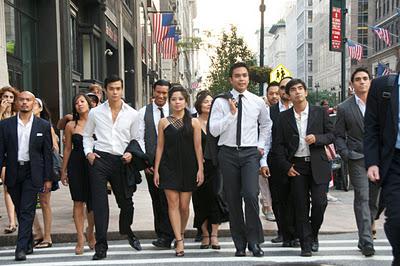 L-R: Mel Maghuyop, Joanne Javien, JP Moraga, Albert Guerzon, Catherine Rcafort, Lydia Gaston, Jose Llana, Orville Mendoza, Billy Bustamante, Aaron J. Albano and Adam Jacobs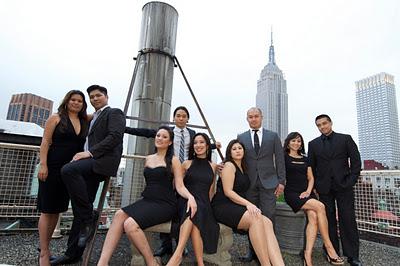 L-R, standing: Liz Casasola, Chris-Ian Sanchez, Jake Manabat, Brian Jose, Ariel Estrada. L-R, sitting: Diane Phelan, Jaygee Macapugay, Melissa Singson, Emy Baysic

Also onboard are company members Aaron Albano, Ester Barroso, Billy Bustamante, Liz Casasola, Karl Josef Co, Marc dela Cruz, Ariel Estrada, Albert Guerzon, Joanne Javien, Brian Jose, Jaygee Macapugay, Mel Maghuyop, Jake Manabat, Alan Mangasser, Adam Marcelo, JP Moraga, Lora Nicolas, Catherine Ricafort, Enrico Rodriguez, Vincent Rodriguez III, Chris-Ian Sanchez, Melissa Singson and Kay Trinidad.
"Given the repertoire of material that Victor has assembled and the stars he's been able to enlist for this very special concert, I think the audience can expect nothing less than excellence," Salonga said.
"These are all theater artists at the top of their game, who sing like nobody else can, whose understanding of every piece they tackle is not just admirable, but straight from the heart. I'll be watching from the wings for sure, and at every rehearsal," she added."
Lirio, who also produced Salonga's sold-out and critically-acclaimed Carnegie Hall concert debut in November 2005, said: "Sondheim's works are some of the greatest in the musical theater canon and it is a privilege to breathe life into some of his iconic works. I am grateful to him for giving us this tremendous opportunity. We are looking forward to sharing with the New York audiences our expression of his work."
He added: "A vital part of PhilDev's mandate is to raise the profile of the Filipinos in the global landscape. This is a dream cast. I am grateful to be working with them again in support of PhilDev's mission. Furthermore, this concert will underscore the contributions Filipino artists have made to America's rich and diverse theater culture."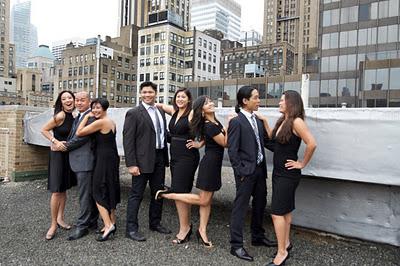 L-R: Jaygee Macapugay, Brian Jose, Angel Desai, Chris-Ian Sanchez, Melissa Singson, Jake Manabat, Emy Baysic, Jake Manabat and Liz Casasola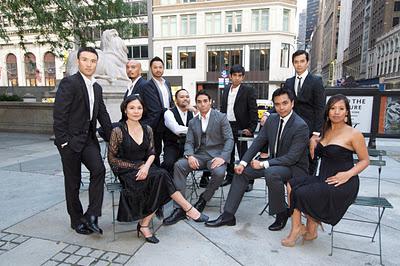 L-R, sitting: Lydia Gaston, Orville Mendoza, Adam Jacobs, Jose Llana, Joanne Javien. L-R, standing: Marc de la Cruz Mel Maghuyop, Billy Bustamante, Aaron J. Albano, JP Moraga

Tickets for "PhilDev Celebrates Broadway: Suites by Sondheim" can be purchased at the Alice Tully Hall, Lincoln Center box office located on Broadway and 66th Street in New York City, online at www.lincolncenter.org, or by calling CenterCharge at 212-721-6500. Ticket prices are $100, $150, $250, and $500.
Limited patron/VIP subscriber seats of $1,000 are available, which includes a pre-concert VIP reception by contacting Rene Encarnacion at [email protected] or 650-288-3937. 100 percent of net proceeds will benefit the Philippine Development Foundation.
Formerly known as Ayala Foundation USA, PhilDev is a public charity registered with the United States Internal Revenue Service as a 501 (c) 3 tax-exempt organization. It focuses on building an ecosystem of science and technology-based entrepreneurship and innovation for social and economic development in the Philippines. As part of its commitment to diaspora philanthropy, PhilDev also generates resources from U.S.-based donors for non-profit organizations in the Philippines.
For more information about PhilDev, visit www.phildev.org.