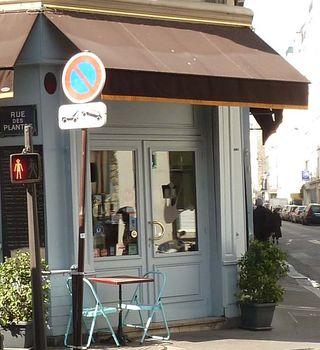 6.2 Le Saut du Crapaud, formerly known as Le Bis and before that, Le Bis de Severo, 16, rue des Plantes in the 14th, 01.40.44.73.09, closed Sundays and Monday nights (Metros: Alesia, Mouton-Duvernet, Pernety) has been open for exactly three years and gotten little notice.  Its chef, Marco Paz, was formerly a Mexican banker, who married a French woman and cooks classical French cuisine, advertised as all fresh product, made-in-house, etc.  From the outside it's hardly identifiable, and both my friend and I puzzled over whether "this was the place," but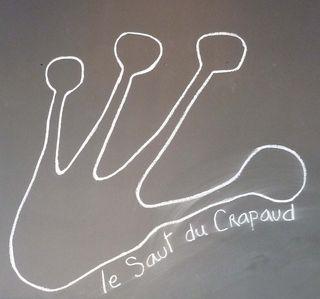 on entering - there's the clear drawing of the toad's foot - and we're truly in the correct place.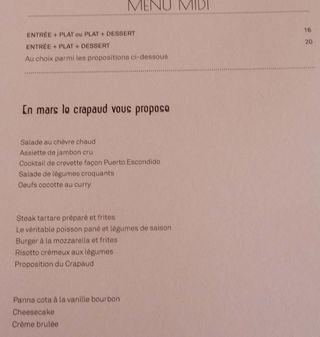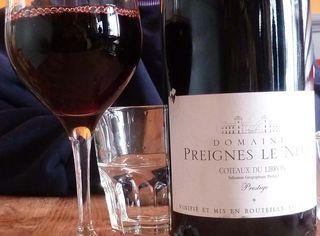 We looked at the carte, ordered and asked for their Languedoc - were told they were out of it - but instead they had a nice Coteaux du Libron Preignes Le Neuf - at get this - less than what we had asked for - when has that ever happened to you, or me, or Charlie Brown?  And very nice it was too.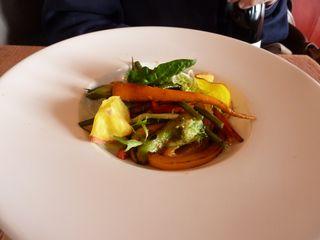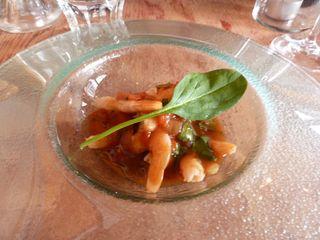 My Frisco friend (they hate it when you call 'em that) had a "vegetable salad" that was cooked, served lukewarm on a hot plate, which took her a bit aback until she tried it and liked it - and I had the shrimp cocktail, in the style of the Porto Escondido - ceviched and served with just right spicy tomato sauce that I loved so much I asked for a spoon to slurp it up.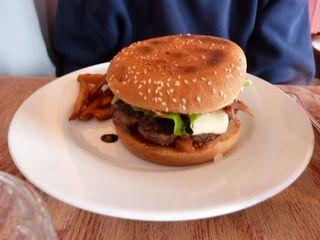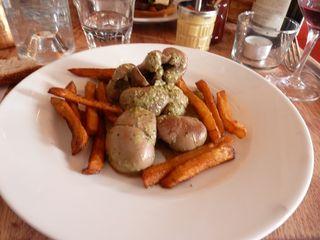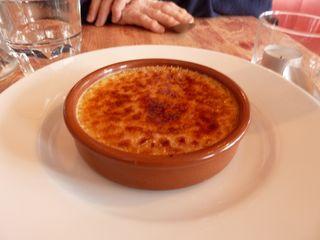 For mains, my friend chose the hamburger with mozzarella and fries and I had the Promotion Crapaud - lovely lamb kidneys with a nice sauce and fries as well - and, and, and, suddenly appeared a bottle of home-made catsup and was it good, as was all the rest, sure.  We shared a very fine creme brulee for dessert.
Our bill, with no bottled water, decent bread, a bottle and glass of wine and 2 coffees, was just under 70 E.
Go?  It's on my list for Colette, a winner on this wonderful street.