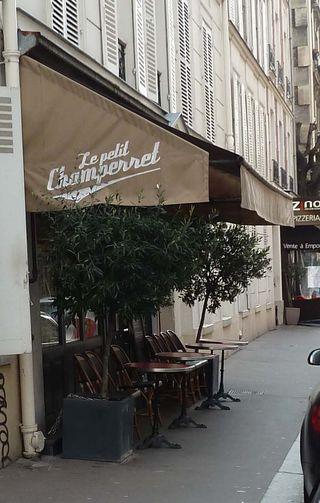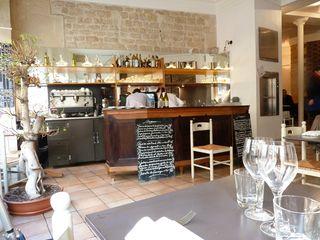 7.5 Le Petit Champerret, 30, rue Vernier in the 17th, (Metro: Porte de Champerret) 01.43.80.01.39, closed weekends, is a place I ate at 3-4 times in 2009 and really liked; so when I read that Gerard Castellani had brought in a new chef, Nicolas Gaulandeau, who has passed through the kitchens of Apicius, Laurent and Robuchon, my reaction was "Whoa, can it get better?"  You'll see my answer in a minute.  I entered and M. Castelllani warmly greeted me and shook my hand.  "Oh oh, he remembers me, but no, he shook everyone's hand. (But wait.)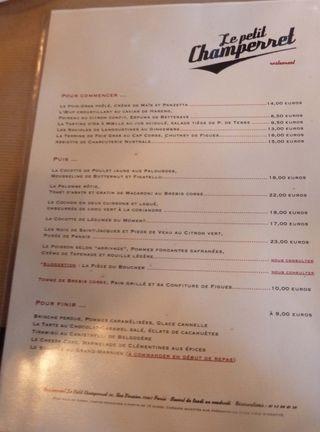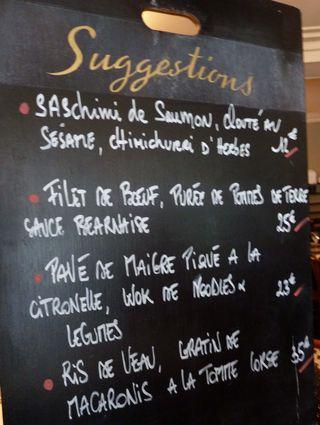 The French friend I've known the longest, coming off a broken shoulder, asked if we could eat along her subway line and it worked perfectly for us both.  The regular menu is impressive and she immediately said "I can't choose between the chicken and the scallops, which do you want?"  "Neither" said I, "I want the ruinously expensive sweetbreads and the ruinously expensive foie gras entier, I'll pay and share."  "But what shall I have?"  "Why not order both?"  I thought that was a dandy idea but she demurred.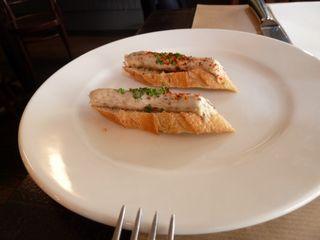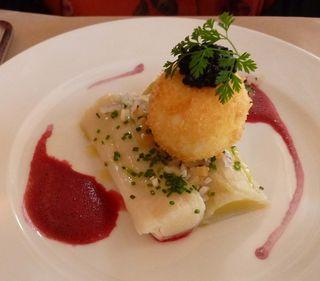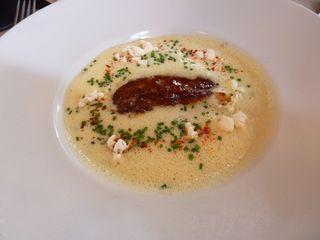 After the delicious fluffy frothy fishy amuse bouche on toast, she had a croustillant egg (perfectly round) on leeks with herring eggs on top which I loved but she thought lacked some zip and I had a lobe of foie gras sauteed and served in a fabulous "soupe" full of toasted bacon bits.  Oh my.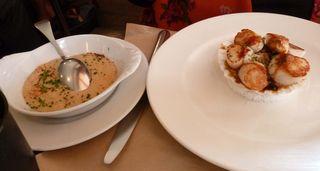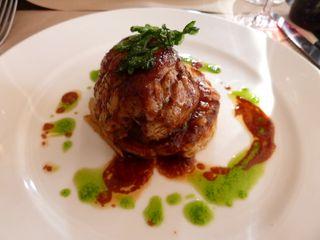 Then she had the dish that sound most interesting, scallops with lime on a bed of veal's feet with pureed parsnip aside and I had the sweetbreads on a bed of macaroni (really overkill) with a Corsican tomato somewhere.   We were both happy folks.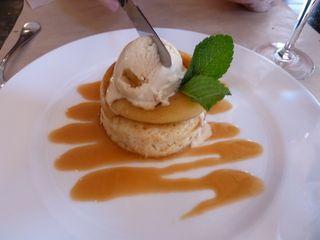 Neither of us were hungry but couldn't pass up sharing a fabulous brioche perdu with cinnamon ice cream and apples which were caramelized-crispy and the extra caramel beurre sale dashed about.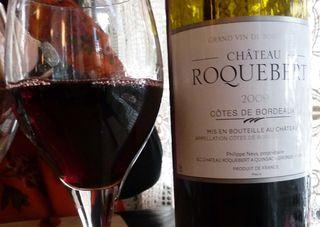 With a bottle of fine Cotes de Bordeaux, no bottled water and two coffees, the bill was 121 E (but without the two priciest items could easily come in at 100 E or under.)  After we'd settled the bill M. Castellani said "You've been here before?"  "Yes, 18 months ago or so."  "I'll look forward to your review."  So despite the thousands of people who have passed through since 2009, he did recall.  Amazing.
Go?  To answer my questions about whether this was the best meal/dishes of 2013 and whether it's better now than in 2009, a resounding - Yes x2 or 3.  Only problem, which I'm sure they'll resolve before Colette comes to town, the dishes were a long time in arriving.