So, there's a long prequel here:
- I called for a res on a Monday, dreaded Monday, and got an 09. answering machine; left a message and
- One Catherine calls back to confirm
- I go and at 12h35 the place is packed with space (it seems) only at a common table or comptoir
- Not so, I am seated up a step and as I always do, empty my pockets of everything but my cash - cellphone, decibel meter, pad & pen, camera.
- Lady next to me asks "Are you a food critic"?  "Ans. "sort of."  "From which pub?"  "Ah, a blog." "Which is called what?" Oooh la la.
And a long sequel:
- I go to pay at the caisse and say innocently in French to the beautiful woman in the front-room, "So the chef, where did he cook before?" "Ah, my husband, we were at the Cafe qui Parle."  "Don't I know you, yes, Mr. Talbo, how are you?"
The rest is history.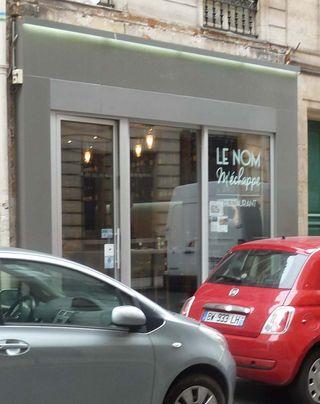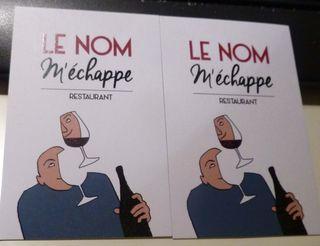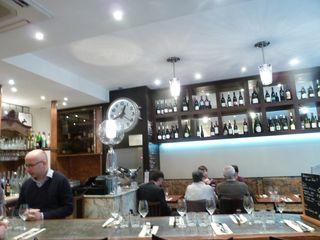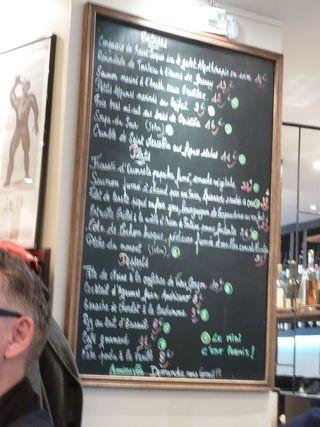 6.7 Le Nom M'Echappe, (don't you love the name?), 28, rue Notre-Dame Des Victoires in the 2nd, closed weekends (they've got two kids after-all), 09.82.20.20.41 (Metro: Bourse) is one of those places that opened at the end of 2014, I never got to go to.  So today, a Monday, seemed as good a time as any.  The outside has the required gunmetal grey, but at least it has lettering in the window of its name, and as I entered at 12h35 the place was full; full of excitement, locals and energy - like the Apple store in the Louvre.  Neat!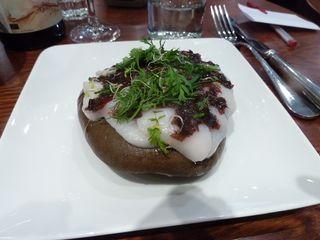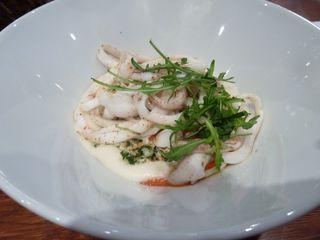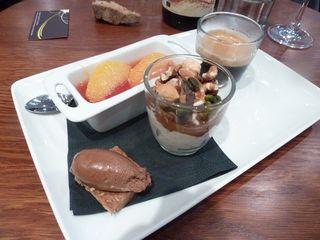 It took me much coaching to figure out that the dishes available at lunch were marked with a green star - Duh? - but eventually I got the program and ordered up
- a carpaccio of scallops on a stone with algae (galet Algotherapie), OK, if you say so,
- encornets with paprika on a bed of puree and semolina, and
- a coffee gourmand with
* citrus fruits in a divine sauce
* nuts on rice pudding
* chocolate with cardamon on a biscuit.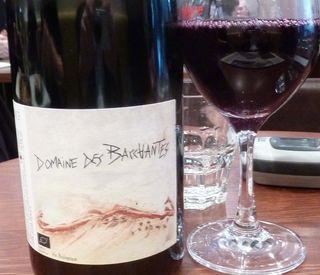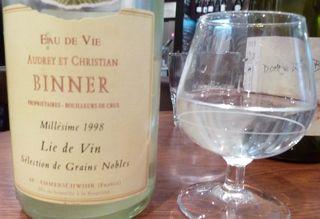 My bill, with with a half-bottle of wine (they do it by glass, bottle & a la ficelle), no bottled water, decent bread and OK coffee, was 58 E (they comp'd me to a glass of Eau de vie before Madame figured out who I was, so it was a gesture of the house not of recognition, I think. dB = 80.7.
Go?  Boy, I cannot wait to take Colette.  This is a place my buddy, Randy de Paris, would rate higher than I because of the "total experience."  Welcome, decor, food, service, ambiance.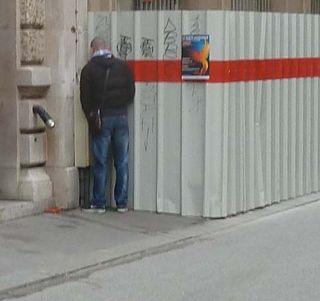 35 E for pissing in the street - if caught.