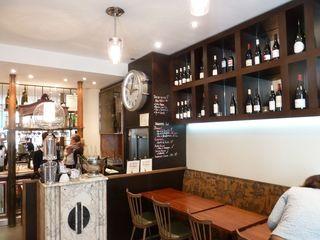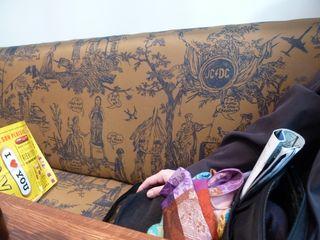 Le Nom M'echappe, 28 rue Notre Dame des Victoires in the 2nd is a place I adored 3 weeks ago and I wanted to return to with Colette and the French person who has put up with me the longest, on whose Metro line it is.  Both of us thought the other had made a reservation and she called me frantically while Colette and I were buying caramel-stuff next door at 30, but later for that, "No room in the inn."  Oh, oh.  I entered and innocently said "Reservation for 3, Talbott or D."  "Nope" The lovely (actually stunning) co-owner Catherine (Cathy) Moeuf, (Disclosure: we've been admirers since their Cafe Qui Parle in our nabe) who, BTW, speaks letter-perfect English, hesitated a millisecond and said "just a minute, we're down a staff member, but...." And a millisecond later we were seated at the banquette with fabric adulterated from an ancient drapery/wallpaper, probably "toile de Jouy", according to our pal, so it said "Vive Le Rock 'n Roll" & "Pop me up."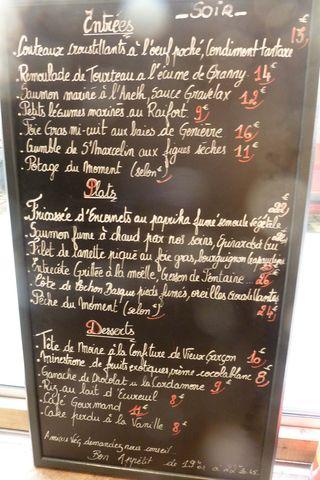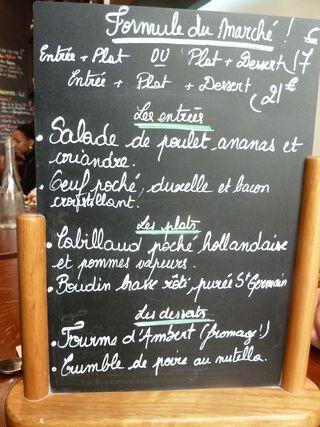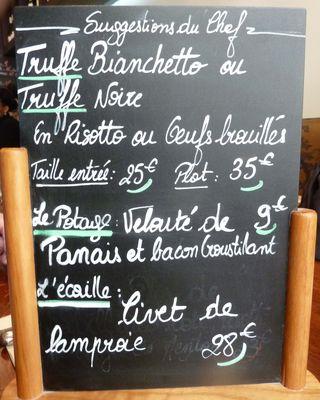 The menu offerings are incredible - from truffles to eels - and with their various choices, hard to decide on.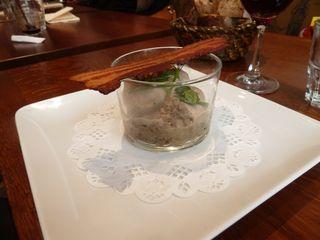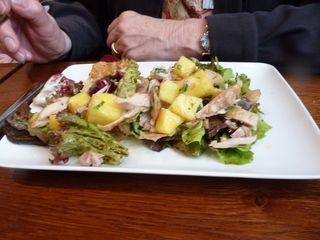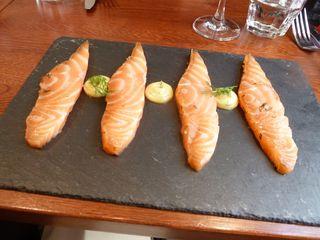 However, one must choose; our great dear friend from the 20th had an incredible egg with mushroom duxelles and crispy bacon; Colette had the chicken with pineapple and coriander and I had 4 terrific thickly sliced pieces of smoked salmon (later I learned from Pudlo from the Maison du Danemark) with dabs of gravlax sauce.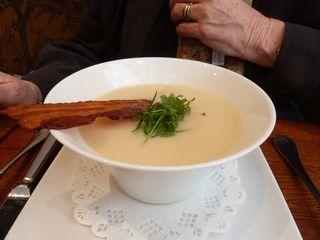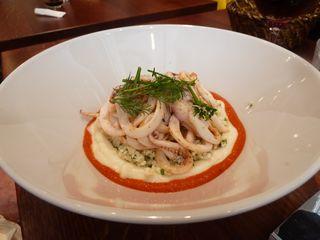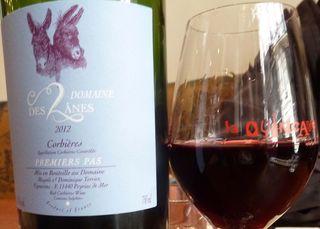 For mains: Colette had what was the entree soup of the day - parsnip and crispy bacon; our friend and I the encornets with spicy paprika and a vegetable semolina, most tasty!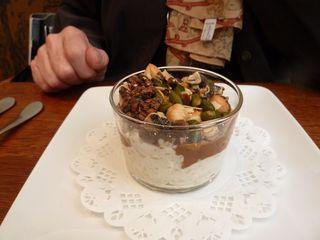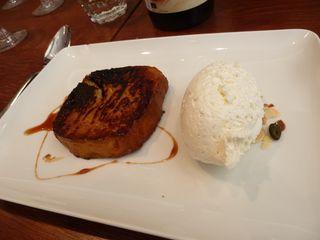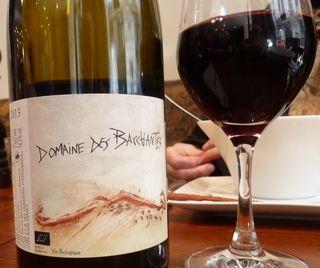 For dessert Colette ordered her rice pudding with caramel and M-F and I shared the cake perdu - which I had wrongly ordered from the "soir" menu but which chef Damien Moeuf said could be hustled up - and boy it was worth it.
Our bill, with 2 bottles of wine, no bottled water and three coffees, was 162.50 E, thus 108.33 E a couple.
---------------------------------------------------------------------------------------
Bonus, bonus, bonus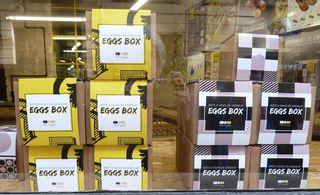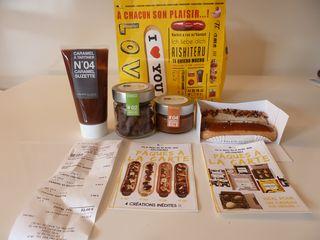 So, as I promised, here's the story on # 32, Rue Notre Dame des Victoires, La Fabrique L'Eclair de Genie, where pastry chef Christophe Adam produces his eclairs and sells other delights which we bought enough of to make dinner a sweet success tonight.