About a month ago I ate at Le Chemise in the 11th and declared it "Presque Parfait."  And today I went with Colette and our oldest Anglo food-finder and neighbor and did very well indeed.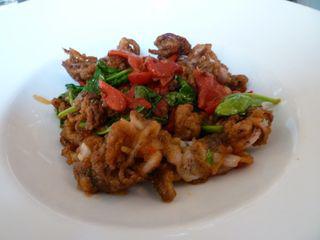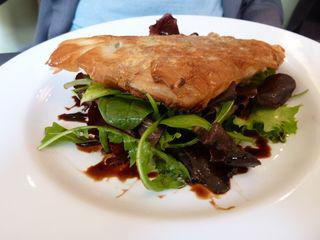 For starters, my friend Paga and I shared the just crispy-enough, sauteed squid with shredded sweet red pepper and the crispy croustillant of duck confit with lotsa salad; both wonderful.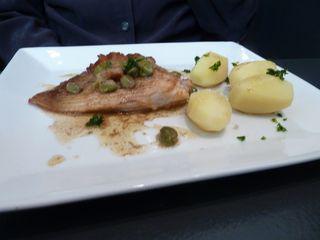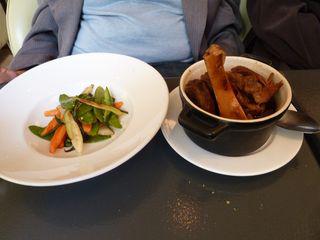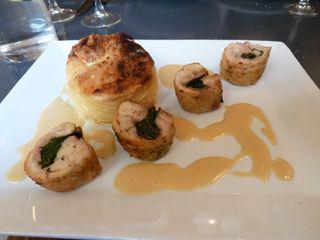 Then Colette had the special of the day (13 E) raie grenobloise (eg classically) with the best damn potatoes I've had in a long time (#1); Paga had the lamb's shank with veggies in an intense black-brown sauce that was and I quote "one of the best I've ever had" (#2) and I had 4 ballotines/rollatines of chicken wrapped around spinach which needed a boost of salt but came with Dauphinoise potatoes, that for me, a non-potato-head, were quite fine.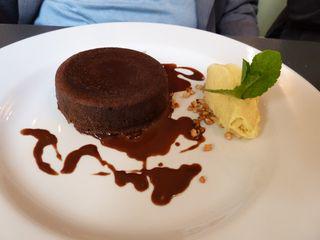 My two eating partners then each finished with the moelleux of chocolate which was even better than it was a month ago.  Again my pal stamped his foot, slapped his thigh and said "this is one of the best I've ever had." (#3)
Our bill with two bottles of a Costieres de Nimes (no pix because it/they were decanted), no bottled water, and 3 Nespressos (plus an amuse gueule of green olive tapenade that was "couldn't stop eating it quality") was 121.80 E, thus 81.20 E a couple.  (Disclosure= the guys were treated/comp'd to a shot glass of Calva; a nice touch.)
Go?  I keep warning you; eventually this place will be "found" and overwhelmed - so go now when it's cosy, friendly, all-French, excepting the Anglo-speaking staff, and unaffected.