6.5 Le Cabanon de l'Ecailler, 14, place Constantin-Brancusi in the 14th (Metro: Gaite), 01.43.20.52.17, closed Sunday nights and Mondays, is the second to La Cagouille where David Herve (who if I'm not mistaken, used to sell his bivalves from a table in the Square/Place) has a largely outside area under an awning with heaters.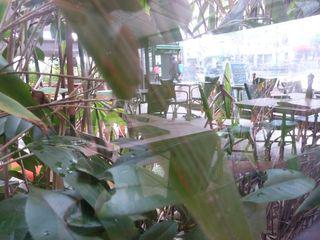 One has a sense of being in a jungle hut on the Brittany coast inhabited (this afternoon) by my age-group let out of their "homes" for the afternoon.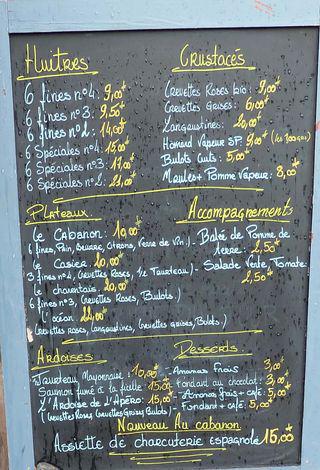 There is a regular carte, plus a daily menu at 15 E, plus an ardoise with various interesting specials - today a salad of tomatoes and lettuce with various crustaceans and a fish soup with the usual.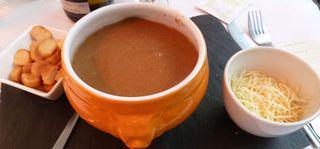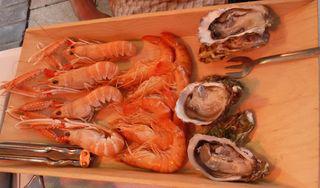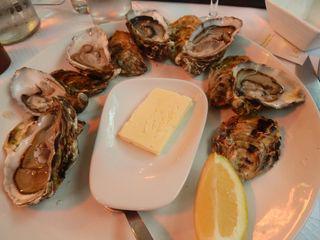 Two of us had the fish soup which we both deemed needed salt and papper and indeed with their addition, it was darn good; thick and punchy.  M. had the Casier plate that consisted today of langoustines, red shrimp (they were out of crab) and 3 Speciales No 4 at the same price as the Fines they were out of.  Madame had a generous portion of red shrimp and I 6 Speciales No 4 which came with butter than was undistnguished but bread that was.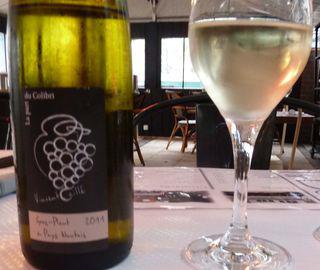 With no dessert or bottled water, one Illy coffee and two bottles of fine Gros Plant our bill was 98.50, thus 65.666666666 E a couple.
Go?  Absolutely; even on a blustery, cold, rainy gray day - hey, you think you're in Brittany.