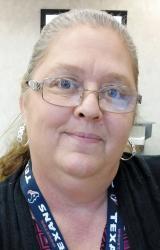 Debra Mishler was killed in an accidental shooting around 9:30 p.m. on Sunday, January 5, 2014. Atascosa County Sheriff David Soward said he didn't expect charges to be filed.
Local news reports
Tragedy strikes early in the year as Debra Mishler, 50, dies from an accidental gunshot wound to the abdomen.
A relative of Mishler's and another man were allegedly examining a .308 caliber rifle in their mobile home adjacent to Mishler's on 

Fern Hollow

 off State Highway 173, four miles west of 

Jourdanton

 around 9:30 p.m. on Sunday. One of the men allegedly pulled the trigger of the gun, thinking it was not loaded, inside the mobile home. The gun was loaded, says Atascosa
County Sheriff David Soward, and the bullet shot through a bathroom wall and struck the victim on her porch as she was walking into her house next door.
Sheriff Soward said Mishler was helped into a private vehicle and rushed to

South Texas Regional Medical Center

 where she died while in route. "It's a classic example of someone treating a weapon as unloaded when in fact it wasn't," he added.
Sheriff Soward does not expect any charges to be filed in the incident.