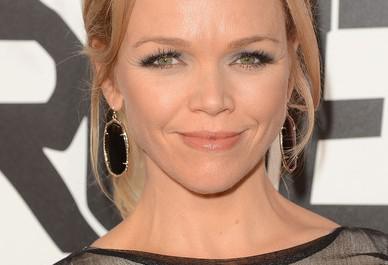 Lauren Bowles (Holly Cleary) recently spoke to TV Fanatic about her time on True Blood since season 3, what she thought of last season, and what's the come this year.
Of season 4, Bowles said she loved getting into the magic aspect of the season:
"I kind of joked that season four I spent with my mouth agape. How many variations of shocked can I do? It's great fun to just jump into the deep end and commit wholeheartedly [to the show]"
As for the character of Holly, Lauren says that while last year saw the Wiccan side of the Bon Temps resident this year we get to know her a little more personally:
"I think she's very straightforward and she's not big on keeping secrets, but I think she's by no means a push over either. She's strong. She's a survivor for sure. And what's fun about this season, without giving too much away, we were so sort of focused on her Wiccan life – and that sort of blew up last year – that this year we're going to get to know more about her personally."
Post Marnie (Fiona Shaw), Lauren's Holly is now working more with the Merlotte's group of True Blood again. However she did get to work with cast members she had never gotten to work with before this season, though she won't say who. Holly's romance with Andy (Chris Bauer) is also heating up as we saw in the season premiere with them having slept together. The actress said that her first day of work was literally that scene. But it was actually quite normal despite the nudity:
"What was so funny, I mean [Bauer] literally had to do the heavy lifting on the naked part, he was doing the full package; the poor man literally had a sock on and that was it… And in between takes we're just shooting the shit, talking about kids and stuff. It was the most normal thing in the world to be naked in bed with your co-worker and talk about your kids. Bucky [Writer and Co-Executive Producer Brian Buckner] was like 'This a new kind of post coital!'"
But even though her character seems like she's emeshed in the True Blood world, she admitted that being killed off the show is still a real fear for her. She's not alone though. Even fan favorites like Nelsan Ellis (Lafayette Reynolds) have it too.
As for season 5, Lauren says this year is a fucking free for all given that the very structure of True Blood is now being questioned:
"This season is a f@#%ing free for all. I'm not kidding. Everyone is quite literally running for their lives and the stakes, pun not intended, now intended, could not be higher and truly it is going to be a wild ride..The very foundation of society that exists within True Blood is being questioned and so it creates mayhem in such a delicious way. I'm pretty convinced the fans will not be disappointed."
Are you excited to see how season 5 unfolds? Tell me all about it in the comments below!
Source: TV Fanatic.com-"True Blood Exclusive: Lauren Bowles on Holly's Growth and the "Wild Ride" of Season 5″
Image Credit: Jason Merritt, Getty Images