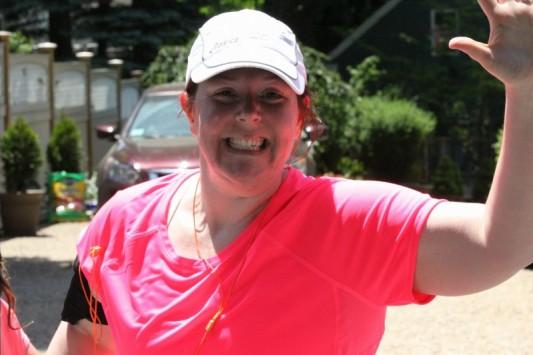 Last mile of my first 5K and I ran by a friend of my husband's taking photos. It was SO HOT - 90 degrees at the start of the race. I finished the race in 47 minutes. I wasn't timing myself, but was hoping to finish in under an hour - I was really just running for the finish line. 
I took walk breaks, ran through lots of sprinklers and people spraying runners with garden hoses. I stopped at most of the water stations and even sat down on a shady bench for a minute. It was incredibly hot. I'd say I ran 60% of the race. 
As I came down the hill to the finish they announced my name and town. My husband and Harry were walking over, but I was pretty sure I was crossing the finish before they got there - so I pumped my arms in the air and yelled, "This is my first 5K - let's hear some NOISE!" and I got a cheering crowd and a few high fives. It was great.