Hey everyone,
From quite sometime I am majorly into skin care products as I have realised good skin is very important now a days. Having said that I do not do anything special just normal things like everyone would do. During my teenage years I did have my own skin problems like acne - yes I had terrible acne. Unfortunately we did not have any blog/website or information to tell us the remedies or products we could try to reduce the intensity or occurence of the same. The only thing I knew was to use Fullers Earth with rose water which would reduce the excess oil on my face and make the skin tight. Today I shall be reviewing a product I have been loving for my oily to combination skin called Lass Naturals Aloe Vera Hydro Gel with Gold. Let us find out more about this product in my review...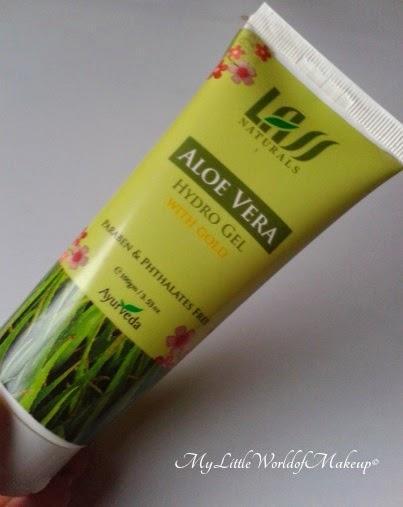 Ingredients and what the company says about the product: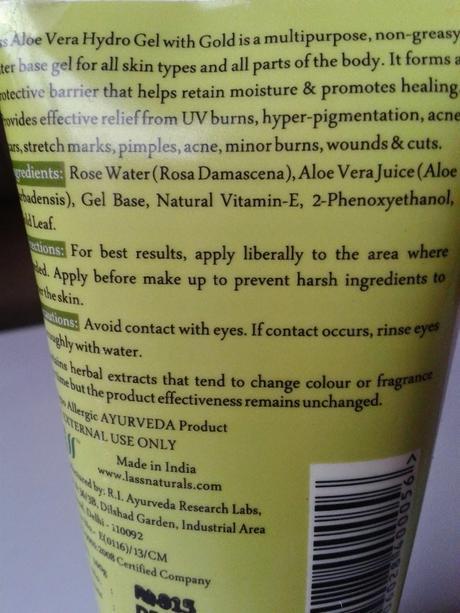 Price: Rs. 145/- for 100 g
Shelf life: 30 months from date of packaging.Website: www.lassnaturals.comThe hydro gel comes on a light pistachio green color tube with a flip cap which opens and shuts well and does not leak at all. It has the picture of Aloe Vera plant indicating the main ingredient in the gel. All the information regarding the product, the ingredients are mentioned at the back of the tube. It is travel friendly and can be carried with you everywhere.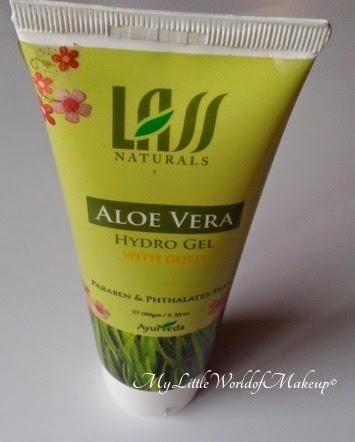 After reviewing the face mask which I know many of you loved I was excited to write about this product as I have been loving it so far. It says that it is non greasy, water base gel for all skin types which is so true and also says can be used on all parts of the body. Well I stick to my face as my legs and hands require extra moisturization and this may not be enough. It seems to provide relief from acne, scars, stretch marks, hyper pigmentation and also minor burns, cuts and wounds. Now I do not have acne as such but I have pigmentation around the mouth so I would say it has reduced to some extent because I have been watching my skin closely everyday.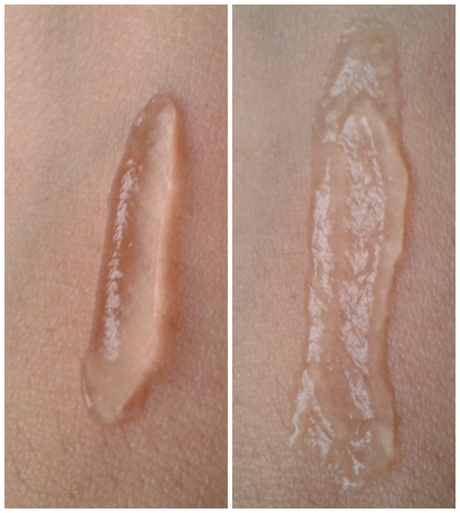 This gel is  very thick unlike your normal aloe vera gel. It smells lovely and mild and not heavily scented at all. You need a small amount to work on the entire face. The best part I found that it is not as wet as the other gels I have tried and it seeps in quickly. It can be used as a primer underneath your make up to make it last long and it works well because it is non greasy. I won't say that this can replace your moistrurizer but for those with oily to combination skin this would be the best.It is a 100% vegetarian and cruelty free brand which I love. All in all a great product and I love it. You can buy it from here
The Good:
Decent and travel friendly packaging.
100% vegetarian.
Cruelty free brand.
Paraben and Phthalates free
Smells mild and lovely.
Non sticky/greasy.
Easily gets absorbed into the skin.
Water based gel.
Provides relief from hyper pigmentation, acne, stretch marks etc.
Can be used as a make up primer.
The not so Good:
May not be hydrating enough for dry skin.
Only available online. (not a con though)
Rating: 4.8/5
Lass Naturals Aloe vera hydro Gel is an excellent product and a must try even if you have dry skin even though it may not be that moisturizing but looking at its benefits its a must buy. I highly recommend this product to all due to the fact that it is natural and has multiple benefits. They have cash on delivery and free shipping so what more would one want ☺
I hope my review was helpful to all those reading. Please feel free to leave a comment below I do read all of them. If you are visiting my blog for the first time do leave your blog links for me to check out.
Happy Friday everyone xo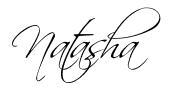 P.S: PR Sample**