A few good showings at golf events in Australia and Tiger Woods has become the odds-on favorite to win the Chevron World Challenge this week. Las Vegas odds makers, Golf Channel and even crowdsourcing websites have the former number one golfer in the world in their sights or at single digit odds while GolfOdds.com says, "All other golfers are double digit odds."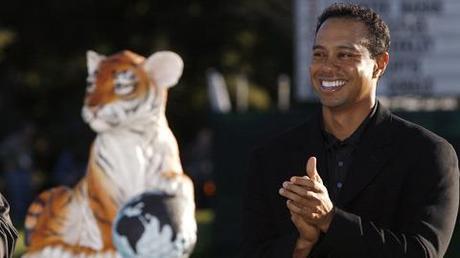 Bodog.com confirms Tiger Woods as the 7/1 favorite with Furyk also remaining in single-digit odds...but not by much.
Although the eighteen player field includes Webb Simpson, Bubba Watson, Rickie Fowler, Nick Watney, Bill Haas & Jason Day, it is Tiger Woods who is the focus of attention on both the Golf Channel website and on their Facebook page. Why? To play on fan emotions? What does Woods have that these other great golfers are lacking?
Would you choose four-time previous winner Tiger Woods to lift the trophy at his own event or one of these great players? 
Webb Simpson - Winner of Wyndham Championship, three second-place finishes this season and second in money leaders on PGA Tour.
Bubba Watson - Winner of Farmers Insurance Open and sixteenth in money leaders this season.
Rickie Fowler - With only one second place finish at the WGC-Bridgestone and four top-tens this season, Fowler is probably not my favorite in this competition but still a solid contender.
Nick Watney - Winner of two events on the 2011 PGA Tour schedule and third place on the list of money leaders, I hope Watney brings his "A" game.
Bill Haas - Unlikely winner of the FedEx Cup Tour Championship, the $10 million dollar winner has a 69.44 GIR and scrambling stat which are both higher than the Tour average, he could finish off the season holding the Tiger cup.
Jason Day - With no wins this season on the PGA Tour, you might think that Day is the weakest link but remember that he took second place at both the 2011 Masters and the 2011 U.S. Open, two of the toughest tests in golf.
Jeff Sherman, the founder of Las Vegas' GolfOdds.com said, "All other golfers are double digit odds. Tiger Woods' recent play also slashed his 2012 Masters odds from 12/1 to 6/1, making him the favorite ahead of Rory McIlroy at 10/1."
Although this event will benefit Tiger Woods' charity, Woods is grateful that he stayed in the top-fifty long enough to be invited! He is now "rebuilding", as he claimed, after both personal and physical injuries. A win at the Chevron, although not a major event, will be a good start to 2012.
Voice your opinion on Twitter @Golf4Beginners and friend on Facebook!
photo credit