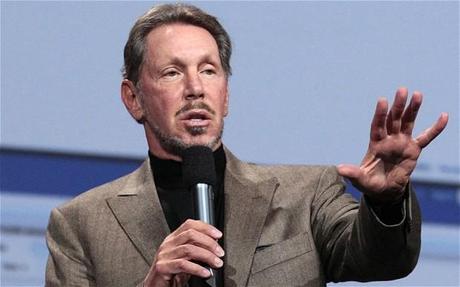 Here is a Rags-to-Riches story that will remain in history for quite a time. It all started when Larry Ellison dropped out of school to travel from Chicago to look out for what's waiting for him in California. I wonder what would have gone in his mind if he knew that Forbes will someday name him as the richest person in the world. May be he would have believed it.
It all seems to have started when Larry Ellison began work on a project in a computer company for C.I.A., the project he named as Oracle. Later Larry teamed up with Robert Miner and Edward Oates and found Software Development Laboratories with an investment of $2000. During this course they were already selling their relational databases to the government and developing software for business. It was in 1982 when the company got a facelift and changed its name to be Oracle Corporation. Larry Ellison continued his efforts to lead the company forward and reached the pivotal moment of Oracle's initial public offering at a share price of $15 in 1986.
It wasn't an easy ride to reach the titan moments of his lifetime. Ellison successfully steered the company through competitive battles with IBM and Sybase in the database arena. Sun Microsystems was also acquired by Oracle in 2010. Also, during the year 1997, Ellison was made the director of Apple Computer upon the return of Steve Jobs, in another epic moment.
Forbes has named Larry Ellison as the world's richest # 6 with a net estimate of $46.1 billion dollar as of 2014. He is also the highest paid executive in the U.S. with an annual compensation of $960 million. Larry Ellison is known for his lavish lifestyle; among his many real estate collections is the Japanese styled 22 acre estate that houses 10 buildings, man-made lake, a tea house and a bath house which is supposedly estimated at $70 million in Woodside, California.
With the heritage of being in the lead as a technology spearhead for nearly 4 decades, Larry Ellison announced his retirement as the CEO of Oracle on September 18. The mantle is now taken over by executives Safra Catz and Mark Hurd who have been working with Larry in pioneering the success of Oracle. In a statement Ellison said, "Safra and Mark will now report to the Oracle Board rather than to me". He further added, "All the other reporting relationships will remain unchanged. The three of us have been working well together for the last several years, and we plan to continue working together for the foreseeable future. Keeping this management team in place has always been a top priority of mine."
Larry Ellison will continue to be actively engaged working full-time in Oracle as the Chief Technology Officer from now, focusing his energy on product engineering, technology development and strategy.