Quake off Cuba shudders folks from Keys to Orlando
January 10, 2014|By Robert Nolin and Adam Sacasa, Sun Sentinel
"A rare but moderate earthquake off the Cuban coast shook buildings and rattled residents from the Keys to Orlando on Thursday afternoon. The 5.1 magnitude quake occurred just before 4 p.m. in the ocean about 24 miles north of the Cuban city of Corralillo, more than 100 miles east of Havana. ... Becky Herrin, spokeswoman for the Monroe County Sheriff's Office, felt her building shake. It was the only quake she's experienced in 28 years in the Keys. "It's certainly unusual," she said. "I haven't heard any reports of damage or injuries so that's really fortunate." Still, the ground shook as far north as Central Florida, nearly 400 miles from Cuba. ... Thursday's temblor happened in a region not known for earthquakes. "It is an uncommon area for a quake," he said. But in 30 years, in a 150-mile radius of Thursday's quake, only two other weak ones have occurred, Abreu said. In 1982, a 4.5 magnitude quake struck, and in 2005, there was a magnitude 4.1 in the area. Florida, far from the margins of the earth's tectonic plates, is traditionally not subject to quakes."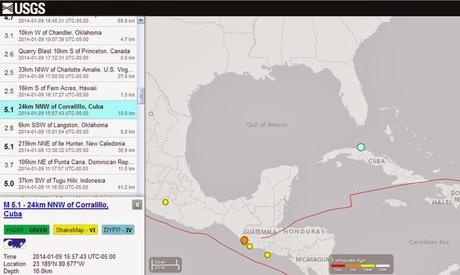 Jesus said that in advance of His second coming there would be signs. This was in answer to the Disciples' question in Matthew 24:3, "As he sat on the Mount of Olives, the disciples came to him privately, saying, "Tell us, when will these things be, and what will be the sign of your coming and of the close of the age?""
Verse 24:4 begins, "And Jesus answered them...
One of the signs He said would occur is that there will be earthquakes in various places. (Matthew 24:7b).
It is important to know that the "last days", the "last times", the "end time" is now, and it has been since Jesus ascended. Paul warned Timothy of the last days in 2 Timothy 3:1, Peter did in 2 Peter 3:3, Paul again in 1 Timothy 4:1, and Jude did in 1:18 for example. They all repeat the warning of the last days. These were not warnings of some far-off time, they were warnings for the Church at that time until Jesus returned. What they didn't know was that there would be a 2000 year gap.
In my opinion, the warning of the last days in Jesus's Discourse in Matthew 24 (AKA The Olivet Discourse, because He delivered it atop the Mount of Olives) can be sectioned off into parts. When Jesus begins to answer, He offers some warning signs from Matthew 24:4-8. Even twice within that short time frame, He said that the end is not yet. Then He launched into a section from verse 9-14 of a kind of overview of the entire Tribulation. Then Jesus backtracks and gives specifics of the Great Tribulation from verse 15-28. This part is aimed mostly at Jewish believers living during those days who will have converted by that time. At the passage's end He speaks of the signs of His actual, physical return. (Vv. 29-31.)
John MacArthur said in his sermon "The Grim Reality of the Last Days",
"Luke's account says great earthquakes, seismos megalos, mega quakes, like the 9-point quake 80 miles off the shore of Japan. Through history, millions and millions, countless millions have died in earthquakes. I read this week that there are one-half million earthquakes a year every year. You are on a shaky place. A hundred thousand of them are felt. But half a million register on Richter scales. ... And the worst is yet to come. ...[O]ur Lord says, "Those things...in verse 7...must take place but that's not yet the end." It's the nature of living in a cursed planet. It's not yet the end. In fact, if you will look at the end of verse 8 it says they're merely the beginning of birth pangs.
That's an analogy of a woman's contractions. They are separated, they are mild, and they intensify and intensify and intensify to a great degree just before birth. What we're seeing in human history is just the beginning, is just the mild contractions. Wait till you see what's going to happen just before the very end. Two thousand years of these milder contractions will explode in the end, in the time of Tribulation described starting in verse 14."
The verse is clear when it says earthquakes will be in various places. Other translations say diverse places. In my opinion the quake near Cuba the other day qualifies for being in a diverse place. It did to the USGS. They highlight quakes on their list that are significant. Though the 5.1 magnitude quake wasn't a mega-quake like the March 2011 9.0 magnitude off Japan, it was listed as significant anyway. USGS explains,
"List items with a red background have been identified as "significant", based on a combination of magnitude, PAGER alert level, and the number of Did You Feel It? responses."
The location of the quake surprised officials. As we saw in the data Dr MacArthur provided, there are a great many quakes occurring each year on this planet. As the time draws nearer to the return of Jesus, scientists, officials, and humankind will discover that there is no place that is earthquake-free. There will be more and more frequent quakes and they will occur any place at all. Just as the Cuban quake did.
Pray for the return of Jesus.
"Look, I am coming soon! Blessed is the one who keeps the words of the prophecy written in this scroll." (Revelation 22:7)