Our current budget does not allow us to actually go to the movies, so instead we are going to give our reviews based on what we think the movie might be like.
We have a very scientific method for this:
actor/actress + director – every movie they ever made/projected box office success (hype*length of film) = review
Then we give each movie a rating based on the number of times you could go to the bathroom without missing any key plot points.
For example: The Departed would be 0 out of 5 bathroom breaks. If you left at any point in this movie you might miss something really important like a death, a boob shot, or a plot twist.
Whereas: Dumb and Dumber would be 5 out of 5 bathroom breaks. You can leave at any point in this movie and not be lost on any plot or story line what-so-ever, with the exception of quite possibly a potential boob shot.
Now that everyone is on the same page, onto this week's movies:
Strange Magic
Starring: Evan Rachel Wood, Elijah Kelley, Kristin Chenoweth
Directed by: Gary Rydstrom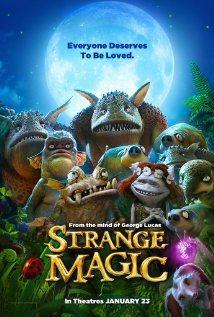 Before we get into the fact that this movie was thought up by George Lucas of Star Wars and Indiana Jones fame…can we ask one question?
How does one direct an animated film? Sometimes animated films will even have two or three directors! You can't really give direction to a drawing, so our guess is that they just drink Starbucks while looking over the animator's shoulders, rubbing their chin and saying helpful things like:
"I think you need a little more cyan in that pair of pants"
"Why aren't your trees happy like Bob Ross' trees?"
"Hurry up! Or you'll be replaced by an Apple computer!"
Since it's animated, we are sure it will follow the same boring formula all animated films put out nowadays. There will be some mildly funny parts, a happy song, a slow sad song, someone or something will die, and to end the whole thing, a crowd of onlookers will cheer and shout.
George Lucas will never top Indiana Jones or Star Wars so this movie will end up in the $5 bargain bin at Walmart very soon.
We give this movie: Three out of five bathroom breaks.
Paddington
Starring: Hugh Bonneville, Sally Hawkins, Julie Walters
Directed by: Paul King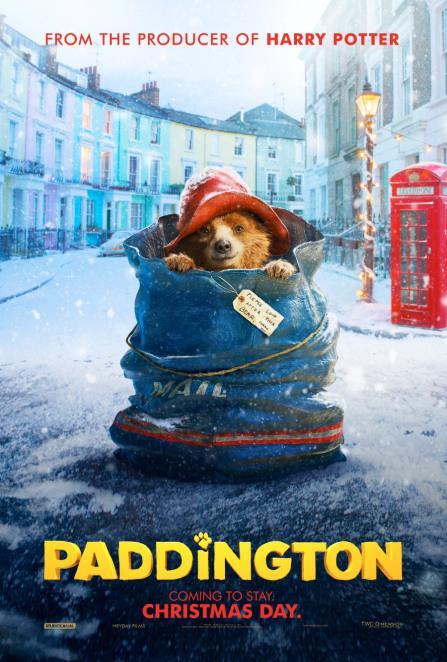 Another big CGI* offering to amuse the little kids, probably with hope to capture some adult audience as well. You know it's going to be bad when they have to throw in a super movie franchise over the title as a draw.
Ahem. We are looking at you, Harry Potter Producer.
There is no mystery to how this movie will play out:
Act 1: Family discovers Bear. Dad doesn't like Bear. Kids convince Dad to keep Bear. Dad says: 'Yes, but it's only temporary!"
Act 2: Bear destroys stuff accidentally and gets into a lot of trouble. Bear has a hard time fitting in with his surroundings. Bear destroys something valuable and/or irreplaceable.
Act 3: Bear runs away. Villain rescues Bear and seems like a better option then the Family that rescued him.
Act 4: Rescue mission. Lots of slap stick.
Act 5: Everyone is happy. Dad tolerates Bear in a grumpy but lovable manner.
Our best advice is to wait for Netflicks. That way you can nap through it when your kids beg you to watch it. Again.
And Again.
And Again.
 We give this movie: 2 out of 5 bathroom breaks.
*Crap Gone Imax
The Boy Next Door
Starring: Jennifer Lopez, Ryan Guzman, Kristin Chenoweth
Directed by: Rob Cohen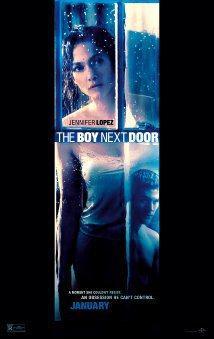 We haven't heard any pre-buzz on this movie, so this review will have to go solely on title and movie poster alone. This looks like it's Jennifer Lopez's come back vehicle and it will be a some kind of sappy drama. In it, Jennifer plays a women obsessed with pensively looking out rainy windows. Suddenly a small man also wants to pensively look out the same window Jennifer has been looking out for the last 15 years. Tensions arise as the two fight for rights to stare out this window…will they kill each other…will they fall in love?
Will there be a sex scene or two?
Only time and the weather will tell…
We give this movie: 3 out of 5 bathroom breaks.
————————–
MORE PLACES TO FIND LONG AWKWARD PAUSE:
Facebook: Long Awkward Pause
Twitter: @LongAwkPause
Tumblr: Long Awkward Pause Mag
Podcast: iTunes or PodOmatic
LAP TV: YouTube
Would you like to see a topic discussed on LAP?  Click HERE.