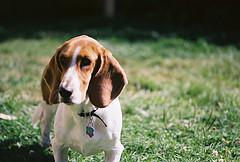 If there's anyone who might spend more time in our yards than we do, it's our pets. As a beloved member of the family, they are entitled to a space that's both fun and safe to play in. Here are the top five ways to make your outdoor space a pet paradise.
1. The Right Enclosure
When picking out the best fencing options for your pet, you need to consider not only the look you want in your yard, but also your pet's behavior. If you have a dog path along the fence line, consider paving it with flagstones. If your pet is a digger, look into invisible fencing or rock features, and if you want to keep your cat in his own yard, check out PurrfectFence.com. Throughout your yard, smaller picket fences or gardening edging can also help to define a space as well as keep Fido from trouncing your daylilies.
2. Space to Play
Considering how your pet likes to use the yard can be a big help when planning a place to play. Retrievers like long open spaces to play fetch or Frisbee®, smaller dogs may like a line of bushes that create a tunnel, and others may wish for their very own sand box. Whatever kind of space you create, also try to keep the plants and features to scale with your pet.
3. Shade and Sun
It is important to remember that your pet will be in the yard at all hours of the day, through every season of the year. For their health, it is necessary to create places where they can get warmth from the sun, and cool off in the shade all day long. Take into account the direction of the space, surrounding buildings and consider planting trees or shrubs that can add visual interest as well as a shady place to nap in the afternoon sun.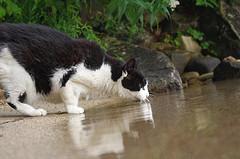 4. Water Features
The right pond or fountain could be the best investment you make for your outdoor space. If your pet spends a lot of their time out doors, it is important to have water available for them at all times. On the other hand you don't want to have to wipe up your bird dog's muddy footprints all year long. Pick a feature based on your style and how your pet will interact with it: raised to discourage paws, deep and flowing to keep it fresh and drinkable and always chemical free.
5. Appropriate Plants
Choose a grass that will hold up to paw traffic, watch out for landscaping plants that are poisonous or have long thorns, and consider adding plants your pet will enjoy or benefit from like cat nip, wheat grass, or fleawort. http://www.aspca.org/pet-care/poison-control/plants/ is a great website to help you learn which plants may be toxic for your pets.
For more tips and ideas, ask your local garden shop or a landscaper to help you create the perfect outdoor space that both you and your pet can enjoy.
Photo credits: A very serious Mugsy by Chuck Falzone/flickr; Cat drinks lake by Steve/flickr
Casey Stevens is a landscaper and animal lover who really enjoys making over yards to incorporate pet-friendly choices. If you're interested in a landscape business, check out the listings for a used dump truck or maybe you could use a box truck for your next project.