The hardest part of being a landlord is to rent a property after the tenants leave the property. A lot of times landlords decide to rent a room to individuals to minimize the risk of having a vacant house all together.
Finding a website to advertise properties to rent can be a difficult task as most of the websites are not free as they claim to be, or at least they stick a limitation of number of ads a landlord can post. If you are fed up with the limitations and the extraordinary charges of the property sites and looking for a hassle free way to advertise your house or flats for free then you came to the right place.
You can post a free ad to let your spare room or properties on Bonsoni.com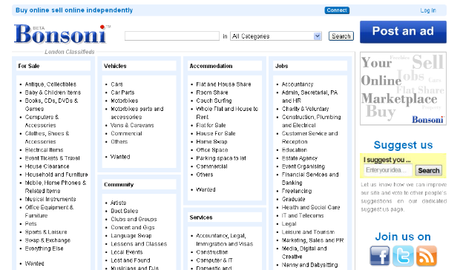 Post free advertisement of your property on Bonsoni.com
Before we proceed to post a free ad to let your property, there are few things you need to prepare.
Take some excellent pictures of the property. If you are letting a room only, take a full picture of the room where it covers as much as spaces of the room as possible. Don't forget to tidy up the room with clean bed sheet (if you provide) and clutter free table tops and other places. If possible you can hang some nice pictures on the wall, table lamps on the bedside table etc
Prepare a nice description of your ad. Your ad should contain-
Is it a house or flat?
How many bedrooms in the property
How big are the rooms?
Is it furnished or not?
What appliances the kitchen has?
Is it double glazing or not?
What is the condition of the property?
Is there any other tenants living at the moment? What do they do?
Who will pay the bills?
Telephone line, internet?
Terms of deposit? How much?
For how long the tenancy contract for?
How far is the property from bus stop or tube station?
What about supermarkets?
Is it a safe area?
Night buses?
How far is the local shop?
Where exactly it is? (post code on the map)
Now we are going to post the free ad on Bonsoni.
You can go to Bonsoni.com by clicking here or if you are a Googler you can search "Bonsoni" on Google.
Once you are in the homepage of Bonsoni, click "Post an ad" button on the right hand side corner.
It will take you to the posting an ad page of Bonsoni
Step by step guide of posting a "House Share" or "Whole Flat and House to Rent" ad
Ad title: Give an eye catching ad title. Use the full 100 characters limit on the ad title. Just think how would you describe your property or room in a sentence?
Category: Select Accommodation from the drop down menu
Subcategory: Select whatever appropriate for your ad
Description: Fill this box as mentioned previously. Don't forget to check the spelling!
Add picture: Upload 3 best pictures (soon  the site will allow more than 3 images) of your property or the room you are renting
Rent per week: What is the rent per week your tenant will be paying? If you prefer to charge your tenant per month then mention it on the ad description
Local are name: What is the name of the area your property based in? Use the most common name of the area
Post code: Give the full post code of the property. Very important! As most of the tenants like to see where exactly the property is before making any inquiry
Your name: Give your real name
Phone number: Give your phone number it can be land phone or mobile, whatever you use the most. Remember – potential tenants like to see the land lord is easily reachable.
Email address: Give your email address
Password: choose a password minimum 6 characters
Then click on "post my ad" button at the bottom
Now at this stage if you are posting an ad for the first time on Bonsoni, it will ask you to verify your email address.
You need to go to your inbox (also check spam box if the verification email isn't in inbox) and click on the verification link in order to make your advertisement live.
That's it! Your ad will be live in a short while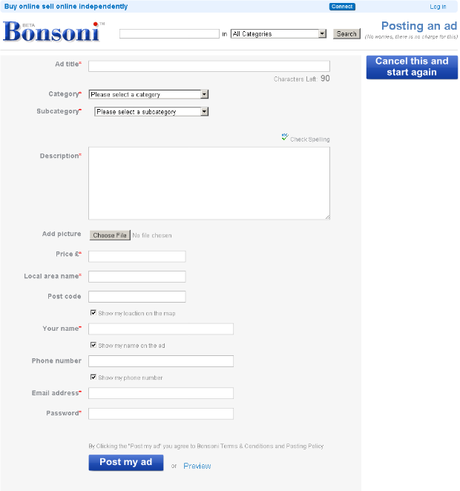 Posting an ad page screenshot
You can check the status of your ad by going to your control panel by Logging in. It will show you the status of the ad i.e. Live, Pending, Rejected etc
If you are posting an ad for the second time, as soon as you input your email address on the email area the site will tell you that you have an account with the Bonsoni and you just need to enter your password, which you chose when posting an ad for the first time.
Some useful tips after posting rent a property or rent a room ad
Know the market rate of the area you are letting the property or the room. Those "property valuation" websites are worthless. Do your own research by going to the property portal sites and house and flat rent websites.
Once you post the ad – reply all inquiries even if it is a short one. If you have any missed calls or voice mails left, do reply them. Remember this is YOUR property and this is your responsibility to make sure you are losing any money by having no tenants!
Check back after few days, is your property visible on the first page of the accommodation section? If not, post again (don't forget to delete your last ads, or the automated system may flag both ads for having repetitive manner)
When you receive enquiries for the house or the flat, do engage in a conversation with the potential tenants. Tell them about the property enthusiastically; ask them questions about their work, where did they live etc. Tenants are prone to rent from a friendly landlord or landlady than a serious one
Be wary about the rent scam fraud takes place targeting landlords and tenants You can read the safety tips. Some of the news published on BBC can be seen on the links below
BBC News:
Internet fraudsters in rent scam
Londoners still being conned in flat scams
Here are some rules as a land lord you must know from Direct.gov.uk website.
Your rights under a tenancy agreement, your role and responsibilities
Letting your property
When you let your property, the tenancy will usually be an assured shorthold tenancy (AST). With the AST, you will have assurances and legal rights, for instance:
you will get your premises back after 6 months furnished any fixed-term contract has finished along with you assigned your renter 2 months' notification to leave the property
you are able to ask for a market rent
you are able to end a contracts anytime if the tenants do not pay the rent, conduct themselves anti-socially or ruin the property, such as in the 1st six months or original set period if the tenancy contract offers this
You need to be in agreement with your tenant the lengths of time the agreement can last and mention it in the tenancy agreement prior to they move in. You are able to accept a set period – referred to as a 'fixed term' – or you are able to make it open-ended.
A tenancy contract can be a written or verbal agreement between you the landlord and a tenant(s) describing the terms and conditions of a leasing contract. You should try to have a written contract prepared prior to a tenancy starts. You may have a verbal arrangement nevertheless they provide hardly any evidence if disagreements need to be resolved.
Protect your premises against fraud with Land Registry
In the event you possess a property or home and do not reside there it is very important to secure it from property scams.
To safeguard the ownership of your own property, ensure that Land Registry has current information about you and they can contact you easily wherever you reside.
Landlord obligations
Your duties as a property owner include:
maintenance to the structure and outside of the property
maintenance tasks to heating system and hot water installations
repairs to kitchen sinks, bathrooms as well as other sanitary installations
security of gas and electric powered devices which you provide
fire safety of furnishings and fixtures which you supply
offering an Energy Performance Certificate for the property
securing your tenant's downpayment in a government-approved scheme
In exchange, your tenant is liable for taking good care of the property and paying the agreed rent on time. The tenant also needs to cover other charges – like Council Tax or utility bills – except if you have currently incorporated a sum for these in the rent payments.
You need to pay Income Tax on your gross rental revenue excluding your day-to-day operating costs.
In case you have a mortgage on the property you want to let, you need, or must get, permission to let the property from the mortgage lender
Source: Renting out your home . Direct.gov.uk - retrieved on 8 Nov 2011
This blog is brought to you by Bonsoni.com, an online marketplace and classified ads site for buying and selling items, properties, finding a flat share, jobs, local services, free to collect items and many other categories. Our aim is to provide a simple, safe, friendly but nimble platform for people to connect with each other, and trade goods and services