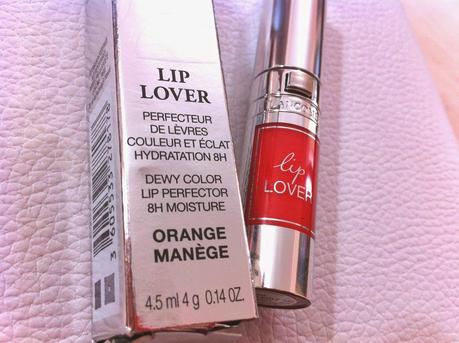 Lancome Lip Lover Orange Manege (#336) 
There was a time when I used to detest anything that was sheer and resembled lip gloss. God knows what's happened to me but for the past one month or so sheer colors and lip gloss are the only things I'm attracted to. And Lancome launched the new Lip Lover range bang in the middle of this phase so I  had to get at least one of these. Kolkata does not have a Lancome store so the only way I get my Lancome fix is through the ever dependable strawberrynet.com. When I bought it, strawberrynet was offering a 10% off on all makeup so I got this at 20% off (including my loyalty bonus). Dunno how much the Lip Lovers are priced in the stores but at strawberrynet, you can get for Rs 1755.
So what is this Lip Lover? Lancome describes it as :
A moisture-rich lip color
Boasts a three-in-one elixir formula
The balmy base provides up to eight hours of moisture
Provides captivating color intensity & dewy glow
Creates a smoothing layer to reduce the appearance of fine lines
Available in a wide range of colors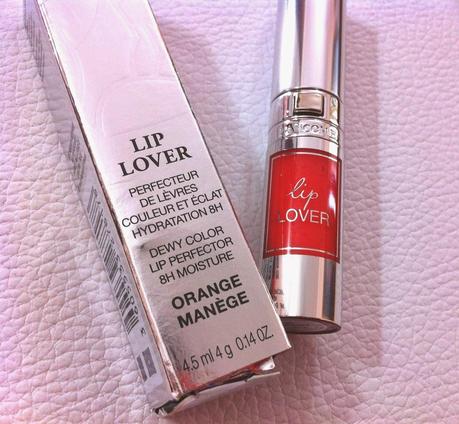 I checked a number of swatches online and Orange Manage looked the prettiest and the most summery. The color is not really a pure orange but a mix of coral, red and orange on my lips. The packaging is top class. It looks so pretty and classy and I really like the way Lancome designed it. Its not the traditional lip gloss tube where you twist the cap to get the applicator out. Here, all you need to do is put a slight amount of pressure right in the middle and the applicator comes out in just one click!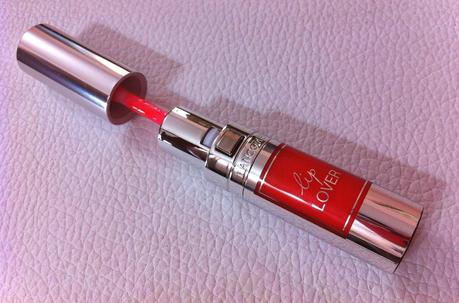 So, is it a lip gloss, a lip balm or a liquid lipstick? To me, its more a lip gloss minus the stickiness and with a bit more pigmentation. I would say the texture is very similar to Maybelline's Lip Polish but Lip Lover does not feel as thick on the lips. It goes on extremely smooth and does not feather or bleed. It definitely is not as pigmented as liquid lipsticks but not too sheer either. Orange Manege is a beautiful shade that will go with all skin tones. Even though very bright inside the tube, on the lips not as much. Because the texture is so light, you can also use it on your cheeks for a light flush of color that looks very pretty.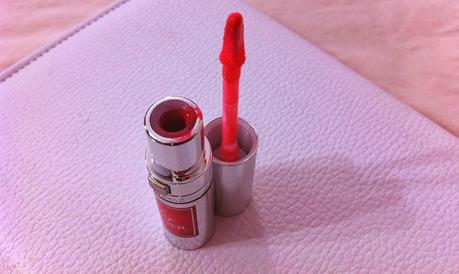 Longevity has never been a lip gloss's strongest point and it's no exception for the Lip Lover. On me the color lasts for about 3 hours before starting to fade away but I'm happy that even after the color is gone, the shine still remains for about an hour or so. Lip gloss is usually quite drying on me but this moisturizes my lips and keeps it looking shiny, plump and healthy for quite a long time.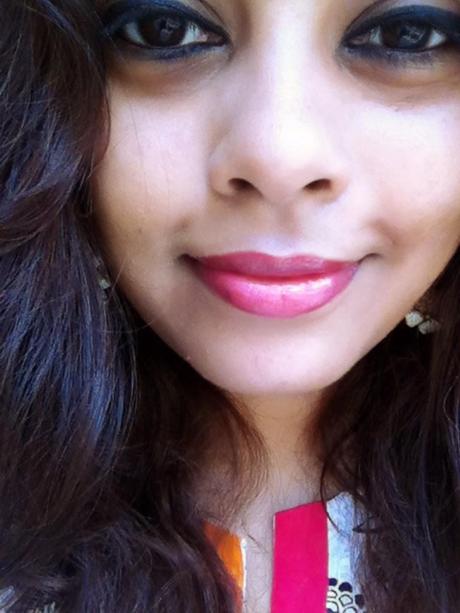 I am very impressed with Lancome's latest and if you are a lip gloss/liquid lipstick fan, you will love the Lip Lovers. The texture is super smooth, Orange Manege is a lovely color and it keeps the lips hydrated for a long time. Price is definitely on the higher side but then Lancome is an expensive brand. 
Have you tried any of the Lip Lovers? Which one is your favorite?