Awesome, and gorgeous palette. This is a little different than the other Lancome palettes in that it has the rose design adorned with red Swarovski crystals. This palette is perfect for a subtle hint of copper that is great for making blue eyes pop. The shadow is very smooth and easy to blend. It also lasts all day and is nicely pigmented. There are five shadows in this palette: a shimmery base color, a matte crease color, a light copper for a highlighter, true copper for the lid and dark brown for a liner. It has everything you need for your eyes other than mascara. The shades are perfect together; even the light copper. I wasn't sure how that would work as a highlighter, but it is lovely as long as it applied lightly.
In addition to this palette, I did tightline my eyes using Lancome's Le Crayon Kohl in Black Coffee.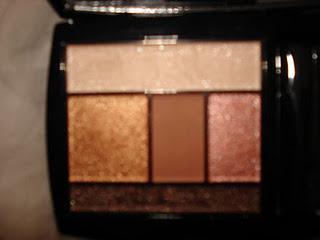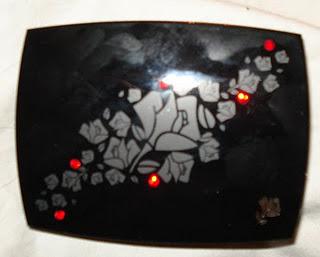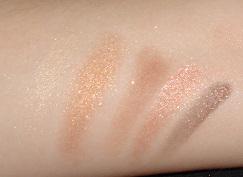 Base color, highlight, crease, lid and liner.