Lamp Quarters in Marikina is a community of locally-owned restaurants specifically chosen to provide a more relaxing dining experience. If you're expecting dozens of different food stalls and a huge common eating area normally associated with food parks, then this is not for you. Lamp Quarters is more of a cozy hub consisting of only seven restaurants that offer enough variety to appease most cravings.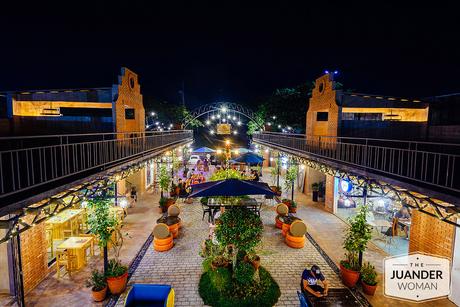 What we like about Lamp Quarters
Cross ordering is allowed

Having a hard time choosing between restaurants? You'd be happy to know that you're free to order food from other restaurants too.

Pet friendly
Clean Restrooms
Modern and Spacious Atmosphere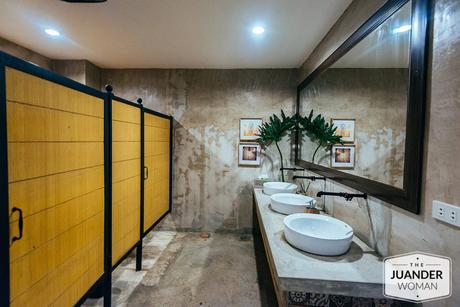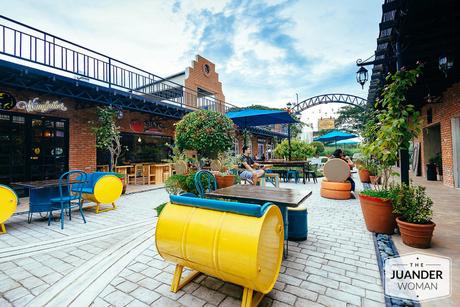 Budget
While it may seem like an expensive place to dine in, we were pleasantly surprised to find a number of affordable items on the menu. Dong Juan, for example, offers sizzling meals for only Php 159 which already comes with rice and iced tea. If you're craving for either coffee or milk tea, Bubba Lab's medium-sized brewed coffee is only Php 75 and their classic milk teas start at Php 95 (exclusive of toppings). For a cold bottle of beer, Wingfather serves a bottle of San Mig Light for Php 58.
The average budget per person would be between Php 300 – Php 400.
Currently, the majority of the restaurants only accept cash payments, except for Dong Juan, which also accepts credit card payments.
Location
Lamp Quarters is easy to find – it is located along Mayor Gil Fernando, near Marikina's Engineering office. It's less than a kilometer away from Blue Wave Mall, which may be a better landmark for those not familiar with Marikina.
Parking
They only have a number of parking spaces but cars can double park or choose to park along the street. Parking is free of charge.
Hours
Sunday to Thursday: 10:00 am – 10:00 pm
Friday & Saturday: 10:00 am – 12:00 mn
Lamp Quarters' Contact Information
Restaurants in Lamp Quarters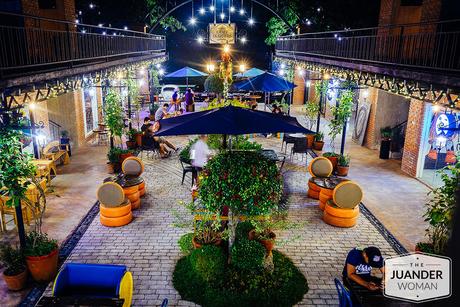 We were able to try five of the seven restaurants in Lamp Quarters. Each of them deserves a separate blog post, but for now, we're providing a short preview of what each of the restaurants has to offer.
1. Dong Juan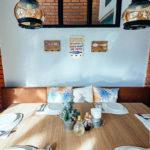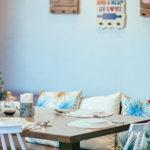 Dong Juan, originally established in Cebu, now has two branches in Metro Manila. One in Quezon City plus their most recent one in Lamp Quarters Marikina. All the dishes were equally satisfying but the Crispy Pata definitely stood out. In fact, the Crispy Pata alone already gives us a strong reason to come back.
Tips: If you're ordering pizza, make sure to try it with their hot sauce (also available for sale). Dong Juan is also the only establishment that accepts credit card payments.
Ideal for: families, group of friends
Average Budget: Php 159 – Php 400
Our Favorite: Asian Style Crispy Pork Knuckles (Crispy Pata)
On a Budget? Try their Sizzling Meals which starts at Php 159 (comes with rice and iced tea)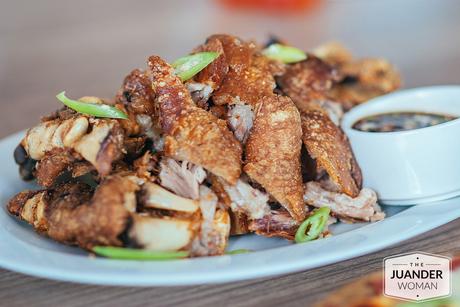 Asian Style Crispy Pork Knuckles
What we ate:
Dong Juan Burger – Php 179
Gambas Al Ajillo Pasta – Php 259
Dong Juan's All-meat Special Pizza  – Php 369
Asian Style Crispy Pork Knuckles – Php 489
Beverage: Kalamansi Blush – Php 99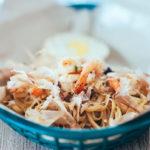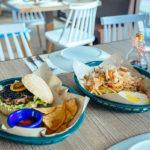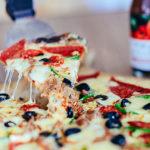 Dong Juan's Contact Information:
Dong Juan's other Branches:
72 Mo. Ignacia Ave, Diliman, Quezon City, Metro Manila
28 Emilio Osmeña St, Cebu City, 6000 Cebu
2. MEHANA by YORDANOVI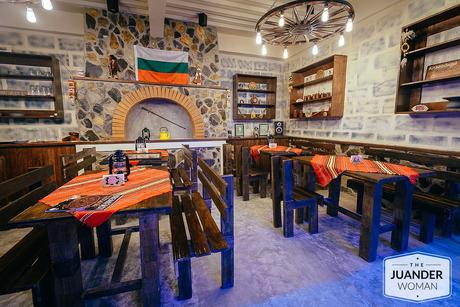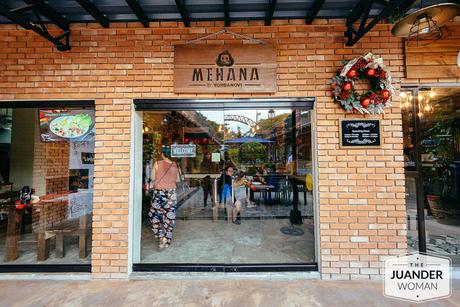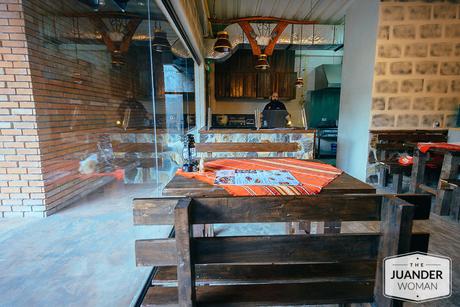 Mehana is the most interesting restaurant of them all. Being the first Bulgarian restaurant in the Philippines, we didn't know what to expect. Lucky for us, our first experience with Bulgarian cuisine was satisfying. We didn't realize that we were able to go through all three dishes in less than thirty minutes. Their homemade dip shouldn't be missed as it greatly complements the dishes.
Ideal for: families, group of friends, meat lovers, adventurous eaters
Average Budget: Php 259 – Php 350
Our Favorite: Shish (grilled marinated pork skewered with onions and fresh bell pepper  *description from menu*)
Dining Solo? Their mains are mostly good for one person, starts at Php 259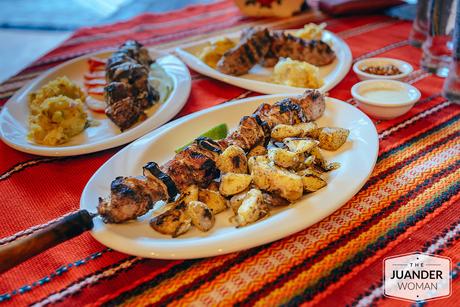 Front – Shish, Top Left – Homemade Bulgarian Sausage, Top Right – Kebapche
What we ate:
Shish – Php 259
Homemade Bulgarian Sausage – Php 259
Kebapche – Php 259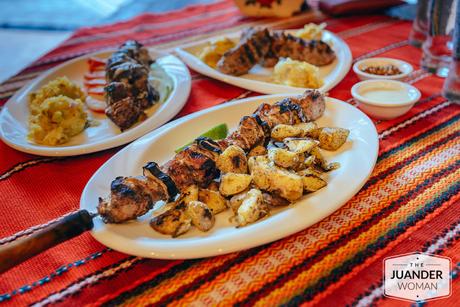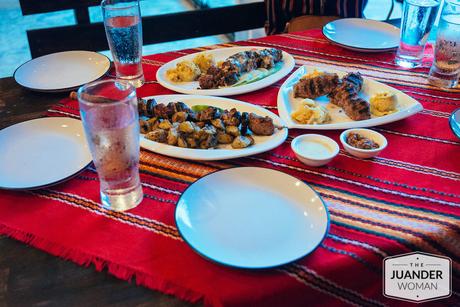 MEHANA by YORDANOVI's Contact Information
3. Bubba Lab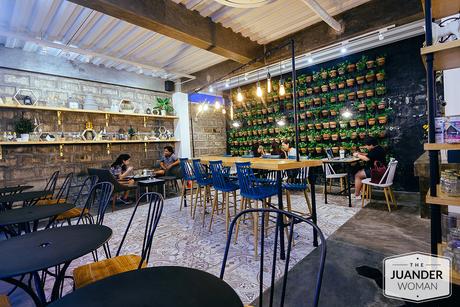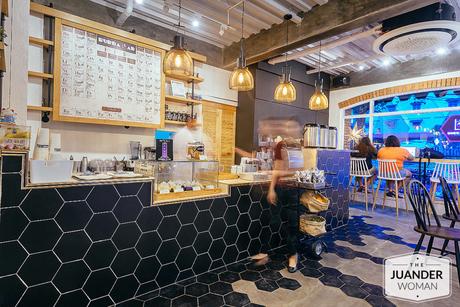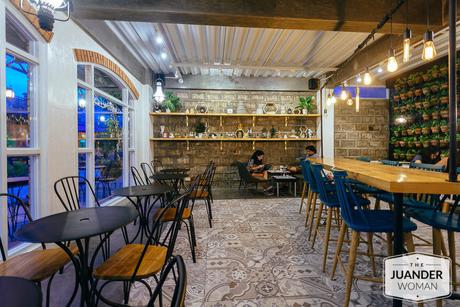 Amongst all the restaurants, Bubba Lab is the most spacious and most conducive for hanging out, working, or studying. Already on their third branch, each branch is uniquely designed and serves as a venue for a few events such as open mics and just recently a coffee cupping session.
While most people would go there for drinks, their food items are also worth a try. Their coffees and milk teas are normally served in paper cups but you can request for it to be served in a beaker.
Ideal for: working, studying, friends, families
Average Budget: Php 100  – Php 250 (drink + food for sharing)
Our Favorites: Sea Salt Coffee and Labcuterie
Just need coffee? Medium-sized brewed coffee is only Php 75

What we had for food and drinks:
Thai Milk Tea Php – 90 (M), Php 100 (L)
Cucumber Cooler – Php 135
Sea Salt Coffee – Php 130
Tri-Potato Medley – Php 210
Labcuterie – Php 270
Danish with Dulce De Leche – Php 85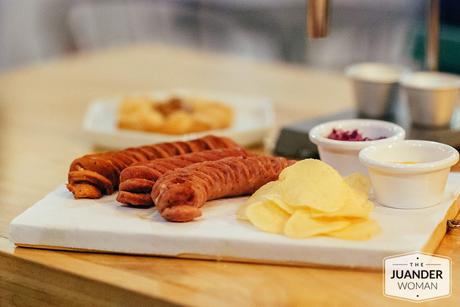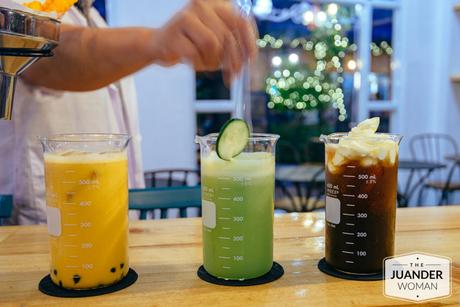 Bubba Lab's Contact Information:
Bubba Lab's other Branches:
Extension B, C&B Circle Mall, Liwasang Kalayaan Avenue, Marikina City 1810
Graceland Plaza J.P. Rizal Street Brgy. Lamuan Malanday, Marikina City 1805
4. Chives Bistro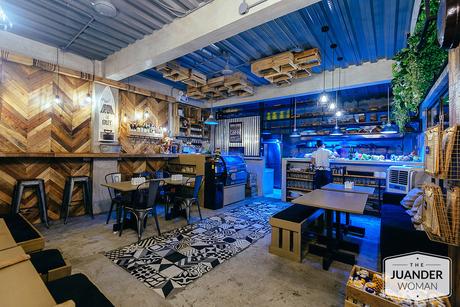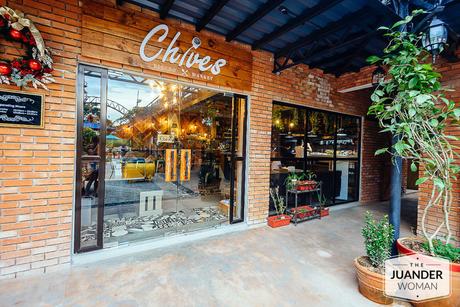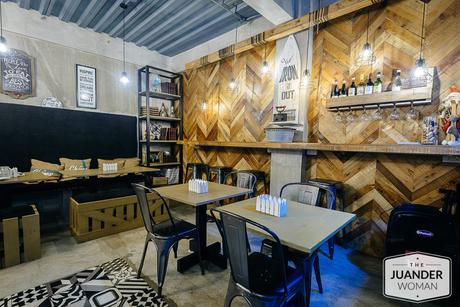 This is Chive Bistro's second branch, the first one is located in Antipolo City.  Just by looking at the dishes, we could already tell that we were in for a good dining experience.  It's also nice to note that a portion of their sales goes to H.O.P.E Inc. Tip: They also serve wine.
Ideal for: couples, friends, families
Average Budget: Php 245 – Php 500
Our Favorite: Roasted Chicken with Ratatouille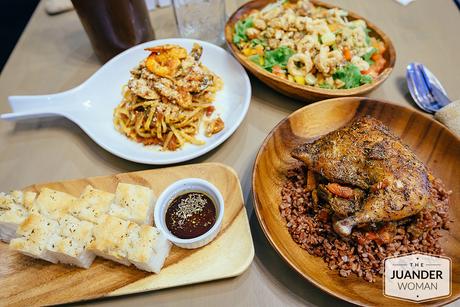 What we ate:
Bread (complimentary)
House Salad – Php 159
Frutti di Mare – Php 250
Roasted Chicken with Ratatouille – Php 290
Lemon Grass Iced Tea
Celebrity Cake – Php 130 (per slice)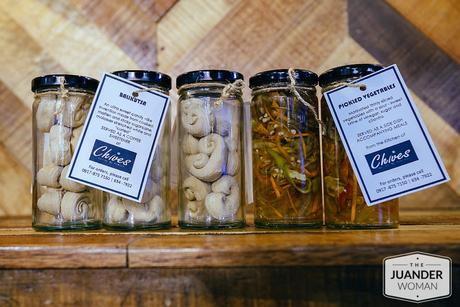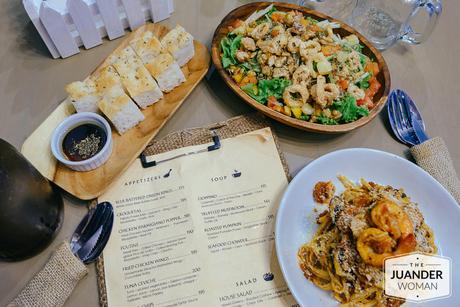 Chive Bistro's Contact Information:
Chive Bistro's other branch:
EM GEMS Building GF L. Sumulong Memorial Circle, Circumferential Road, Brgy. San Roque, Antipolo City
5. Wingfather Wings & Booze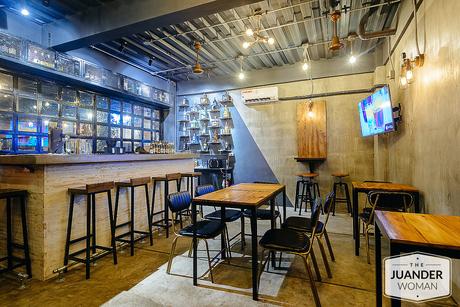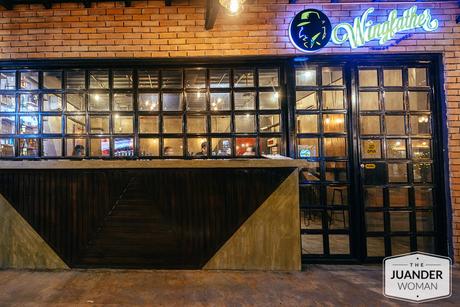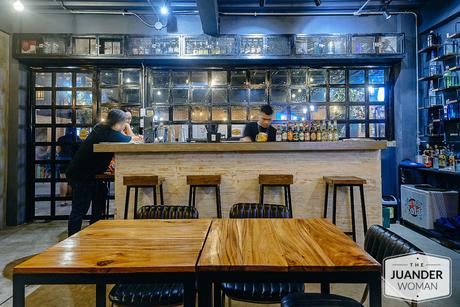 Wingfather will be your source of alcoholic drinks in Lamp Quarters. It's a chill hangout place that serves both local and imported beers. They also offer a wide array of cocktails including an award-winning Bacardi mix they named Donkey Kong. But what's most interesting are their boy bawang flavored dishes – Capone and Corleone. Not only were they surprisingly good, they also made a good pair for our drinks.
Ideal for: couples, friends, families
Average Budget: Php 250 – Php 500
Our Favorites: Donkey Kong (cocktail) & Boy Bawang Crusted Wings
Local beer? San Mig Light – Php 58; Redhorse Php 68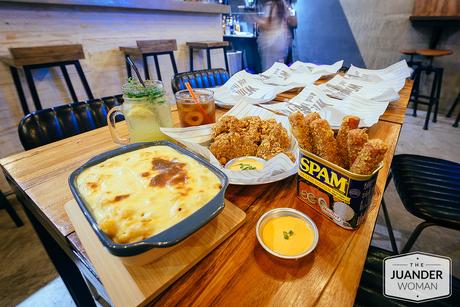 Left to right – Mac & Cheese, Corleone, Capone
What we had for food and drinks:
Aligue Wings – Php 230
Capone (Boy Bawang Spam Fries) – Php 160
Corleone (Boy Bawang Crusted Wings) – Php 230
Chimichanga – Php 175
Mac & Cheese
Adventure Island (cocktail) – Php 200
Donkey Kong (cocktail) – Php 150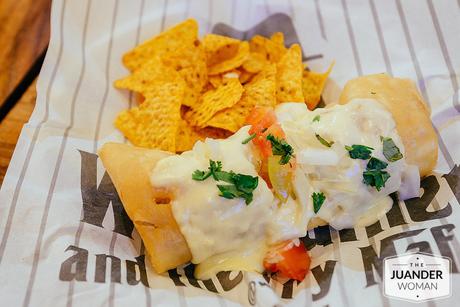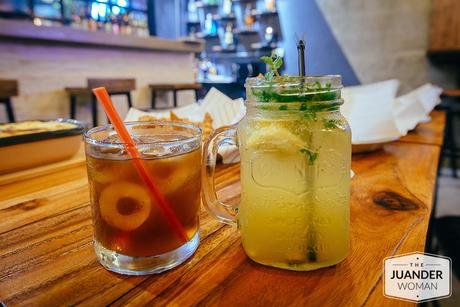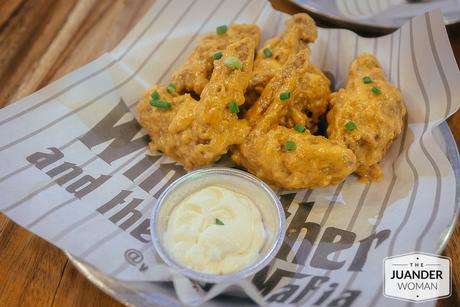 Wingfather's Contact Information:
Wingfather's other branch:
The Food Hive, 80 Visayas Avenue, Quezon City, Philippines
---
The other two restaurants in Lamp Quarters we have yet to try are:
Silyo DMiela
Facebook Page: https://www.facebook.com/Silyo-DMiela-507281526125747/

Ahlee's
Facebook Page: https://www.facebook.com/ahleesmarikina/