Look lush and get party-perfect!
  

Lakme launches a fashionably festive collection
Look sensational as you get ready to ring in the New Year with Lakme's luxurious new line of trendsetting shades. Created to flatter various skin types, there's something for everyone in this line of sophisticated products. Gift yourself a glamorous look or just that little something to complement your outfit which is sure to get you every bit of the attention you deserve!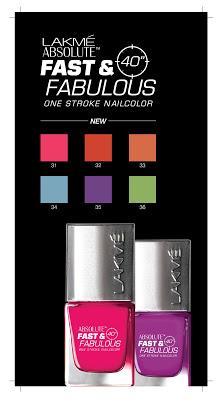 Go high drama or play it properly pretty with Lakme Absolute Fast and Fabulous, the modern woman's favorite nail color – now in six unique shades that make up an eclectic palate ranging from intense deep set colours to fun bright ones. Don't worry if you're in a rush. It takes just 40 seconds to dry and comes with a unique flat brush applicator which ensures even application with every stroke. Feast on flavours like Perky Pink, Mint Green, Salsa Red, Royal Orange, Misty Grey and Majestic Mauve.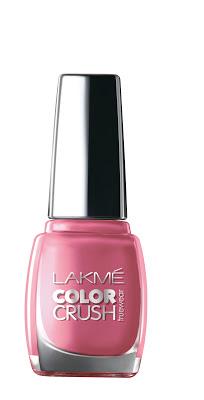 Take a walk on the wild side and get your groove on with Lakme's Truewear Colour Crush range of nail paint – now in two new pinks, red, orange, pu
Look luscious with the season's must-have lip colour,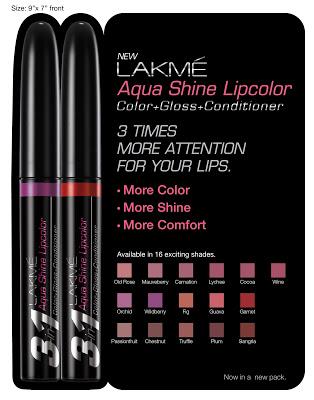 Lakme Aquashine, which has a 3-in-1 formula that explodes colour, guarantees gloss and also conditions the lips. Reds are always right for the season, but why not draw inspiration from the seasonal festivity and choose from seven delicious new shades which come in a perfect mix of browns, reds and pinks. Guava, Chestnut, Carnation, Garnet, Mauveberry, Passionfruit, Lychee will leave your lips looking irresistible. rple, a new blue and a sheer too!  
 Make a statement by adding Lakme's new Enrich Lipstick range to your wedding trousseau. To complete the look, Truewear Colour Crush also has six new shades that pair perfectly with bridal outfits for the 'picture perfect' bride on the most important day of her life.
So play it up and get party perfect! Add colour to your life with this new range of 24 products.  Get ready to set the trend this festive season.
 Available at select outlets across India. 
Lakme Absolute Fast and Fabulous, MRP Rs. 199, Lakme   
Enrich Lipstick, MRP Rs. 225, 
Lakme Truewear Colour Crush, MRP Rs 150 
Lakme Aquashine Rs450
About Lakme
The contemporary and expert in the beauty industry, Lakmé continuously innovates to offer a wide range of, high performance color cosmetics, skincare products, and beauty salons. In addition to leveraging Unilever's worldwide expertise, Lakmé also partners with the leading cosmetic house; Milan-based Intercos Italia, Schwann Stabilo Germany and Paris-based Fiabila. Combining international cosmetic technology with an in-depth understanding of the Indian woman's needs, Lakmé also offers its consumers a comprehensive beauty experience through its products and services at the Lakmé Salons and Studios. For further information log on to www.lakméindia.com
In This Post ---
 Connect with Google Friend Connect
Product - Price -  Claims - You will love it because - You will leave it because - Where can I buy? Where can I buy online? Rating - Your thoughts?
❤
Comment
❤Follow via GFC
❤Subscribe for Posts Update
❤
=====================================================
Disclaimer:
For any queries, PR information, website review, store visit and events - please mail me at
[email protected]
. Read about Shopping, Style and Us and to know more, please read my
Disclosure Policy
.
Jiya (Shoppingaholic)