Lakmé Fashion Week Ushers New Talent and Initiatives at Winter/Festive 2012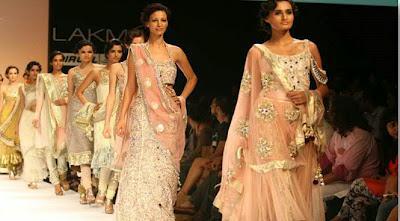 86

designers and 10 sponsors participating in Winter/Festive 2012

Kallol Datta

and Pankaj & Nidhi - Lakmé Grand Finale Designers
LFW continues its endeavor to celebrate Indian weaves and crafts
  This season Lakmé Fashion Week (LFW) is all set to bring new energy to the runway and maintain its leadership in promoting the Business of Fashion. Today, Lakmé Fashion Week, which has placed Mumbai on the global fashion map, announced its
86
participating designers &
10
sponsors for Winter/Festive 2012. In its thirteenth year, Lakmé Fashion Week continues to be the leader in recognizing creative excellence, creating opportunities for new talent and providing the most commercially relevant platform for sponsor collaborations.
Through the years, LFW has played a pivotal role in nurturing talent and grown in numbers, season on season. The upcoming season brings together an exciting line up of
86
designers from across the country
to showcase their collections. As thought leaders and pioneers in promoting the business of fashion in India, LFW has set new trends, created best practices and taken the lead on digital for the industry to follow.
Highlights of Lakmé Fashion Week Winter/Festive 2012:
¡

  
Indian Weaves & Crafts
: In a continued endeavor to support and pay tribute to Indian textiles, LFW this season will be taking Indian textile day to newer heights. This season, LFW brings together industry veterans
Jaya Jaitly, Darshan Shah, Maximiliano Modesti, Rta Kapur Chishti
and
Wendell Rodricks
for workshops, demonstrations and panel discussions while
Krishna Mehta
returns as a curator for the day. All designers participating on this day will showcase Indian weaves and crafts to extend their support to this unique initiative and help bring the dominance of Indian textiles and crafts to the fore. Winter/Festive 2012 will also see LFW
presenting an award for the designer
who best incorporates Indian weaves and craftsmanship in their collection
¡

  
Lakmé Grand Finale:
The Lakmé Grand Finale for the first time will see fashion visionaries
Kallol Datta and Pankaj & Nidhi
as the grand finale designers. They will interpret the '
Lakmé Absolute'
collection for the Lakmé Grand Finale
¡

  
Gen Next Celebrates its 7th Anniversary:
The Gen Next program, which completes 7 years this season, has encouraged debutantes and nurtured som
e of the leading names in the
industry today.  Renowned Designer and Stylist
Aki Narula
will continue to mentor the Gen Next program
.
This season,
7 extraordinary designers
from across the country will showcase their debut collections
¡

  
Talent Box:
Preview Shows at
'The Source':
Celebrating its
one year anniversary
, the international concept of mini preview shows at the 'Talent Box' will witness
18 designers participating
this season.
and MORE.
Designers for Lakmé Fashion Week Winter/Festive 2012
Lakmé Fashion Week Winter/Festive 2012 Designers
Aartivijay Gupta Pallavi Jaikishan
Aastha Bahl Pankaj & Nidhi
Abhi Singh Payal Kapoor
Abhishek Dutta Payal Khandwala
Amrita Thakur Payal Singhal
Anita Dongre Pernia Qureshi
Anushka Khanna Pia Pauro
Archana Kochhar Pooja Kapoor
Atithi Gupta Pranav Mishra & Shyma Shetty
Babita Malkani Prashant Chauhan
Bhairavi Jaikishan Priyadarshini Rao
Debarun Mukherjee Rajat Tangri
Deepika Govind Ritika Bharwani
Drashta Sarvaiya Ritu Beri
Gaurang Shah Roma Narsinghani
Isabelle Mittal Ruchika Sachdeva
Isha Dangwar & Priyanka Rai Sailex Ngairangbam
Isha Kedia & Deepak Goswami Sanchita Ajjampur
Jatin Varma Sandhya Garg
Kallol Datta Sapna Bhavnani & Sukriti Grover
Kapil & Mmonika Arora Shivan & Narresh
Karishma Shahani -Khan Shradha Murarka
Ken Ferns Shruti  Sancheti
Khushboo Agarwal & Prem Kumar Shyamal & Bhumika Shodhan
Komal Sood Siddharth Arya
Krishna Mehta Sonaakshi Raaj
Mayank Anand & Shraddha Nigam Sougat Paul
Meera and Rohit Aggarwal Surya Sarkar
Nandita Thirani Swapnil Shinde
Neeta Lulla Swati Jain
Nikhil Thampi Tanya Sharma
Nimish Shah Vaishali Shadangule
Nishka Lulla Wendell Rodricks
Nupur Kanoi Yogesh Chaudhary
Accessory Designers
Felix Bendish Nivedita Mukherjee & Swarup
Jyoti Kant Rohan Arora
Kaabia and Sasha Grewal Sannam Chopra
Mehak Gupta Sourabh Kant Shrivastava
Neha Sharma Vasundhara Mantri 
Nitya Arora

Gen Next Designers
Aniket Satam Mehak Pruthi,Kanika Seth and Ankit Sharma
Asa Kazingmei Richa Aggarwal
Astha Sethi and Sidharth Arora Sneha Arora
Kavita Sharma
Block your dates for Lakmé Fashion Week Winter/Festive scheduled from August 3 to August 7, 2012 at Grand Hyatt, Mumbai
Disclaimer:
For any queries, PR information, website review, store visit and events - please mail me at
[email protected]
. Read about Shopping, Style and Us and to know more, please read my Disclosure Policy.
Jiya (Shoppingaholic)