Hello ladies. This is my very first review and I hope it's helpful to all you beauties out there. Today I'm reviewing the newly launched Lakme Eyeconic White. Firstly, I was very excited when Lakme launched Eyeconic White because I had been searching for a good white eyeliner for a long time and I was very impressed with the black Kajal from the Eyeconicrange. Therefore, I had high expectations from this one as well. So, without further ado, here goes the review.

Product Description:-
Lasts for 10 hours.

No smudge

Waterproof

Dermatologically tested
Price:-
INR. 250
Net Weight:-
0.35 g
Availability:-
I ordered the product from www.flipkart.com as I was not sure whether it would be easily available in the market.
 Packaging:-
The packaging is similar to that of the Eyeconic Black Kajal, except that the tube is white and teal in color. It is a twist-up tube with smooth functioning and the cap fits perfectly, whichmakes it travel-friendly.


My Take On The Product
The color of the product is milky white with a slight silvery sheen. The texture is quitecreamy which makes the tip susceptible to breaking. I had to be careful about the pressure I applied while putting on the kajal because of its creamy texture. A little extra pressure made it spread to the base of my eyelashes when I tried to line my entire upper eye with it and I had to redo it. So, after getting it off, I used it to highlightonly the inner corners of my eyes and on the waterline. I faced some difficulty with it on the waterline and had to make two or three swipes for the color to show. However, it was easy to work with, on the inner corners of the eye.
After one swipe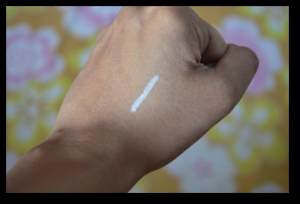 After two swipes

After Blending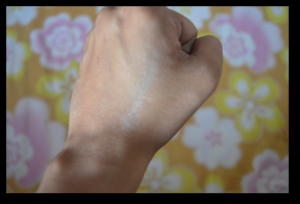 The product can be easily blended as you can see in the above picture. Therefore, it can also be used as an eyeshadow base. It stands true to its "Waterproof" claim as it is quite difficult to get it off with just water. You will have to use a good quality eye makeup remover to get it off completely. This could be seen as a downside by some. However, the "10-Hours" claim is entirely false. In my experience, it started fading just within 3 to 4 hours. So, if you're going to be out for a long time, I recommend you to carry the product with you to facilitate touch ups. Also, I suppose the product can be used without worry by people with sensitive eyes as I did not experience any irritation after using it on my waterline. However, this will differ from person to person.
Eye Swatches 

Pros:-
Travel-friendly packaging.

Milky white color.

Creamy texture.

Waterproof.

Multipurpose.

Irritation-free.
Cons:-
Starts fading within 3 to 4 hours.

Has a silvery sheen which may not be liked by some.

Tip is susceptible to breaking if a little extra pressure is applied.
 Rating:-
3.5/5
 Overall verdict

 :

My excitement has lulled a bit after using the product, I would still recommend it to those who are looking for a good white eyeliner 

in

 the Indian beauty market.