Hello all,
Few months back, when I came to India, then I got to know about
Lakme CC cream
which was
India's first CC cream
launched by Lakme. So, I could not resist to try that out and bought myself one from
nykaa.com
and used it for a couple of days. Here is the detailed
review
of this 'Lakme CC Cream'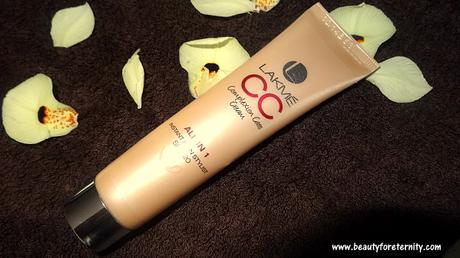 Lakme CC Cream Shade - Beige Review
(Recommended: Confused between BB and CC creams? )
Product Description
: Lakme CC cream is a
tinted moisturiser
which has
goodness of a moisturiser
along with
concealing benefits of a foundation
. This is a
multitasking product
which gives
hydration
and
sun protection
to the skin and
conceals minor imperfections
by giving an overall
natural finish
.
Price: Rs 250 for 30 ml.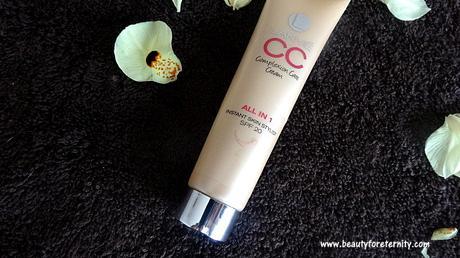 Lakme CC Cream Shade - Beige Review
My experience with Lakme CC Cream:
Packaging
: Lakme CC cream comes in a
sleek, sturdy and secure tube
made up of plastic. The tube is in beige color with magenta coloured letters and silver cap. Overall packaging looks lovely and is
convenient to use
because it dispenses just the right amount of product, is
fuss free and travel friendly.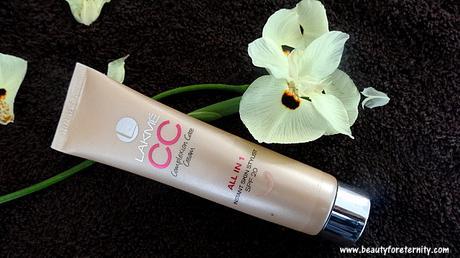 Lakme CC Cream Shade - Beige Review
Lakme CC cream comes in
2 shades
and I bought myself the shade '
Beige
' which is
lighter
of the two. I think the shade
'bronze'
would have suited me well because 'Beige' is not the perfect match for my skintone and is way too light for me. However, I make it work by using a slightly darker loose powder on top of it which gives me a better color match, more coverage and keeps my face oil free for a longer time.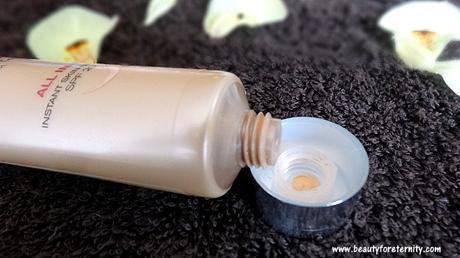 Lakme CC Cream Shade - Beige Review
The
consistency
of Lakme CC cream is
medium
and
texture is creamy
. It
blends really well
on my moisturized face but
looks patchy if I use it without a moisturizer underneath
. The packaging instructs to use this on the cleansed face but it does not work for me that way. I
cleanse and moisturize my face before using it
. It might work for oily-skinned people though if they want to skip the moisturizer.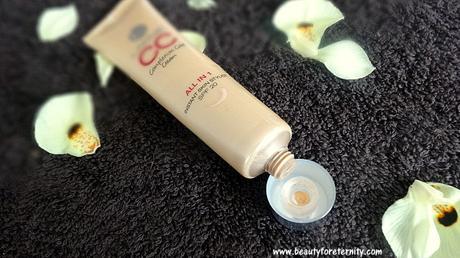 Lakme CC Cream Shade - Beige Review
The CC cream from Lakme
spreads really easily on my face and feels very smooth
like velvet. I blend it with my fingers without putting in much effort and the
result is seamless
. It
evens out my skin-tone and conceals some light spots, blemishes and counteracts redness to some extent.
The
coverage
it gives
is light
and
buildable
to some extent. I apply just one coat of it and like to address my flaws with a concealer instead rather than layering the CC cream on.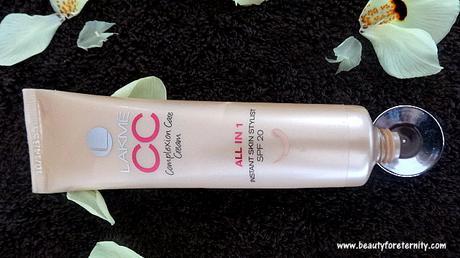 Lakme CC Cream Shade - Beige Review
It has a
semi-matt finish
and
suits my oily-combination skin
quite well in summers. I like the way it
looks so natural on my skin
and feels
extremely light weight
. It's ideal to do 'no makeup' makeup look if you don't have much to conceal on your face. It
adds a subtle glow and brightens up the whole face instantly which is claimed by the brand.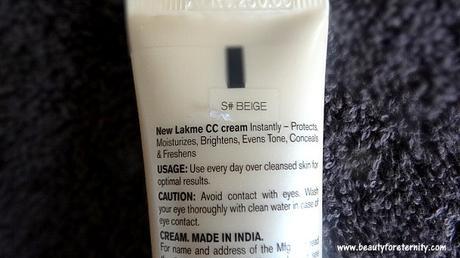 Lakme CC Cream Shade - Beige Review
My
face stays shine free for good 3-4 hours
and after that I need to touch up with loose powder. However the CC
cream stays put for 6-7 hours
and
does not look patchy when wears off.
I can confidently use it for a day out without bothering about my base.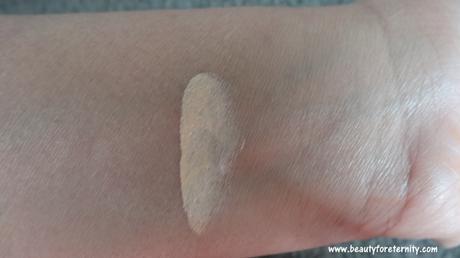 Lakme CC Cream Shade - Beige Swatch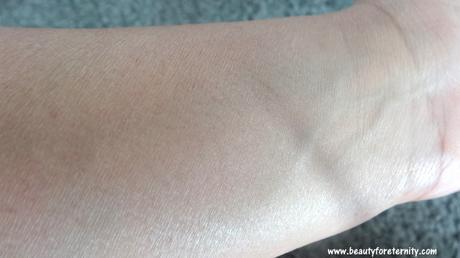 Lakme CC Cream Shade - Beige Review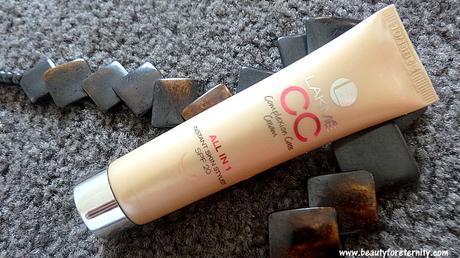 Lakme CC Cream Shade - Beige Review
Overall, I would say that this is decent product at a very reasonable price that can be an ideal match for oily to combination skinned people who do their make-up in a rush because it takes no time to blend. It needs to be used with a concealer to hide dark spots and set with a powder for longevity and more matte-fying effect. It definitely improves the appearance of the skin, brightens up and protects to some extent. I however would not call it a one-in-all sort of product because it works well only with concealer, powder and a sunscreen/moisturizer. The shade range is the biggest negative about this product as there are only two and people with medium skin tone will not get a good match.
Given below are some hits and misses about Lakme CC Cream:
Yays':
Affordable and easily available 
Fuss-free and convenient packaging
Light weight and natural finish
Blends easily and seamlessly
Lasting power is decent
Brightens up and freshens up the whole look
Works great as a light base underneath makeup
Contains SPF 20
Light coverage which can be built up 
Helps to conceal redness and evens out skintone to some extent
Nays':
Not enough moisturizing especially for dry skin
SPF not enough
More shades needed to be added to suit a variety of skintones
'
Go for it' or 'No for it':
It is very affordable everyday multitasking cream that hydrates , evens out and protects the skin to some extent. It is easy to use and gives a natural finish. It works ideally as a light weight make up base. However you need to use a sunscreen and moisturizer for optimum protection of the skin and a powder for longevity and matte-effect along with this cream. I would recommend it if you can get your shade so go for it.
BFE Rating: 3.75/5