New to little Indiana? Subscribe for free to my RSS feed. Thanks for stopping by!
Welcome to the first part of little Indiana's series: Christmas in July-in June! Plenty of time left for you to plan your Indiana family vacation. Santa Claus, Indiana is the perfect place to celebrate!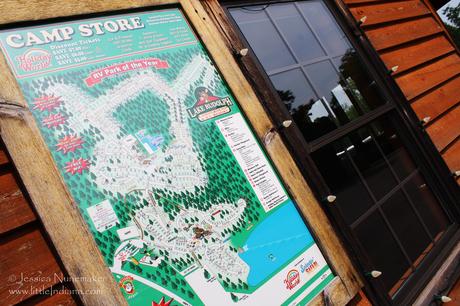 Lake Rudolph Campground and RV Resort in Santa Claus, Indiana: Close to Holiday World
First things first: If you want to be close to Holiday World in Santa Claus, Indiana, Lake Rudolph Campground and RV Resort is a great choice for lodging. It doesn't get any closer to the action than this!
Lake Rudolph Campground and RV Resort
Don't think that that is all that Lake Rudolph Campground and RV Resort has going for it. It's chock full of amenities! But first things first: Check in.
If you've learned anything from reading little Indiana, it's that we are great at getting lost. So, when we checked in, I was surprised to see that they hop in their little golf cart and take you directly to your site! That's just awesome because this place? It's huge.
We had a custom Super King Size RV rental which equals to 44 feet of fun. This was big. There were two separate full baths, a king bed for us, and another bedroom with triple bunk beds, a queen bed, plus an upper bunk bed. This RV can sleep 8 people total!
The kids were beyond thrilled with the RV. If there's anything that's more exciting than a bunk bed to a couple of kids, then I don't know what it is. The bottom bunk is a mattress on the floor–perfect for Kid #2!
Hubs and I were impressed with how spacious it seemed. The full kitchen had such a cute little dining nook–I'd love to stay for more than night and try my hand at cooking a meal! It was fun just sitting there working on little Indiana.
I will say that there is free Wi-fi, but it didn't reach us. We were over in P-30. There are areas you can go to access it but you might want to see if your site is close enough.
Holiday World: Lake Rudolph Campground and RV Resort's Neighbor
Lake Rudolph Campground and RV Resort in Santa Claus, Indiana: Dining Nook
Lake Rudolph Campground and Holiday World almost seem to overlap in places. From the Lake, you can see part of the wooden roller coaster at Holiday World! From some of the cabins, you can see part of another ride. Best of all? A shuttle will take you right to the amusement park so you don't even have to worry about parking!
RV Rental Fun
I'll be honest: With two small kids, I figured this Indiana town trip and RV stay would either go terribly well or just, well, terrible! I am happy to report that not only did our two boys sleep well, they absolutely loved the whole RV experience.
Our super King RV rental was large enough that we didn't feel like we were bumping into each other. For older kids, the amenities will keep them busy (and out of your hair). More on that later. There is a list of items you will need to bring along, but all in all, we would definitely do this again!
See more of Lake Rudolph Campground and RV Resort and other pictures in Indiana on my Flickr photostream!
Lake Rudolph Campground and RV Resort
78 N Holiday Blvd
Santa Claus, IN 47579
812.937.4458 or Toll Free 1.877.478.3657

View Larger Map
A big thank you to Holiday World for our Lake Rudolph Campground and RV Resort stay!
little Indiana: Where to Stay, Play, and Eat in Small Towns in Indiana. Discovering Indiana's best small towns! Now get little Indiana on your Kindle.
New! Offering affordable online advertising for your small Indiana business! little Indiana Businesses is the online presence that you've been looking for.