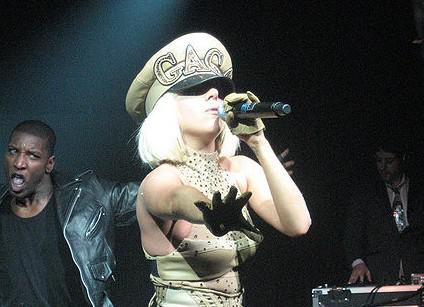 Lady GaGa. Photo credit: Stephen Carlile via Flickr
Artsy psyche wards with hot supermodel nurses and hot mostly naked supermodel patients! Crazy naked cereal fights with herself! Gratuitous French! Angry dancing! What else could it be but a new Lady Gaga video?
Lady Gaga, the reigning queen of shock pop, unveiled her latest piece of performance art: Her nearly 14-minute long, self-directed mini-movie music video, "Marry the Night". It's a full nine minutes of Gaga-ness before the song, another club-friendly anthem, kicks in; Gaga has said that the scenes of her naked, trashing a hotel room, stuffing Cheerios in her mouth, and dyeing her hair blue are the most "autobiographical" she's ever done and reflect her feelings after being dropped from her first label, Island Def Jam.
What do you think? Has Gaga done it again – or is this video just too strange and even a little boring?