Lady Gaga's Fiancé Got A Tattoo Of Her Face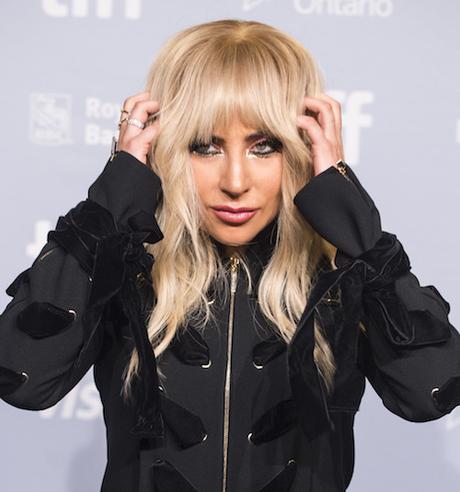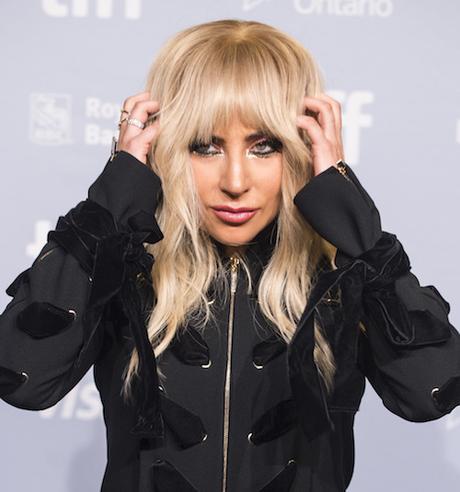 Now that's love. UsWeekly says that Lady Gaga's fiancé Christian Carino got his bride-to-be's mug tattooed on his arm just under his shoulder. It's either big love, or he got it because she changes her look up so often that he wanted to be able to identify her on an hourly basis. Seriously, she must go to the john in one outfit and come back in another. It's a revolving door of lewk in that joint.
The picture on the right below is apparently the one of which the tattoo artist worked. He probably should have gone with a pic of her in the Kermit get-up. Why? Because a Kermit-related tattoo is a lot brighter and life-affirming than Gaga looking like a bordello worker from the far-flung future topped off with Ms. Lion's hairdo from Spider-Man And His Amazing Friends.
Lady Gaga's new boyfriend Christian has a tattoo of her on his arm. pic.twitter.com/ZjGNZCC4Bi

— Gaga Daily (@gagadaily) November 17, 2017
Gaga and talent agent Christian (he reps Harry Styles and a certain irritating shithead) got engaged last summer after he asked Gaga's dad for permission. Gaga recently revealed in her HBO documentary Gaga: Five Foot Two (personally I had to shut it off when I realized she wasn't going to take off the thong leotard and jeans combo immediately) that she suffers from fibromyalgia. She's postponed the European leg of her Joanne Tour to get better and a source says the couple's focused on her recovering ahead of wedding plans.
Gaga was previously engaged to sexxxy TV firefighter Taylor Kinney, but they broke up in July of last year.
Getting your girlfriend – sorry, fiancée's visage permanently emblazoned on your arm is a bold move. The "Wino Forever" strategy isn't going to work in this case if they break up. That's a big face. Christian is going to need to use the expensive laser scrub, or turn her picture into someone else. You could probably create early Cher with some Bump-Its in. Or Morticia Addams. Severely depressed Harley Quinn. Or just utilize the lewk she was going for, and retool it as "haughty alien." Even better, you could try to make it into Gaga's wax figure, which will scare people so much that they won't EVER ask you what the eff that is.
Pic: Wenn.com
Source: Lady Gaga's Fiancé Got A Tattoo Of Her Face
2 total views, 2 views today