Hi Huneybees,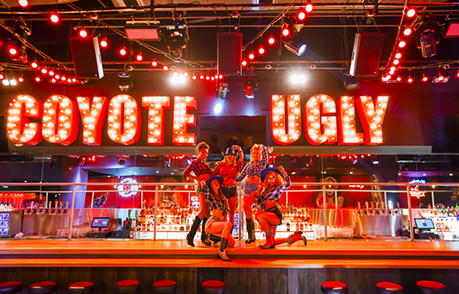 LADIES! GENTS! Coyote Ugly Saloon is here in Singapore!
Zoom back to when scarf tops and low rising jeans were hot, LeAnn Rimmes dancing on the bartop singing "Can' Fight the Moonlight", the actresses all owning the movie - Coyote Ugly. An all-girls lead movie about finding and fulfilling their passions, that got us all singing and feeling good leaving the cinema. In fact, that's all inspired by Coyote Ugly Saloon, a
bar so good,
where women rule
,
they even made a movie about it!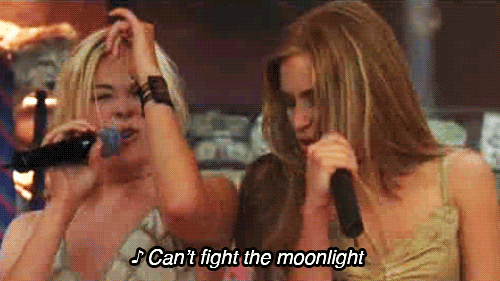 The phenomenal rise of the Coyote
Ugly Saloons around the world can be attributed to the original Coyote: Liliana 'Lil' Lovell. In 1992, the 24-year-old Wall Street Apprentice-turned-bartender wanted to do things her way - own a bar, make money and have fun. Today, her quick wit, unshakable
confidence and ability to take your last dollar can be experienced in the girls who work at the bars around the world. 
It is a winning formula that continues
to deliver and has already garnered
26 outlets in the United States, Russia, United Kingdom, Japan, etc. I can't wait to gather up my girlfriends and have a fun girls' night out when the bar opens on 16 January 2020.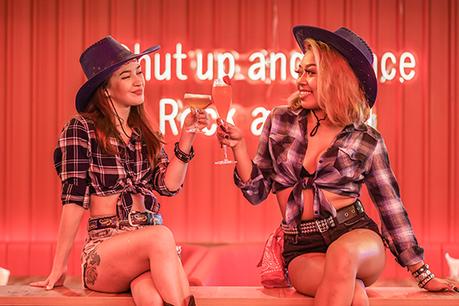 There will be Coyotes from the other outlets around the world
joining the local team on a regular
basis
. You can count on them to add extra spice to the night's entertainment. First up will be the ladies from the U.S. and Ukraine who will take over the bar top at the Singapore saloon this week!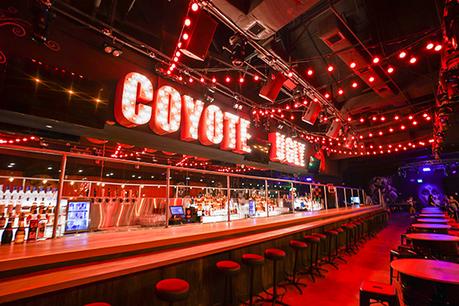 The sprawling local outlet can pack a capacity crowd of 700 through the hallmark saloon doors. Inside, customers are greeted by signature graffiti murals of Calavera Day of the Dead skulls on the walls and red banquettes. Marquee lights spell out the legendary bar's name at the back of
the bar top, specially designed for dancing by Coyotes and female patrons. And, of course, the Coyotes are always there to welcome patrons and turn up the heat with sizzling dance moves and jaw-dropping attitude to go.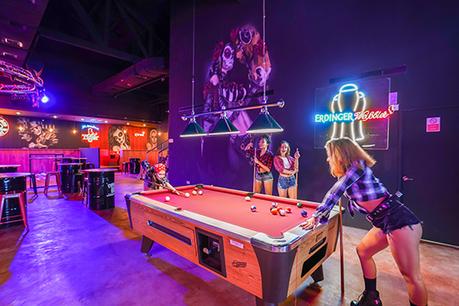 The Coyote Ugly Saloon also features
four
top-notch pool tables for those looking to take a break from the action on the bar
top and instead want to kick back and pocket some balls over a beer or ten. Plus, there's a dance floor for the more energetic guests to let their hair down to the sounds of today's biggest hits. Sports fans are also in for great times. There are plenty of
TV screens to catch all the action in football, rugby, Formula One, MMA, Superbowl and more. So gather the troops and get those drinks and food in.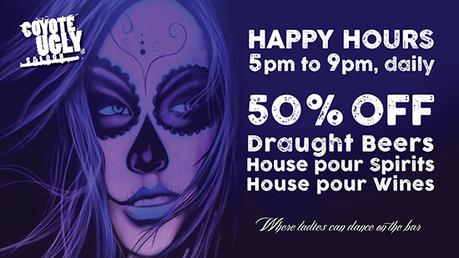 Your happy hours will never be
the same again. Expect $10 drink deals starting at 5pm every day until 9pm and also irresistible daily specials.  The drinks menu is extensive and covers everything from classic cocktails, Coyote cocktails ($22-$24) to shots, premium spirits, wines and champagne.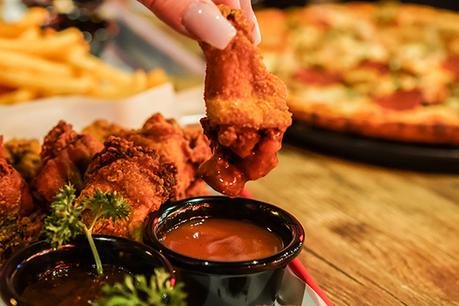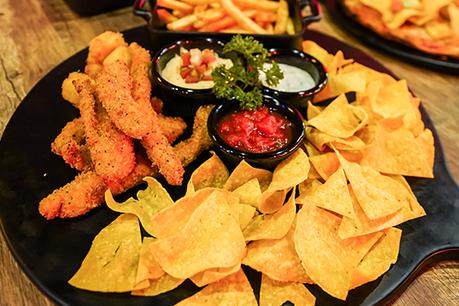 Tequila and whisky are especially encouraged. From the kitchen, signature bar bites such as Chipotle Queso and Chips ($12), Nashville Wings (Giant Portion $50), Chicken Tenders ($14), Pizzas ($16 -$18 or $45 for the the giant pizza), Burgers ($15 -$30) and
mozzarella bites($14) are crowd-pleasing favourites; or simply order the sharing platter for a bit of everything ($35).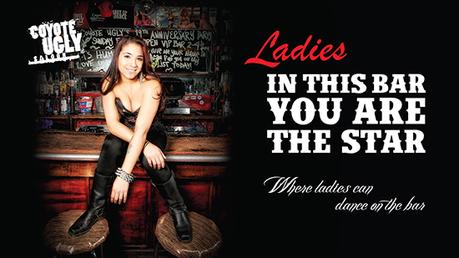 If you are all hyped up and want to have even more fun during this opening month, here are some of the special events to note:
COYOTE UGLY VALENTINE'S
MAN AUCTION
Ramp up the fun at the Man Auction
this Valentine's Day and recreate the scene from the movie where ladies get to bid for their hunk of choice. In return, the successful bidders are treated to an immediate date with the man they've just snagged. Whatever the price paid by the ladies go towards
the drinks and food during the date. There is even the possibility of Adam Garcia from the 2000 hit movie 'Coyote Ugly' about the bar coming to town just for the event.
COYOTE FOR THE
NIGHT
Looking for something different
to do on a Bachelorette night or a BFF's birthday? Coyote Ugly has the perfect plan for the girls. Sign-up for the Coyote for the Night package for a hen's night to remember. The special girl and her gal pals get to play Coyote alongside the pros on the bar
top. The package includes a day-time dance class to get the squad up to speed on all the right moves, VIP entry, drinks, and a night to remember. 
Ok, gona leave you here with more details below, my turn to start singing and dancing to "Can't Fight the Moonlight"!
INFORMATION
Address
:
3B River Valley Rd, Clarke Quay Blk B, #01-08, Singapore 179021 
Tel
: 62616564
Opening Hours
: 5pm to 3am, daily
Capacity
: 700
Reservations
:
[email protected]
Website:
https://www.coyoteuglysingapore.com/
Facebook:
https://www.facebook.com/CoyoteUglySingapore/
Instagram
:
https://www.instagram.com/coyoteuglysingapore/
IRRESISTIBLE DAILY DRINK PROMOTIONS
Muse on Monday:
1 for 1 all night - beers, wine, house pours
Thirsty Tuesday:
1 for 1 bottles for ladies only. 
Wednesday Ladies Night:
Dance on the bar top for free drinks or $20 free flow wines, Cava, and Gin Tonics. 
Thursday Flight Night
: 6 pieces Wings/burger and Draught Beer for $15. 
Shoot Em Up Friday:
12 x shots $88 usual price $100
Saturday:
Free shots for ladies who dance on the bar top
Sports Sunday :
Beer Towers $68 Sports  
Birthday Parties:
$328 - 1 House pour + 1 Tower Beer + 1 Wine/Cava/Prosecco  + giant portion appetisers
Bachelorette Night:
$288 - 1 bottle house pour or 3 bottles of wine/cava/prosecco + appetisers (1 hour of dance training)
Bachelor Party:
$288 - 1 bottle house pour + mixers + 1 Tower + appetisers + 1 Coyote Game Over Tshirt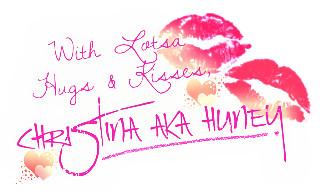 Don't forget to stay tuned to my blog / like my blog's Facebook page / follow me @huney_84 on Twitter & Instagram  for the latest updates!
http://www.huneyzworld.blogspot.com