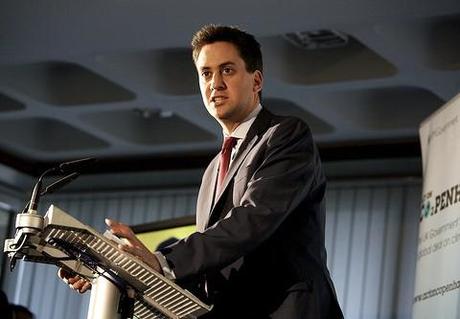 Labour leader Ed Miliband is under pressure to perform. Photo credit: Zoe Norfolk, Crown Copyright
Labour leader Ed Miliband will later use his keynote speech at Labour's annual conference to declare war on "predatory, asset-stripping" companies, question Britain's "fast buck" culture and set out his vision of a country where responsible "grafters" are rewarded. Will it be enough to reassure his party that he is the best man for the top job?
Miliband's speech, which begins at 15.00 on Tuesday, represents his biggest moment since taking the helm a year ago. It comes amid troubling poll results for Labour. In a preview of the speech, which included details of what Miliband will say, Brian Wheeler, Political Reporter, BBC News, said that Miliband believes that in the wake of the banking crisis and the summer riots, voters are crying out for a new kind of society in which the responsible and the "grafters" – those who work hard – are properly rewarded. "He will talk in his speech of a 'quiet crisis' in Britain and the 'failure of a system' which too often rewarded 'not the right people with the right values, but the wrong people with the wrong values,'" revealed Wheeler.
Opinion polls make for uncomfortable reading for Miliband, Labour. On the day that Miliband will address delegates at the Labour conference, he was dealt a crushing double blow by a new ComRes opinion poll for The Independent. The poll showed that the Tories are ahead of Labour – by 37 percent to 26 percent – for the first time in a year, and only one-in-four voters regarded Miliband as a credible PM-in-waiting. "Another worry for Mr Miliband is that Labour's lack of credibility on the economy means voters may stick with 'the devil they know' – the Tories – amid fears of a global crisis," noted the newspaper's Political Editor Andrew Grice, who reported that "close allies of Mr Miliband insist they are not worried about Labour's ratings, saying the party has bounced back from a crushing election defeat last year without sinking into the in-fighting that had followed previous election losses. They believe voters will warm to the Labour leader when they know more about him."
Not yet won back trust. Writing at The Guardian's Politics Blog, Polly Curtis wondered what Miliband has achieved since he took over the leadership of the Labour party. "Miliband has not yet won back trust in large and electorally important policy areas such as the economy, crime and immigration. But there are more than three years and seven months until an election and a lot to play for," reminded Curtis.
"The Tories should study confident Ed Miliband closely this week," suggested key right-wing commentator Benedict Brogan at The Daily Telegraph. Reflecting on Miliband's Sunday appearance on the BBC's Andrew Marr TV show, Brogan said that what "Team Dave will have noticed is that Mr Miliband looked lean, sounded confident, held himself well, and didn't waffle. It may be down to the media training we've heard about, but it worked. I've said it before: Mr Miliband's wide-eyed self-confidence is one of his greatest assets." Brogan warned the Tories not to write the Labour leader off: "Miliband shows he has resilience, while his message of fairness and responsibility is a subliminal whisper that David Cameron and George Osborne are sparing their rich mates to load the burden on those at the other end of the income scale."
Is it too early to write off Miliband?
All calm(ish). "All is calm in Liverpool," reported Jim Pickard at The Financial Times' Westminster blog. He said that, unlike last year, there is "no overwhelming sense of disunity. For sure, the Blairites and the left-wingers still disagree on which direction to take the party; but without the viciousness of the past." Regardless of the relative unity, Pickard insisted that "the party still faces considerable hurdles" including working out how to square its pledges to bring down borrowing while promising £20 billion of new measures on growth measures and reforging the "conventional political wisdom that the 'middle ground' – where elections are won or lost – lies in aspiration alone."
Read more on Ed Miliband:

Pressure on Labour leader Ed Miliband to perform rising