I mentioned last week that one of the things that I found shocking and special about Italy was the Artisan culture that exists here.  In Canada, no one ever talks about "artisans".  In Italy there are hundreds of thousands of artisans, they make the country run and the goods that they produce have made the words "Made in Italy"   the most highly coveted consumer affirmation.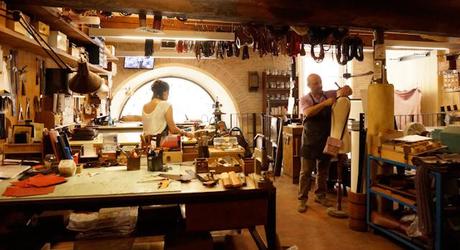 Today I would like to introduce you to Omar Baraldi, the man behind one of Modena's most beautiful boutiques, La Vacchetta Grassa.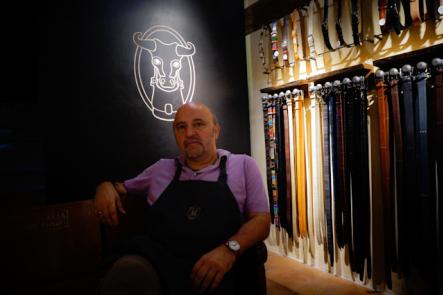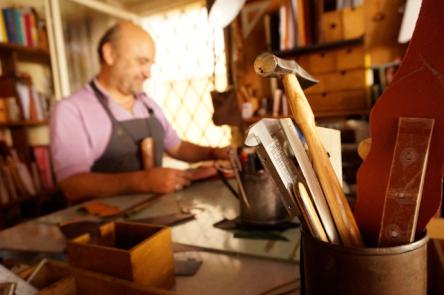 Legacy
We often here the word Bottega used to describe where an Italian Artisan works, but what does this word mean.  A Bottega is not only where a master artist or Artisan has their workshop it is where they TEACH, where they impart their skill to apprentices and collaborators.  One of the mis-conceptions of Italian artisans is that they are working in solitude, and this is absolutely not the case.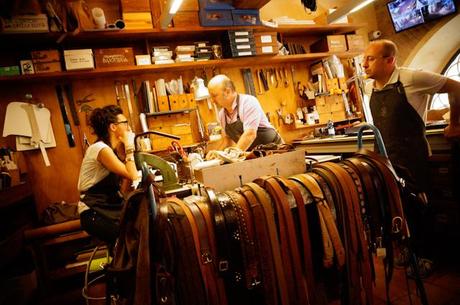 In order to create a legacy for their craft they have to train apprentices to ensure that the skill is not lost.  The strength of Italy's artisans is that they have passed down their trades for generations.   Omar is a modern entrepreneur, who has built his successful business from the ground up, he realizes he can't do it all, and in order to sell in an international market he expanded, modernized and now works with highly skilled professionals both for the creation of new products and the commercialization of his lines.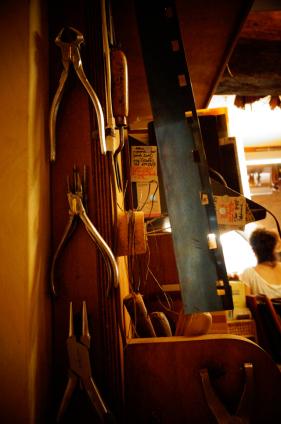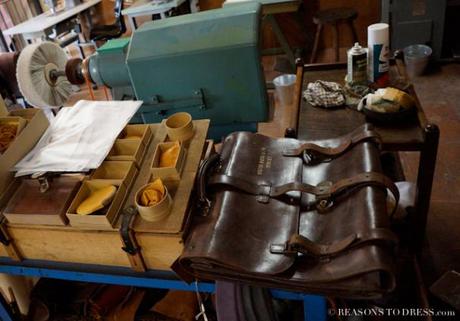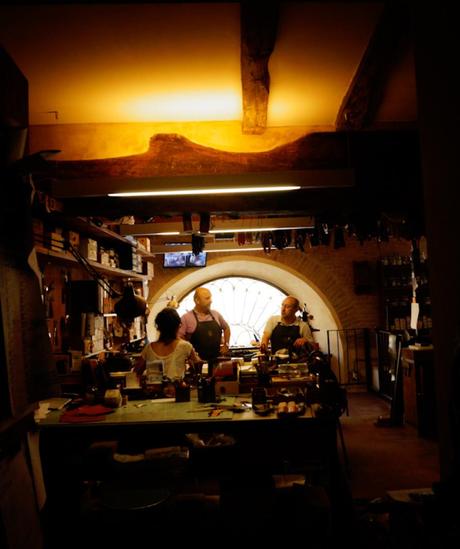 A Historic Building
Walking under the porticos of Modena's Corso Canalchiaro, you quickly note that it is one of the best shopping areas in the city.  Aside from its beauty, it is home to Modena's oldest building and the most luxe boutiques now line the street that was once a canal (read about its history here).  It is here that you come across the awning of La Vacchetta Grassa, a large store front that still displays where Omar originally had his workshop, right at the ground level.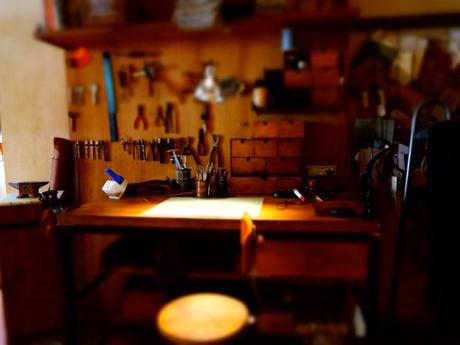 When you enter you are greeted with the unmistakable smell of leather.  Great care was taken to preserve this incredible historic building, the restoration of the frescoed ceilings, original wood supports and blown glass and iron windows.
This is the untold story that you don't often get a change to see when you are strolling through Modena's city centre, inside every historic building there are architectural treasures.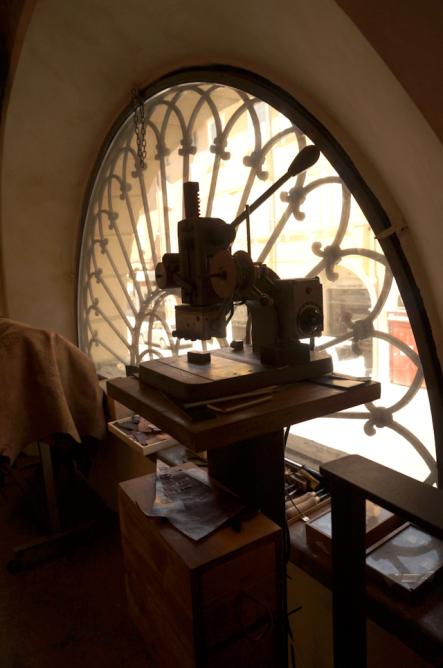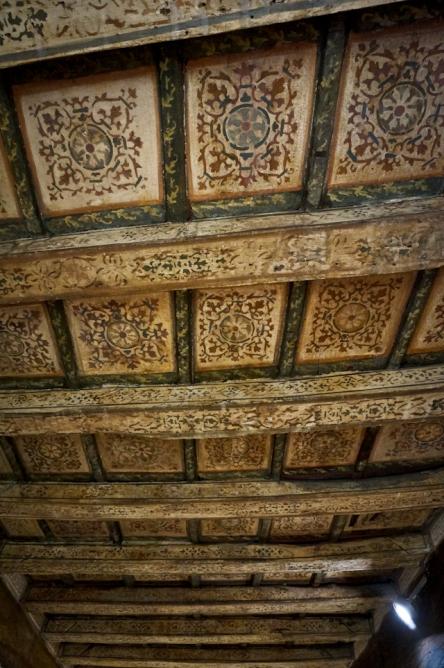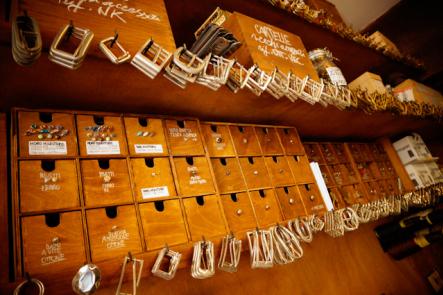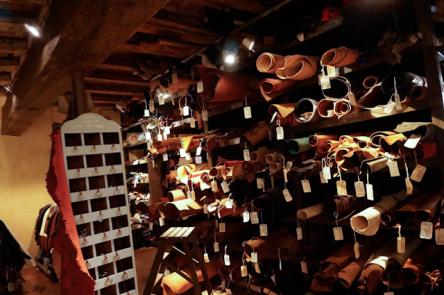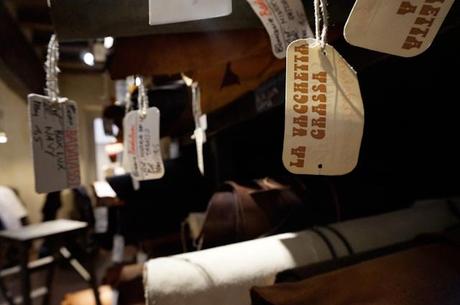 Nothing in this space is for decoration, all of the tools, drawers and carefully laid out materials serve a purpose.  This is authenticity at its best.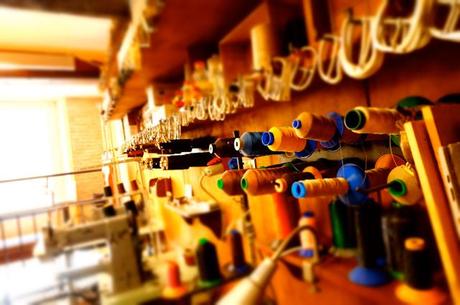 A Tour of the Bottega & Store
La Vacchetta Grassa, which literally translates to "The Fat Calf", referring to the supple yet tough leather that is used to realize most of the brand's creations, specializes in leather goods including bags, belts, wallets, key chains, leather covered home accessories and bracelets.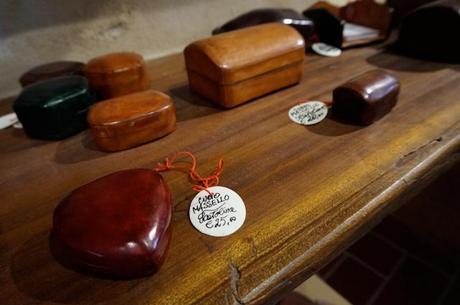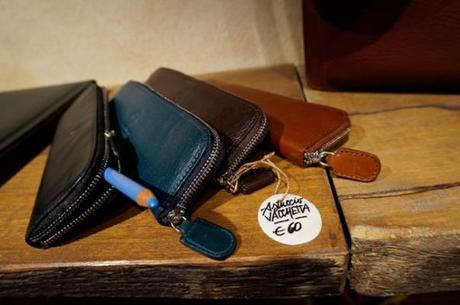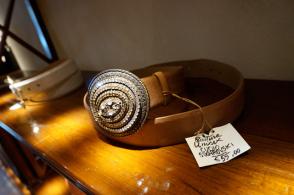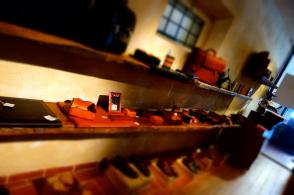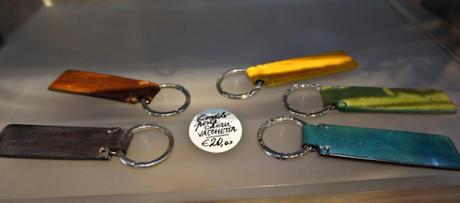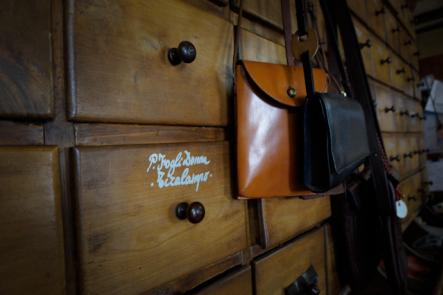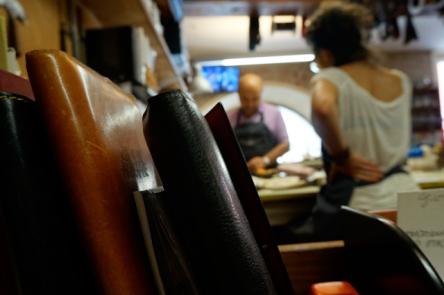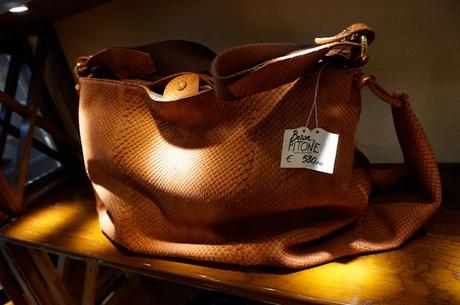 If you follow Reasons to Dress you know that my husband is also a leather artisan, and I can assure you with a trained eye that these products are of excellent value.  Omar made a conscious decision in the 80s to open his bottega to the public and sell his goods directly.  By cutting out the middle man prices are kept very reasonable and each piece is handmade by Omar and his team in the upstairs workshop.
If you get a chance to visit don't forget to ask Omar for a tour upstairs to where the production happens, it is an incredible site.  Nothing beats the antique traditions and tools that have been placed along side modern machinery.  This is the evolution of the Italian Handmade good.
I asked Omar a few questions about how he got started and about his design philosophy.  He answered with incredible passion for his craft and a light in his eyes.  This is what he said:
Our values changed in the 70's, they changed and so did our traditions.  For the first time we wanted furniture that was disposable instead of pieces that would last forever.

 

At the same time there was a cultural rebellion, students right out of school wanted to take up the old "mestiere" (crafts).  Botteghe opened everywhere from ceramics, textiles and glass to tailors and leather artisans.  I went around Italy and became self taught in my craft, we were united and created community.

 

The 80s were a disaster, the old-style Bottega gave way to industrialization.  Design was changing as well.  At the time I was working with bags and noticed the shift in design and in thought.  Before, all bags had a purpose and were constructed from the inside out to last and be useful.  All of a sudden materials that were previously used for utility became fashionable and bags were now unstructured and soft.  They were purely aesthetic.

 

Bringing a common workplace material like "vacchetta" leather into fashion was a significant change, it represented how the past was newly emerging into the present.  It became a symbol, and interpretation of tradition.

 

Modena is rich with traditions and my own education has come from living here.  I have always researched a "style" and realize now that my brand is the material itself, honest and immediate.

Each time you buy my product you buy a piece of tradition.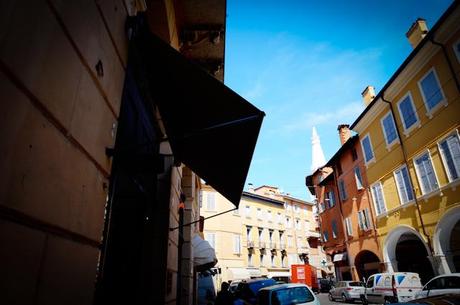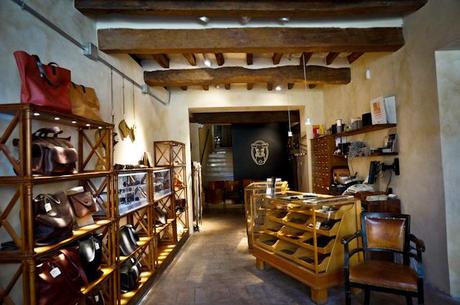 Visiting & Info
La Vacchetta Grassa
http://www.lavacchettagrassamodena.it/
Corso Canalchiaro 42/44, Modena, italy
+39 059 211167
Opening hours:
9 am – 1 pm open
1 pm – 3:30 closed for lunch
3:30 pm – 7:30 pm open each day but Thursday afternoons, when all stores in Modena are closed.

View Larger Map