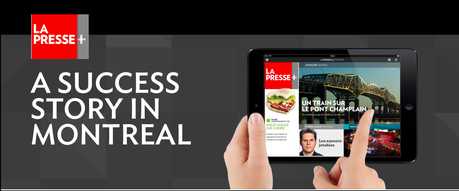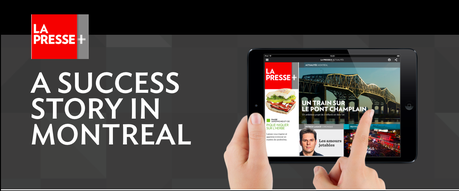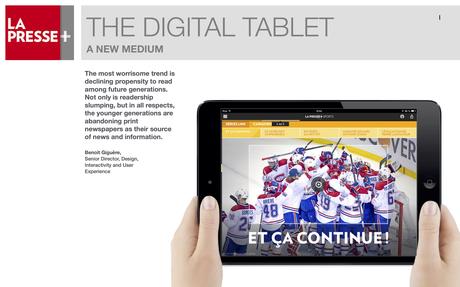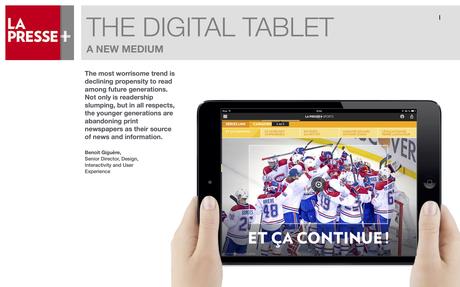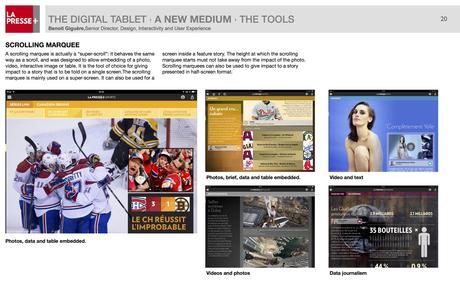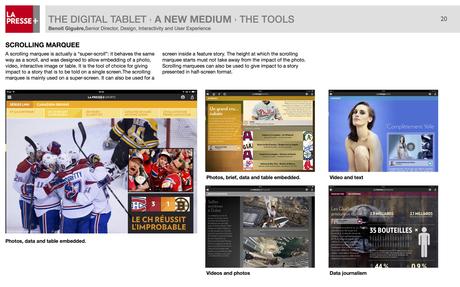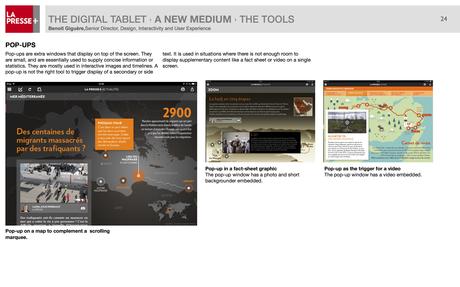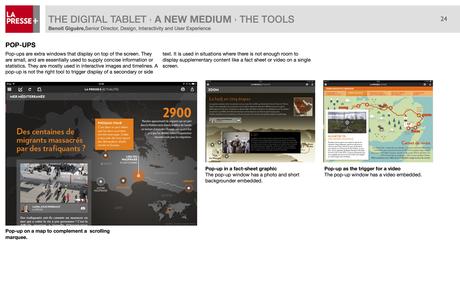 As someone who visits a different newsroom almost every week, I observed at La Presse+ a rare but welcome sense of optimism, positivism, and perhaps the happiest group of journalists I have seen anymore recently.
I received a cordial invitation from Caroline Jamet, vice president for communications,  to visit the newsroom of La Presse+ in Montreal. The team and I have been in touch on and off since the French-language daily launched its tablet edition in April 2013 and I started blogging about it.  
I told the team that I, like many others, was a bit shaken when La Presse+ launched with a statement from the President and Publisher, Guy Crevier, stating that one day the tablet would replace the print edition completely. Really? This was the first time that a publisher confronted the audience and simply told the readers what he anticipated, that the print edition would die and the tablet version would substitute it, something that many did not wish to hear 3 years ago or even today.
La Presse + made good on its promise, and printed its last weekday edition of the newspaper December 31, 2015. It has retained a weekend print edition, however.
Success and La Presse+
As I heard the various managers tell me about their involvement with the creation of what is La Presse + today , some themes emerged in the discussions:
NO PAYWALLS, A FREE TABLET EDITION
—"We knew that nobody would pay for the content that appears in a typical metro newspaper such as La Presse, so our focus was on  monetizing the operation via advertising."

Guy Crevier, President and Publisher

INNOVATIVE ADVERTISING
—"We also sensed that we could not simply present advertising that was static, created for another medium and simply placed on our tablet edition, so, from the start we set out to include advertising that would include great storytelling and that would engage the readers."

Jean-Charles Rocha, Senior Director, Strategies & Advertising Sales
VISUAL APPEAL AND SIMPLICITY
—"We knew that the tablet edition had to be very visual, but we also had to create a different way of telling stories, thus the layering approach.  One story per screen. Simple navigation and the ability of the user to get as little or as much information as he wants."

Benoit Giguère, Senior Director, Design, Interactivity & User Experience
THE CREATION OF A NEW MEDIUM
—"We knew we were starting with a newspaper like La Presse, which had a legacy, a tradition, great credibility in our community, and we had to translate that DNA to the tablet.  We said to ourselves: people come to La Presse to read, so we must give them the reading experience, but the tablet can do more than that, it can also engage them, and so several stories a day allow for the user to interact in ways that print could never permit."

Pierre-Elliott Levasseur, Chief Operating Officer

THE TECHNOLOGY
—"Engineers, editors and designers working side by side.  We started with this blank page, where everything and anything was possible.  We could invent.  We could have fun creating something totally new, and test it along the way."

Jean-Marc De Jonghe,  Executive Vice President, Digital Strategies and Operations, Nuglif

THE RESEARCH
—"Ideas were tested with Eyetrack devices.  The users would tell us what excited them (interactivity with a subject) and what didn't (too many elements on the screen and not knowing what to do next).  From these tests we gathered valuable information and applied it to what we were creating.  We would go back to the same subjects with our improved version, annotating not only eye movement, but also behavior as reflected on the face and body language of the participants. A lot of what we presented in those prototypes excited them."

Pierre Arthur, Senior Director, Research & Marketing
SPREADING THE MESSAGE
The folks at La Presse+ have now taken their successful formula to another Canadian newspaper, the English-language The Toronto Star, which refers to its tablet edition as Star Touch.
Working through a newly created company, Nuglif, the technology and the philosophy that has worked for La Presse+ is now available for newsrooms anywhere.
THE FUTURE OF THE TABLET
Guy Crevier, President/Publisher of La Presse+, sees a bright future for tablets, based on what has transpired at his own company:
"La Presse+ readers continue to show exceptional engagement and great enthusiasm for the news experience offered: on average, they spend between 40 minutes on weekdays, 60 minutes on Saturdays and 50 minutes on Sundays with their digital edition. La Presse+ also reaches a younger demographic than paper edition (63% of the La Presse+ audience consists of adults aged 25 to 54, compared to 46% for the print version)."
La Presse+ tablet edition gets a 30% rise in readership since axing weekday print edition
http://blog.wan-ifra.org/2016/05/27/la-presse-tablet-edition-gets-a-30-rise-in-readership-since-axing-weekday-print-edition
Tomorrow: 
La Presse+: A Success story, part 2—the concept and the technology 
Coming Up:
La Presse+: A Success story, part 3-the advertising 
La Presse+: A Success story, part 4-the results
TheMarioBlog post # 2441
Please enable JavaScript to view the
comments powered by Disqus.
comments powered by

Disqus