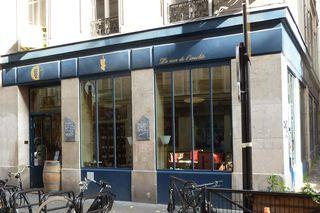 5.0 La Cave de l'Insolite, 30, Rue Folie Mericourt (Metro: Richard Lenoir) in the 11th, 01.53.46.08.33, open for meals Tuesdays-Saturday all day and Sunday noon, keeps getting mentioned so when best food finder pal said it was convenient to his wife's Pilate's place and he found it "pas mal," I was game.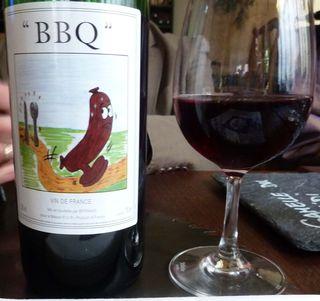 It's one of these "all-natural" wine places where you pick tghe wine from the bins and for 7E they open it.  My friend and I took one look and could not resist the BBQ showing a hotdog chased by a knife and fork (reminding us of Hey diddle diddle, The Cat and the fiddle,........And the Dish ran away with the Spoon).  A quick Google search (there was no etiquette info on grape or origin) showed it was a Syrah from north of Lyon - and pretty good.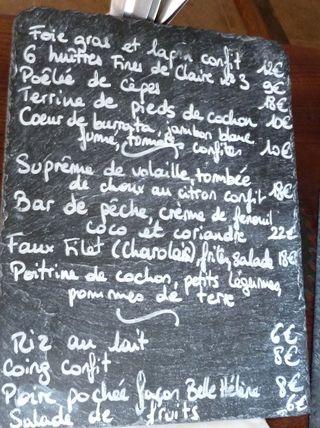 In addition to the carte they had a "menu" of pork and coffee gourmand for 14 E, a world class bargain which my male friend had.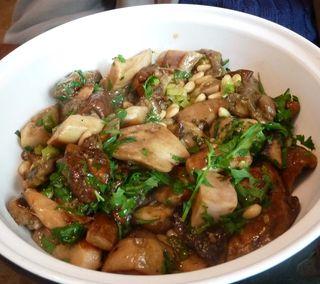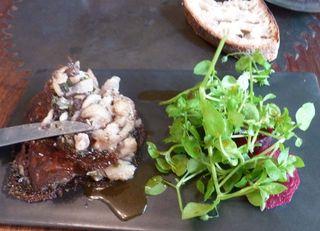 Madame started with the burrata and smoked white ham with confited tomatoes, M. the sauteed cepes with pine nuts and myself the so-called terrine (really two potato galette thins) of pig's feet, very slippery and tasty.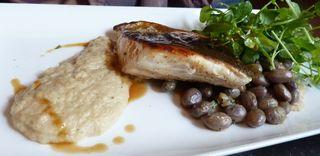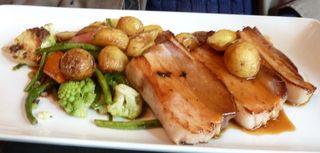 Then M. had the featured pork breast with potatoes and cauliflower, Madame the bar with coco beans, a fennel puree and coriander and I went with the cepes starter as my main.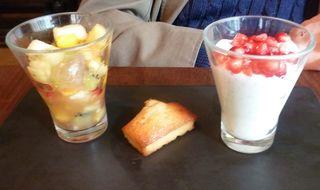 M. was the only one to have dessert; a fruit salad, rice pudding and mini-financiere and all three had coffee.
With said coffee, 1.5 bottles of BBQ, no bottled water and most excellent bread, our bill was 123.00 E  for three or 82 E a couple.
Go?  If your friend has Pilates nearby or you're on a tight budget, why not?