L'oreal Total Repair 5 Instant Smoothing and Nourishing Oil Serum
What L'oreal Total Repair 5 Instant Smoothing and Nourishing Oil Serum claims
"Treat yourself to the ultimate care system with L'Oreal Paris's New Total Repair 5 Instant Smoothing and Nourishing Oil Serum. This miraculous product's technological innovation with ceramide-cement helps protect and repair hair damage caused by daily aggressors like the sun, pollution and water. It helps to avoid tangles and breakage, leaving hair smooth and nourished."
Ingredients: Cyclopentasiloxane, Dimethiconol, Alcohol denat, Limonene, Benzyl salicylate, Linalool, Benzyl alcohol, 2-oleamido-1, 3-octadicanediol, Alpha-isomethyl ionone, Geraniol, Butylphenyl , Methylpropional, Citronellol, Hexyl cinnamal, Fagrance (F.I.L. C37906/1)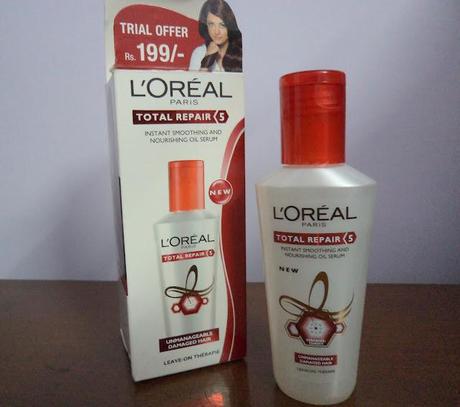 Packaging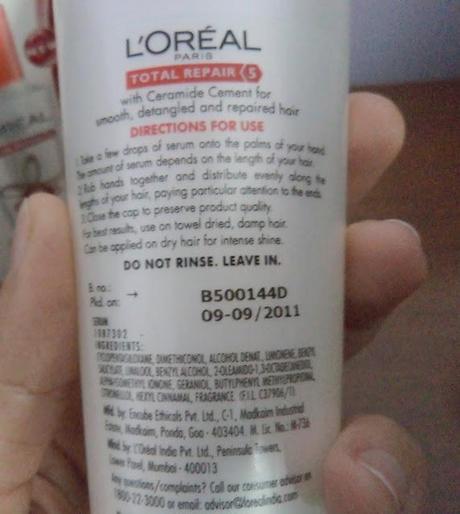 My Experience with L'oreal Total Repair 5 Instant Smoothing and Nourishing Oil Serum
I can't get myself to stick to one shampoo or conditioner (Bad for hair, I know, but I can't help it. I get bored very easily) Hair serums are something new for me and my first hair serum was the Livon one which I started using a year back. This is my second serum and let's see how it fared on my dry.....wait you already know about my hair, right ? I have constantly blabbering about it.
This serum comes in small bottle with hole opening for dispensing the serum. It helps to control the quantity of serum, depending on your hair type and length of your hair. I am quite liking this serum. It has a faint fragrance which does not bother me at all. I find all fragrances faint only unless something smells like kerosene oil.
A very little amount is needed for my shoulder length hair. The price is pretty reasonable too. It helps to smoothen out the frizziness of my hair and make it soft and it looks a bit silky too. It helps in detangling my hair too. I am not sure about its claim of repairing damaged hair because I did not notice any improvement in my hair texture. It does not make my hair oily unlike other serums which weigh down my hair.
Verdict - A good hair serum but it does not do everything it claims. I will repurchase it because it does make my hair look better, smoother and healthier. Price is quite reasonable.