Hi everyone,
If you remember a while ago I had done a post on the launch of the L'Oreal Paris Skin Perfect - Expert Skin care for every age here and also reviewed the L'Oreal Paris Skin Perfect Anti - Fine Lines + Whitening cream which is meant for women who are 30+ here. L'Oreal Paris  had come up with this whole range more than a month ago and the products have been creating a buzz in the blogging world. The best part about this skin care range is that it is meant for women of all age groups particularly those in their 20's, 30's and 40's. Since women of different age group have different woes this definitely is a brilliant initiative as one need not do any research and blindly go for the one which is meant for their age group. I have used the one meant for 30+ over a month now and I am here to share my overall thoughts and final experience using it. Read on to know more.....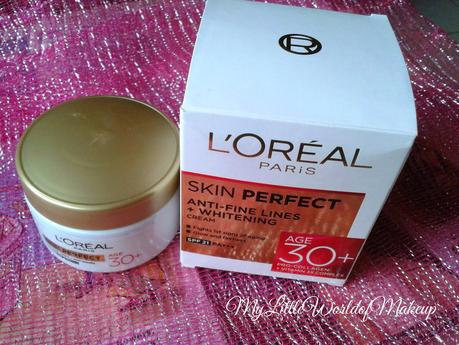 Ingredients:

Price: Rs. 425/- for 50 g. Available in a trial pack of Rs. 149/- here 
Available at just Rs. 99/- onwards this is range is one of the most affordable range of skincare in India.
What does the brand say about the product: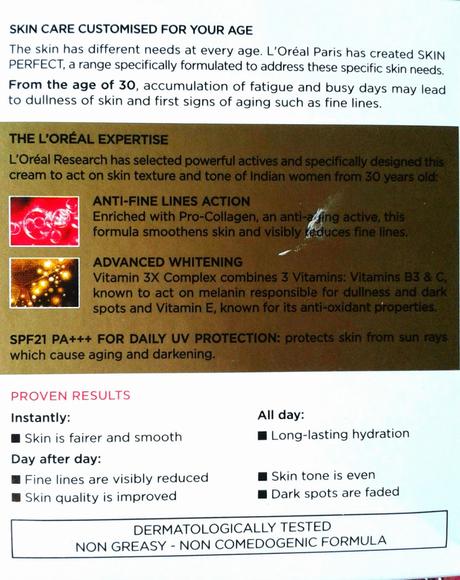 The cream comes in a lovely cardboard packaging. All the necessary information like ingredients & other vital information are printed on the box itself. The cream comes in a glass jar which is white with a golden screw type lid. It definitely looks very appealing. There is an extra cap inside to make sure the cream is secure & does not dry up but honestly it creates a mess hence I got rid of it. However it did not leak on me. You need to be careful with the glass jar to avoid breakage.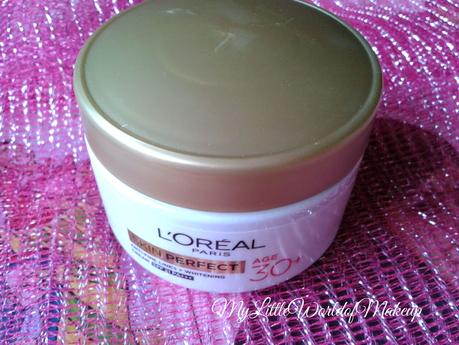 Skin care is very important to me as I have already turned 30. While there are so many products in the market I am always confused which one I should go for . I always check few things like does it have SPF? What about the Anti aging part and will it moisturize and give me the glow I have been looking for without reaching for any other product?? Well my answer was yes this cream is for me as it did everything I wanted my cream to do.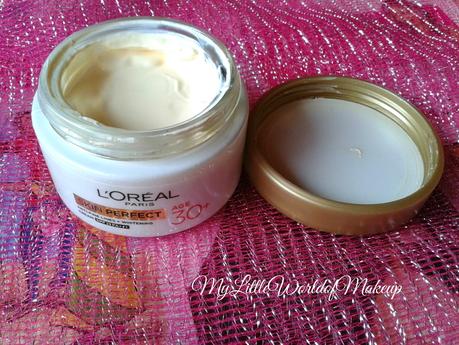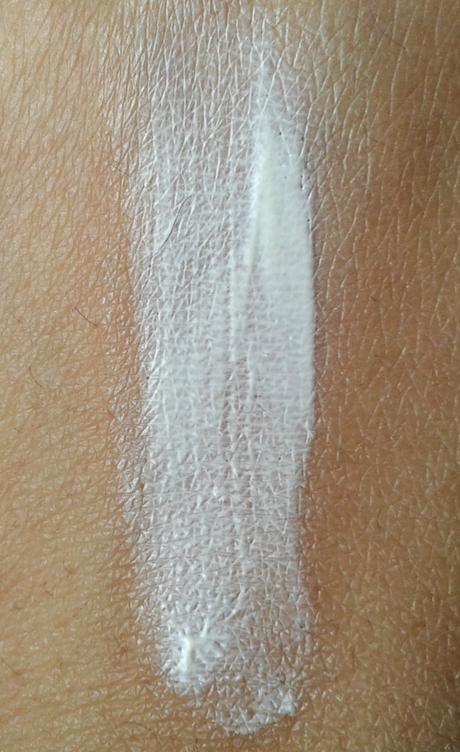 The cream contains Pro - Collagenan anti aging ingredient which reduces the appearence of fine lines which by the way is the first sign of aging. It also contains SPF 21 PA+++ which is sufficient for day time. When I used the cream last time it was winters but it has started to get a lot warmer here in Mumbai hence my skin has started to turn oily. This cream gives a matte and more polished finish. The cream is off white in color - easy to blend and seeps well in the skin without leaving a white cast or looking patchy. Unlike before it moisturized my skin well and with regular use I found my skin tone to be even and much more  brighter and better. The fine lines & pigmentation definitely reduced over a period of time. With so  many good things in this cream I definitely would recommend it to all my girly friends in their 30's. It makes a perfect summer cream in my opinion.
The Good
:
Inexpensive.
Classy packaging.
Evens skin tones &  reduces dark spots.
Gives a matte & polished effect to the skin
Brightens the skin.
Makes you look fresh.
Smells nice.
Dermatologically tested
Contains SPF 21 PA ++
Reduces fine lines over repeated use.
Available in a trial pack of Rs. 149/-

The not so Good:Could be drying for those with overtly dry skin.Tub packaging makes it unhygienic to use however one could opt for the tube too.Rating: 4.5/5L'Oreal Paris Skin Perfect Anti - Fine Lines + Whitening cream is a must try for every woman who is 30 and above. The cream is tailor made to suit specific needs of every age group. This one worked well for me and with the whole skin care starting from 99/- onwards who wouldn't want to give this a go. I highly recommend this cream and range to everyone.I hope you found this review helpful  & informative. Please leave a comment below with your inputs. As much as I want to visit everyone's blog it is getting so difficult due to lack of time it is not possible but I will try my best. New bloggers/visitors may leave their blog links for me to check out.
Until next time..  Take care xoxo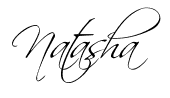 P.S: The product was sent to me by the brand for consideration but that does not affect my honest opinion of the product.