I love these lipsticks!  They are nearly perfect and I love wearing them.  As of now, I only have 3 shades. If you have a CVS nearby, you get $5 back when you buy $15 of L'Oreal products.
I will be reviewing three of the shades, but there are a total of 16 gorgeous shades in the colle
ction
Shades
Blushing Sequin: sheer hot pink
Violet Chiffon: light purple. More flattering than you may think.
Pink Cashmere: baby pink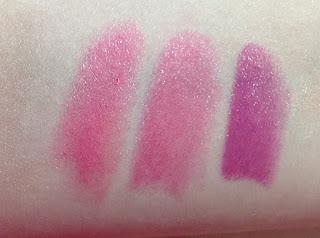 Pink Cashmere, Blushing Sequin, Violet Chiffon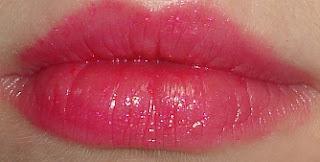 Blushing Sequin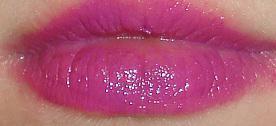 Violet Chiffon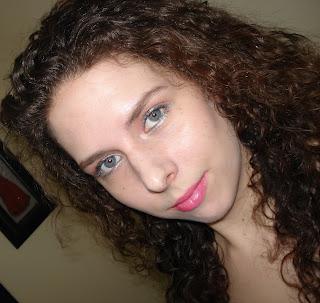 Pink Cashmere
Pigment and Texture
Even though these lippies are more on the sheer side, the pigment is great.  It is very easy to build to an opaque coverage.  These feel so smooth and are actually moisturizing.  I would actually say that these feel more moisturizing than the Revlon Lip Butters or even some lip balms out there.  They apply like a dream, too.  One swipe will give a sheer, somewhat glossy, wash of color.  Two will give you opaque coverage.  Even at the end of the day, my lips do not feel dry.
Staying Power
The color stays on me all day.  But the glossy texture and moisturizing feeling lasts 3-4 hours.  After that, it is like a stain.  Normally I hate the way my lips look when a lipstick does this, but in this case, it is flattering.  In the case of these lipsticks, it looks like you have just eaten a popsicle or fresh fruit.  I applied Violet Chiffon yesterday evening, and the color is still on. My lips do not feel dried out either.
Packaging and Price
I really like the packaging.  It is a simple gold tube with a block of the corresponding shade wrapping around the tube.  It is also sturdy.
These range in price depending on where you get them.  If you get them at CVS, they are $10 but at WalMart or Target, they are a $1 or $2 cheaper.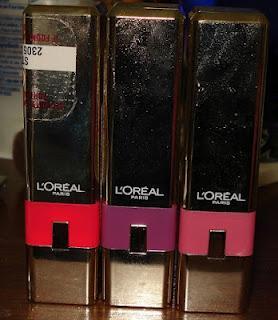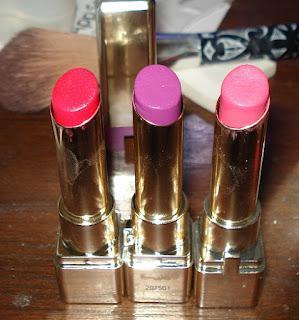 Blushing Sequin, Violet Chiffon, Pink Cashmere
Comparison To Other Produccts
At first, I thought these might be like Too Faced La Creme lip color or the Lancome L'Absolu Nu.  There is really no similarities to the Too Faced La Creme as those are much more creamy and opaque.  They are fairly similar to the Lancome L'Absolu Lipsticks.  Both are sheer, moisturizing and last about the same about of time.  However, L'Absolu Nu does not have the staining factor.
Overall Impression
Love it, love it, love it.  It is a great inexpensive lip color that gives a great wash of color and does not dry out my lips.  It feels very lightweight and I like the glossy texture, as well as the fact that it leaves a nice stain on the lips.  Yet it is not drying.  I had no problems with any eczema irritation, which was a concern because I had problems with the Colour Riche balms.  I give this a 5/5.