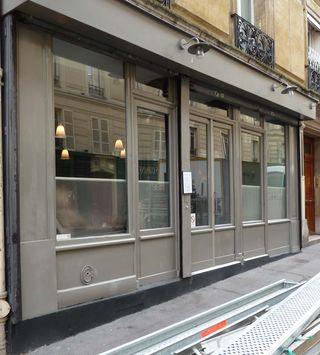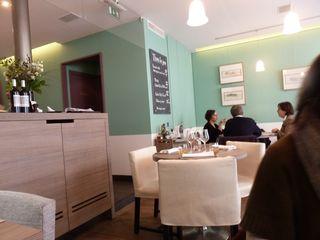 7.2 L'Envie du Jour, 106, rue Nollet in the 17th, 01.42.26.01.02, open 7/7 but brunch on Sundays, despite what the reviews say, (Metro: Brochant) has been open for quite some weeks but gotten scant attention which is strange because its chef, Sergio Dias Lino comes from great places, albeit outside Paris such as Pic.  It's located in the space formerly occupied by Bigarrade and is much the same with three notable changes; it has a 2-3-2 menu rather than 1-1-1, it has room for 6 at the counter and it hasn't got those goofy but hippy hanging lamps.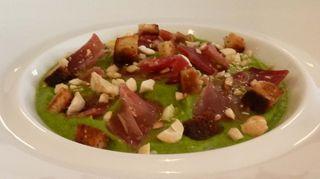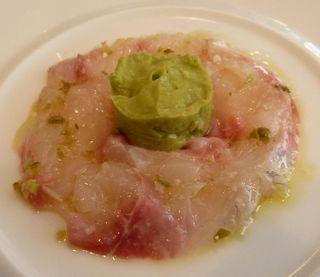 One terribly annoying thing is that despite multiple blackboards hanging in the window and all over the place, they don't tell you what's up today, so the poor waiter has to reel off the entire day's "carte" and by the time he's done, I've forgotten the first two things.  In any case, my guest, well I treated her since she just painted and installed a wonderful painting for our living room in our new flat - it's spectacular,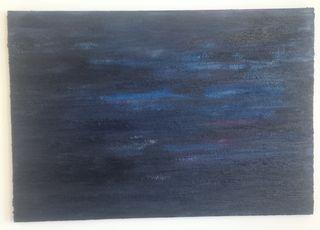 ordered the broccoli soup with incredibly tasty croutons (cannot imagine what they were sauteed with) and porky bits and I had slices of splendid cru dorade.  Off to the races!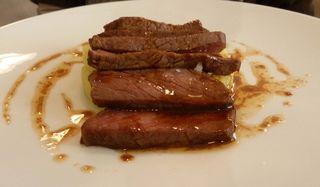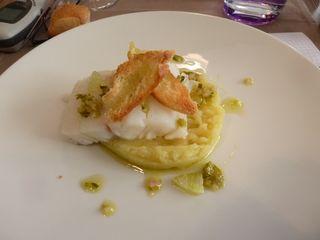 I saw our neighbor (the place was packed; 25 seats folks, reserve now) get these slices of what looked like duck breat but no, it was what my artist-friend had ordered - slices of faux-filet on top of mashies - quite good, but then my cod with a Grenobloise sauce where the parsely, butter and capers bleached into the mashies and I, not a mashed potato fan, went wild.  Heaven.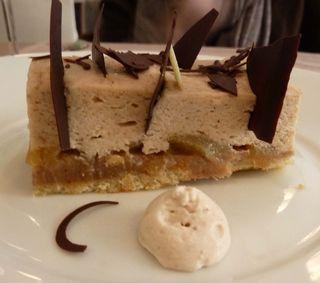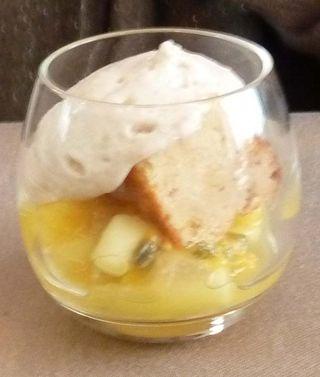 To end we decided to split the house dessert which I thought was divine and the house, by now had probably figured out who my famous guest was and gave her a Macedonia/fruit salad/etc.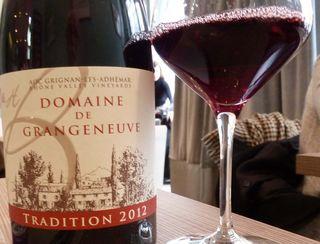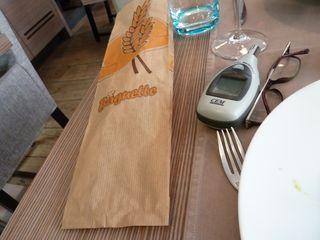 Our bill, with a bottle and 2 glasses of red and 2 coffees (which came with the "menu") and quite nice bread in a wrapper sitting besides the tools of the trade - pen, paper and a decibel meter (80.0 dB) was 93.00 E.
Go?  My most loyal readers will trek out her to the Batignolles but I suspect the average lurker will not - a pity.  With L'Envie, Coretta and Atao, even if we didn't get the Olympics last time because of Perfidious Albion, we might in 2024 if JC Killy is successful, and the Batignolles will be a great dining opportunity for the visitors, bless them.