Kya Khoya Kya Paya Jag Mein - Tribute to Atal Bihari Vajpayee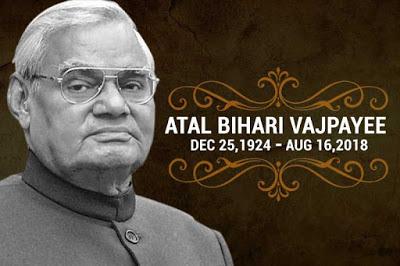 Atal Bihari Vajpayee
passed away today (16th August 2018) after prolonged illness in Delhi's
AIIMS
hospital. He didn't marry in his life so has no children but has an adopted daughter. He was not in the active politics since the time he was defeated in 2004 elections after serving as Prime Minister of India. Interestingly he served  as the Prime Minister of India thrice, first for a term of 13 days in 1996, second for a period of eleven months from 1998 to 1999, and then for a full term from 1999 to 2004 by leading an alliance
NDA
(National Democratic Alliance) which is group of almost 36 parties. He was also a famous poet penned poems like
Kya Khoya Kya Paya Jag Mein, Kadam Milakar Chalna Hoga, Khoon Kyun Safed Ho Gaya, etc. 
He became Prime Minister at a time when my interest in politics was increasing. I always used to admire his oratory skills and enjoy his speeches laden with metaphors, poetry and unique examples. It was during his Prime Ministerial ship that I got chance to visit PM house with school group during his birthday celebration. There he was friendly with the crowd and tried to meet as many people as possible. An idea of River Linking Project came up during his tenure was one of my favorite but it didn't take shape till now. He retired from active politics after defeat in 2004 general elections making
L.K.Advani
his successor. He was conferred with highest civilian award
Bharat Ratna
by
Narendra Modi
government. 
He was credited for
Pokhran 2
nuclear tests which was criticized by many nations in international circuit. He started Bus service from Delhi to Lahore and initiated dialogues with Pakistan after signing Lahore Summit agreement which was benchmark for peace process between Indian and Pakistan. He was disliked by his own party
BJP
and
RSS
for such actions but continue to face tough questions. His tenure also saw
Kargil War
and then
2001 attack on Parliament.
Both act as setback for his peace initiatives. Agra talks were also failed with Pakistan which further derailed peace process.
Indian Airlines flight IC 814
was hijacked when he was the PM for which he was forced to release terrorists under India's control to release the passengers. 
His political career marked with controversies like 2002 Gujarat riots for which he even criticized role of then Gujarat CM
Narendra Modi
. His slogan of India Shining flopped badly when they lost 2004 elections. His role in the mysterious death of
Deen Dayal Upadhyaya
was also questioned by the people at that time. He was among the founding members of
Bhartiya Janata Party (BJP)
after having connections with
Jana Sangh
and
RSS
. 
His government started free market policy, national highway project and
Sarva Siksha Abhiyaan
. He was the man who first delivered speech in Hindi in United Nations when he was External Affair Minister in
Morarji Desai
government. However he was among the accused perpetrators of
Babri Masjid
demolition his term as a PM washed away many such allegations on him as he was liked by Muslims also. Today in his death nation has lost a great orator, a loved statesman and a person who is respected across all party lines. Rest in Peace Sir you will always remain in our memories.