I was surprised I hadn't heard of Kvarken since I love UNESCO World Heritage Sites, especially natural ones, but then again, I find that some of my favorte places on earth are ones that I haven't heard of.
Located along the west coast of Finland near the city of Vaasa, the Kvarken Archipelago, together with the High Coast of Sweden forms a transboundary site.  It is one of only 46 marine World Heritage Sites!
Not only that, but it's also one of the best places in the world to witness land uplift! The land is rising so fast, that you'll be able to walk to Sweden….well in 2000 years that is!
Before visiting the Kvarken Archipelago, the best place to start is the Terranova Nature Centre located in nearby Vaasa, where you will get further geological information about the area and see which animals and birds you might be able to see on your visit. Here, I learned that unlike in Oulu where I had visited a reindeer farm, there weren't any here – it's too far south! Sorry Rudolph – catch you next time!
Once you've done that, cross the Replot Bridge, the longest bridge in Finland that joins the archipelago to the mainland: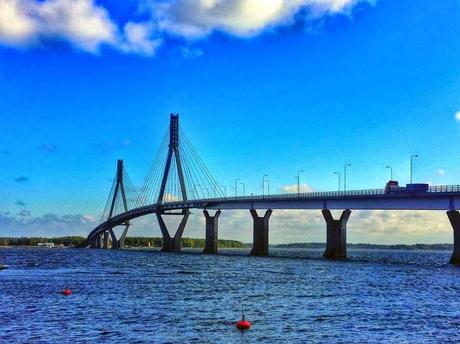 The Replot Bridge, the longest bridge in Finland, at just over 1km long. Located near Vaasa it joins the archipelago to the mainland.
From there, start your visit is from Björköby, a harbour where boat rides to the other islands start.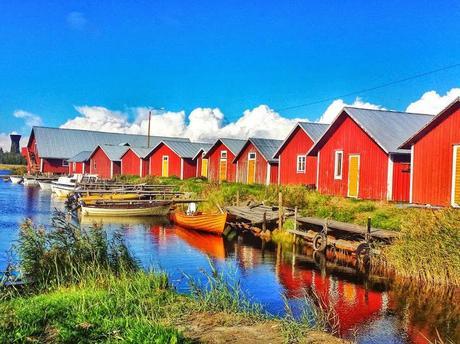 The harbour in Björköby is a great way to access the archipelago.
There's also a viewing tower which is worth climbing which gives you a great overview of part of the area.  Birders will be interested in an annual bird counting event that takes place here in May every year.  The record is 70 different species of birds spotted in one day!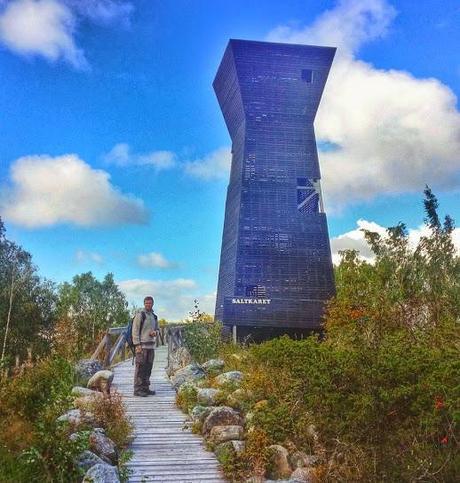 The lookout tower at Björköby, is ideal for birdwatching.
It's also possible to hike and ride bikes from Björköby.  Bike rentals are only €5 for the entire day! While these are good options, if you want to really explore the area's 5600 islands, you need to do it by boat.
I was in a group so we did it by private boat, but during the summer months, which is worth noting is from mid-June to mid-August – not until the end of August, boat cruises go out three times a week and last for ~ 5 hours, costing €55/adult. It's recommended to make reservations in advance. And don't worry if you feel a BUMP – your boat driver didn't hit a rock in the shallow waters – he hit a huge pike :).  Also for a special treat, ask your boat driver to do the "Kvarken Slalom" – I don't want to give it away, but I'll just say Hang on!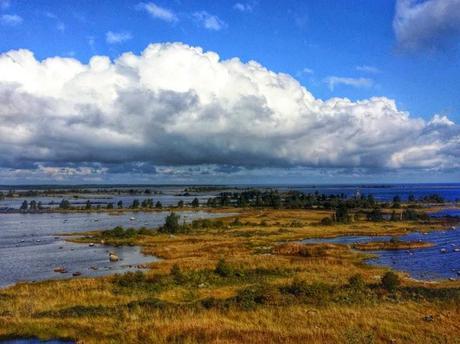 The view from the observation tour at Björköby. Can you see Sweden? :)
Even better, would be to explore the area by kayak, which would be ideal for bird watching.  If you want to go really local, Samuli Kaivonen from the Kvarken World Heritage Site recommends fishing from your kayak! Fortunately fishing licenses are easily obtained and can be purchased at any R-Kiosk if this is something you're interested in doing.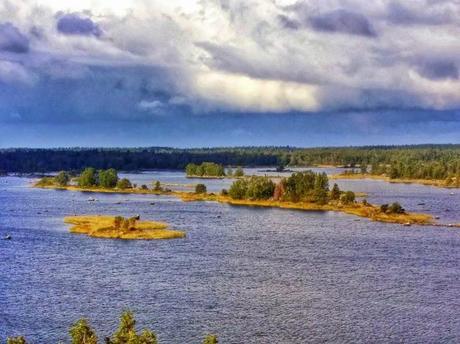 Just a few of Kvarken's 5600 islands!
The Kvarken Archipelago is not surprisingly a protected area, but there are selected islands where you can find cabins, which are popular with Finns.  We stopped at a private cabin, although there are plenty of places tourists can stop (see this map of Kvarken).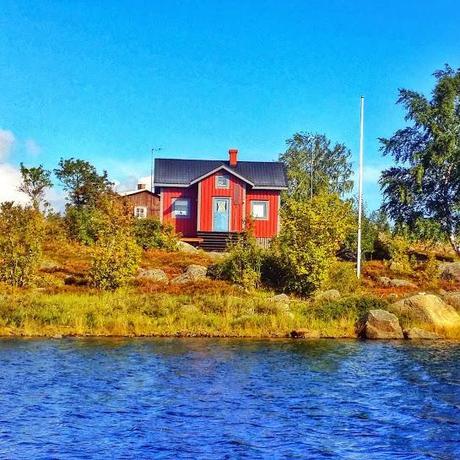 Most Finns have a cabin that they use regularly and some of them even stay all summer!
I sipped my tea, munched on yummy Finnish cheese and felt relaxation sweep throughout my body within a few minutes.  It's so quiet and peaceful that I can understand why Finns love their cabins so much. Some people even spend the entire summer out there! If you had a view like this, would you want to leave?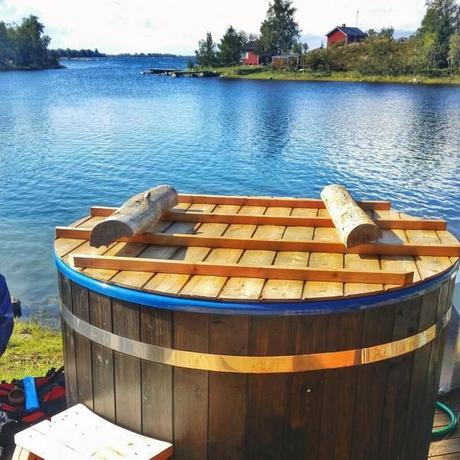 Me neither! But reluctantly I did albeit it I was the last one on the boat!
Know Before You Go to Kvarken Archipelago:
Sightseeing:
Check out Vaasa, a nearby  seaside city known for its sun and 7 beaches within 3km!  It's worth renting a bike and checking them out: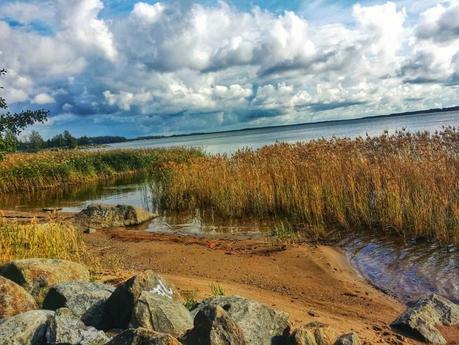 One of the seven beaches found in Vaasa.
I've also got more ideas along the west-coast of Finland as I hinted at in a recent post.  Check back for further info.
Where to Stay:
I enjoyed my stay in the original Sokos Hotel Vaasa Vaakuna.  It's very centrally located.
Getting to Kvarken Archipelago:
You could either drive from Helsinki to Vaasa, it's just over 400km, or fly as I did.  While you don't need a car within Vaasa, it's definitely worth renting a car to get between Vaasa and Björköby and some of the other places you'll likely want to explore.
How Long to Stay:
It really depends on what activities you want to do and how long you want to spend doing them, but I would recommend at least one day of kayaking and bird watching/fishing, but you could easily spend days kayaking, immersing  yourself in nature and exploring the 1944km² area.  You might also want an additional day to explore the area on foot or by bike.
What to Wear:
Protective and waterproof clothing.  While the area is known for its sunshine, it can get windy.
Further Info:
Check the official Kvarken Archipelago site for specific tours, accommodation and suggestions.
Note:  My visit was made possible by Outdoors Finland.  As always all opinions expressed are my own. 
&locale;&layout;&action;&width;&height;&colorscheme;