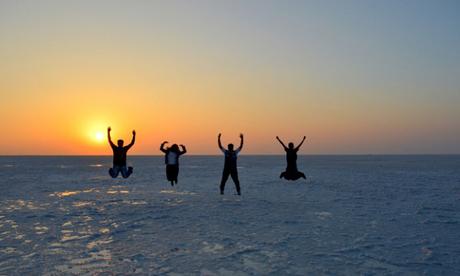 Rann of Kutch
The largest Gujarati district, Kutch is like no other region of India and mostly a desert area. The emptiness in the landscape is made up by the rich myriad of tribal communities- each proud of its individual language and lifestyle yet forming an intriguing and flourishing tribal collage unique to this region of India.
History of Kutch
Just like the present day Kutch's tapestry of cultures, the past of this tribal district is dotted with reigns under various dynasties, kingdoms and foreign settlers. These deserted places have revealed traces of the earliest Indus Valley Civilization, with the eastern tributary of the Indus River leading to the present day lake Rann. There are records of Mauryan empire wanting seize this district from the Greeks. The other reigning kingdoms include Sahiras of Sindu and much later the Samma Rajputs,
Tourism in Kutch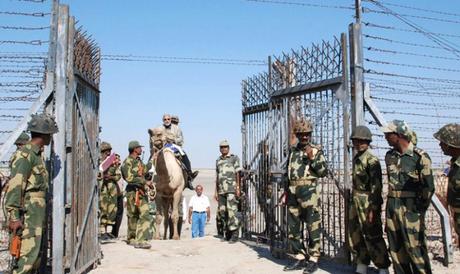 Narendra Modi with Jawans at border areas of Kutch
Tours in Kutch are usually in time for a tribal celebration as festivals are held almost every month. From the Jat Muslim festival, Mai Bhambi in the Mai village in February, to the Ahir festival, Habaimata in the Habai village in October, visitors can enjoy the insight to these vibrant tribes and cultures. Kutch is famous for the indigenous handicraft and their amazingly decorated mud walls are mini art galleries lining the village streets.
Historic Sites
The administrative city Bhujis Tourism spot with historical significance. A fortress city during the reign the Indian kingdoms and seized by the British in 1819. The three royal palaces constructed by Rao Pragmalji, have marvelous architecture such as the Aaina Mahal known to be a most exquisite monument with its artistic qualities that shows European influence. The Kutch Museum was previously called Fergusson Museum, constructed in 1877 by Maharao Khengarji III. Built in Italian style and standing tall along the Hamirsar Lake's banks, it is home to treasure chest of collection of the Kshatrapa inscriptions, varying archaeological artifacts and specimens of the traditional rich crafts of the Kutch district.
To step back into the times of Indus valley civilization, the ancient town of Dholavira the perfect travel destination to tour the excavation sites of the great Harappan ruins.
Beach Tours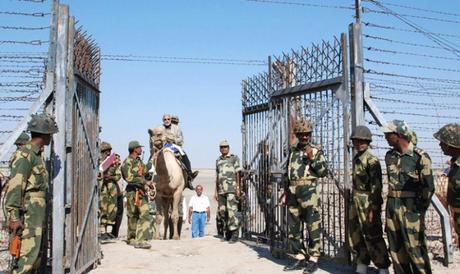 Narendra Modi with Jawans at border areas of Kutch
Scenic Kutch Mandvi beach is ideal for swimming with the backdrop of beautiful sunsets and long peaceful walks in the soft white sand. There are wind mills nearby, camel and horse rides, and shopping galore in this historic town. Ahmedpur Mandvi Beach is a magnet for water sports lovers as there are a variety of aquatic sports such as water scooting, parasailing, surfing and speed boat trips to give the adrenalin seekers a thumping good time With exciting tours for fans of history, culture and water sports, the travel itinerary for Kutch has something for any adventure seeking traveler.
Facts:
Area (square kilometers) -2873.5 Sq. km.
Population -1,526,321.
Elevation -300m.
Geographical Location (coordinates)-23.13°-24.68°N and 68.10°-71.80°E.
Climate-Tropical.
Primary Rainy season-July to September.
Temperatures -From 20 C in winter to 45 C in summer.
Languages-Gujarati, Hindi, and local dialects- Kutchi and Sindhi.
Best Season-Late October to early April.
Places to visit- Bhuj, Prag Mahal, Cenotaphs of Kutch rulers, Snake Temple at Bhujiyo Hill Fort, Swami Narayan Temple, Dholavira, Ahmedpur Mandvi Beach, Kutch Mandvi Beach, Wild Ass Sanctuary.
Advertisements