INTERVIEWS
101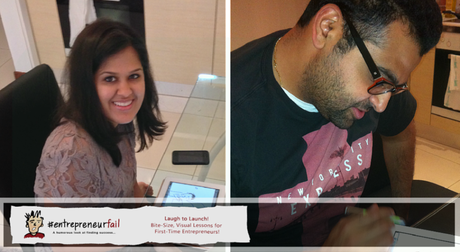 0 Flares
Twitter
0
">
Facebook
0
Google+
0
">
LinkedIn
0
">
Pin It Share
0
">
Buffer
0
Buffer">
Reddit
0
">
Email
--
Email to a friend">
0 Flares
×
Meet Kriti Vichare the co-creator and founder of #entrepreneurfail, an everyday comic sharing visual startup lessons for first time entrepreneurs.  While you might not recognize Kriti, I am certain you've seen her work – which has been featured on Forbes, Alley Watch and Tech Cocktail.
We absolutely love #entrepreneurfail comics; it's been one of the most engaging posts on our Instagram page (@BillionSuccess) but today, we are honored to learn more about her and the creative process behind #entrepreneurfail.
Q:
Please tell us a little bit about your company – what is #entrepreneurfail all about?
My husband and I started #entrepreneurfail when I was a new entrepreneur in 2012. I made tons of mistakes and started doodling them for others to learn from my misadventures. Laughter, along with the fact others have faced the same challenges, has helped me keep persevering.
Fast forward to the present, the comics have been seen in numerous publications, and we have published a book about the hilarious differences between the corporate or startup world. The book is available on Amazon or as a PDF.
Q:
Please tell us a little bit about your background what did you do before starting #entrepreneurfail?
I was working in the corporate world in marketing and brand management at companies like Pepsi and Kraft Foods before I took the leap to work on my own venture providing innovation consulting to small and medium size businesses.  Although I have no formal art training I had always loved doodling and drawing my experiences as an entrepreneur started the #entrepreneurfail journey.
Q:
What are some of the projects you are working on right now?
All projects I work on are related to innovation and entrepreneurship.
For #entrepreneurfail, I'm working on a new book and partnerships.
Additionally I provide innovation consulting for my husband's company, QuickNexus, a company in the enterprise software space.
Finally, in my day job, I'm leading long-term innovation at USPS.
Q:
What are your plans for the future, how do you plan to grow this company?
#entrepreneurfail is a platform I use to highlight the humors of entrepreneurship.  The vision is to help first-time entrepreneurs make the transition into startup life seamlessly. The goal is for every new entrepreneur to read the comics, laugh and successfully launch using the guidance they found from the content.
In the future I will be creating a series of resources, workshops and merchandise to continue to share the message.
Q:
How do you bring ideas to life, please share the creation process?
Most of the ideas originate from things I've experienced, or my husband has experienced in our entrepreneurial journeys.
I first roughly sketch ideas with pencil in a graph paper notebook.
The best ideas are refined by changing the imagery or wordsmith-ing the message.
Finally I use the Brushes app and my Bamboo stylus to draw and color the comic.  It often takes multiple iterations at this stage.
When it's complete, I publish on www.entrepreneurfail.com and share with my readers, and key publications.
Q:
What were the top 3 mistakes you made as an entrepreneur?
Building without testing with customers, and thinking the revenue would just come in!
Assuming marketing just worked the same as in the corporate world!
Thinking that I would actually be my own "boss"!
Q:
What would you say are the top 3 skills needed to be a successful entrepreneur – and why?
Laser-sharp focus since every potential good opportunity can be a distraction.
Being comfortable with being uncomfortable because this is the only way progress is made.
Ability to listen to customers since they make decisions about your future.
Q:
What are the top 3 tools and resources you're currently using to grow your company?
Odesk – great to get on tasks at reasonable prices
Meetup – great to find others who share your vision, and get the word out
Gumroad – great platform to sell stuff since it is so easy to use
Q:
Can you recommend books for entrepreneurs to read?
Q:
Which of the comics you created would you say resonate with you more?
A Day in the Life of
This is the comic that sums up the difference I feel when I think of the corporate world and the startup world.  It is also the comic that inspired the cover of our book!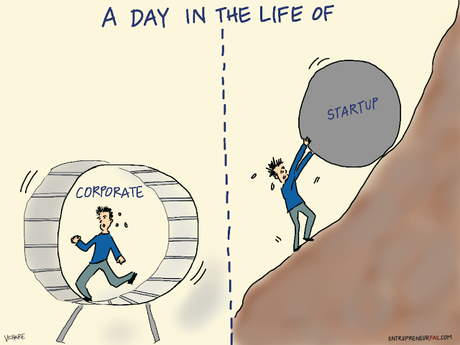 Race to the Bottom
This comic signifies how I felt as I realized there is no such thing as being your own boss.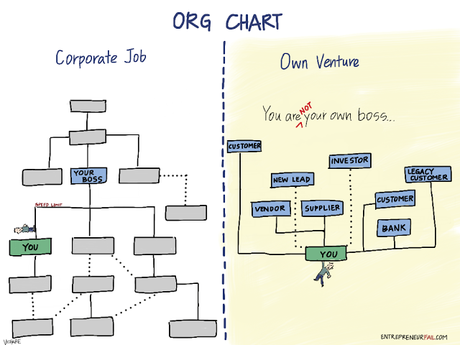 First Paycheck
This comic really illustrates the mindset of an entrepreneur and getting paid. The amount of money doesn't really matter – it is more important that you did something important to get that first sale.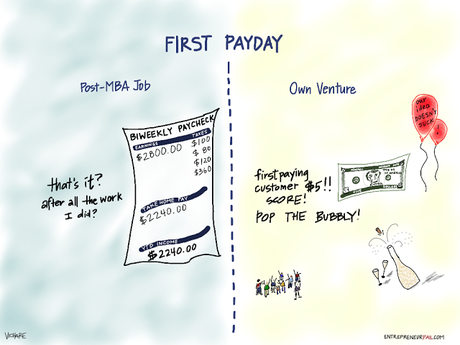 Q:
What is your favorite entrepreneurship quote?
"Those who fail to plan, plan to fail!"
Q:
Where can people find your comics, and how can they reach you?
Check out my comics on www.entrepreneurfail.comand on social media. You can always reach me at:
Email: [email protected]
Twitter: @kritter
Your readers can get 50% off on the PDF by using the code: fifty
Q:
Where can I find more startup humor?
I've collected my favorite examples of startup humor from around the web in this ebook
0 Flares
Twitter
0
">
Facebook
0
Google+
0
">
LinkedIn
0
">
Pin It Share
0
Buffer">
Reddit
0
">
Email
--
Email to a friend">
0 Flares
×