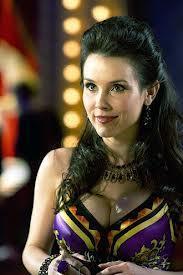 Kristina Anapau originally signed up to HBO's True Blood in a small role; that of Maurella the fairy. Over the seasons, this role has grown – along with her girth after falling pregnant to Andy Bellefluer (played by Chris Bauer) – into a more substantial role.
Recently Gossip On This got the chance to speak to Kristina Anapau about her True Blood role and what is in store for Maurella in Season 6. While she is very tight-lipped about any new story lines, she did have this to say about the abundance of strong female roles (such as that of Maurella) on True Blood:
Alan Ball is incredible at shaping strong female characters, but does so in a way that people can still relate to them.  It is truly a privilege to embody one of his creations. Mauella is quite multifaceted and exudes so much regality amidst her sensuality.  It's a pleasure to help bring her to life.
Anapau is also known for her movie roles, having starred in Darren Aronofsky's Black Swan, a role she got, in part, thanks to her ballet background. Besides that movie, we will be able to see Kristina in the upcoming Sightings and Black Jacks.
You can view the Gossip On This interview in is entirety here.
Do you think Maurella will be back to check up on Andy and their children in Season 6? Let me know in the comments below.
Source: GossipOnThis.com- "True Blood" Star Kristina Anapau Talks Season 6, Her New Movies, Women on TV, and More
(Photo Credit: HBO Inc.)