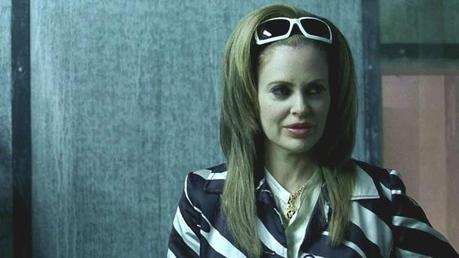 Fans of HBO's True Blood are no doubt familiar with Kristin Bauer van Straten, who plays Eric's second in command Pam on the hit show, but what you might not know was that she actually wanted to be an artist.  Acting started out as a way for her to pay the bills but quickly turned into her passion.  Kristin talked with SFX recently about how she got into acting, life on the set of True Blood and Pam's fabulous wardrobe.
HER ROAD TO ACTING
Kristin reveals that she is the youngest of three kids and while her older siblings pursued a traditional Ivy League education, she chose a less traditional route.  She took her love of drawing and dislike of math, science and history, and she decided to pursue art.  Her high school only offered musical theater and Kristin jokes that no one wants to see her sing and dance since she was more the jock type.  She attended a summer program at Parsons in New York for graphic design in between her junior and senior year.  Her next stop was Washington University in St. Louis where she studied Fine Art.  She only lasted one year there because she refused to attend her non-art compulsory classes so she got F's in them all.  She then tried a modern arts school in Boston but that too didn't last long so it was into the working world for Kristin.  She was in a waitress in a comedy club, washed windows and worked as a nanny. 
Ultimately Kristin moved to Los Angeles still in pursuit of her dream of being an artist, because she wanted to be in a warm climate, with friendly people where she could afford a car.  She tried her hand at modelling which she didn't like, but through that she became a make-up artist.  While she was doing make-up she was asked to be in a B movie that was never released but paid more than her other jobs were paying.  Kristin had a few tough years getting herself established in Hollywood and found herself thinking that she didn't want to do this anymore.  She advises anyone who is seriously thinking about acting to think long and hard because it is not all the fancy parties, red carpets and hugely popular shows. 
TRUE BLOOD
After working hard Kristin landed the role of vampire Pam on True Blood.  No one could have foreseen what a huge hit the show would be.  There are some pretty dramatic scenes on the show but according to Kristin those intense scenes can actually be really funny to film.  For instance, during Season 1 when Longshadow is staked in Fangtasia and "explodes" all over Sookie, poor Anna Paquin had to be sprayed with a hose full of blood for minutes at a time, and they wanted her to keep her eyes open for it.  She also told us about a scene she filmed in the graveyard where she was supposed to be a big bad invincible vampire and her heels were sinking  into the earth and her fangs were causing her to lisp.  She gives a lot of credit to the special effects guys saying that they are a big part of why the scenes end up looking so great. 
We all know that Pam comes out with some of the best one liners on the show and Kristin loves that she not only gets those lines, but that she gets to look so fabulous while saying them!  When she first gets a script Kristin says she flips through it and looks for the scenes she is in, and then she starts thinking about how she's going to play it.  Finally Kristin says that there is an incredible camaraderie on the True Blood set and she says that starts at the top with Alan Ball.  Read Kristin's complete interview with SFX here.
Source:  Sfx.co.uk – True Blood Interview – Kristin Bauer
Photo Credit:  HBO, Inc.