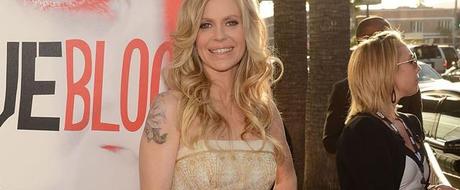 True Blood's fourth season allowed actress Kristin Bauer van Straten who plays fan favorite Pamela Sywnford de Beaufort to step into a storyline of her own. But it also came with its own set of unique challenges. Not only was the character faced with an entire season without her maker Eric (Alexander Skarsgård) but also with having her body rot. Entertainment Tonight recently spoke with Kristin about the challenges associated with season four and a little bit of what to expect in season 5.
So what was it like for Kristin to watch season 4 after shooting it?
"It's a really biased memory for me because everything is based in memory of getting the script, picturing the scene and then performing it. So what happens is when I finally watch the show seven months later, I'm looking to see if it looks like what I pictured in my head and if I did what I wanted to do. And I feel like I did last year. I had such a, no pun intended, meaty storyline [laughs] — also, to have Eric losing his memory and choosing Sookie over Pam gave me a lot to do, which is always fun."
Eric's memory loss was a storyline cast members and fans alike had waited to see for a long time. Kristin told ET's Jarett Wiselman that the story was made even better by the fact that they added Pam rotting to the equasion. But she did admit that she was sorry not to see her 6'4 Swedish co-star have to wear pink spandex as he had to in the books not to mention watch him act all sweet and cute. The initial disappointment quickly dissipated when Pam's storyline came into place, something that was much better than anything she had anticipated.
But Kristin's storyline required many hours in the make-up chair, an average of 5 hours every time. The famous face pulling scene however took a grueling  8 hours to do on the night it was shot after a 9 hour test day. There were three stages requiring each one to be done and shot before moving onto the next. The experience  caused Kristin to form a bond with her makeup team fairly quickly and while the process didn't let her do anything to pass the time, being in the makeup trailer has its amusements:
"…. I have some photos that hopefully will never see the light of day, but there were two girls all over an almost naked Alex, trying to quickly make him look not-tan and rubbing this makeup over every inch of his body. They were so diligent and so focused on their job, they were totally unaware of what they were doing. I had to take a picture of it. So, yes, we get very intimate very quickly."
At first Bauer van Straten thought her tough as nails character would lose it after losing her maker and her face. Instead, she found Pam to be a fighter, someone who would keep going to the end. This really helped to inform her as an actor and while Pam was crying last time we saw her, those different sides of the spectrum while challenging were things she really liked to play.
Season 5 holds even more great moments for Kristin to play, learning how Eric made Pam being one of them which she says was fun for her:
 "The backstory stuff is pretty fun for me. Alex and I have been asking for years to learn more about Eric and Pam's history – I'd been making up ideas in my head, Alex had been making ideas up in his head and the writers came up with a third idea — but between the three of us, we came up with something that is the most brilliant, efficient way to show Pam's humanity, what she dealt with, why Pam could be the most unapologetic vampire and why Eric is her one person. Everything is taken to a new level this year."
What do you think about these super secret cell phone pictures and Pam's backstory? Tell me in the comments below!
Source: ET Online.com- "'True Blood' Star: Pam is a Fighter!"
Image Credit: Jason Merritt, Getty Images