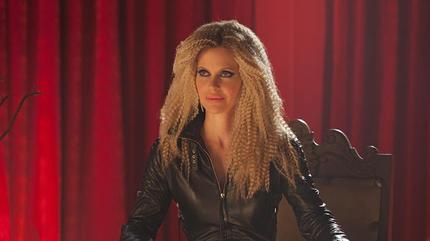 As Pam on HBO's True Blood, Kristin Bauer van Straten not only gets some of the best one-liners on the show, but she also gets the best wardrobe.  Elle caught up with van Straten at the launch of Forsaken last week in New York and they talked about that crimped hair Pam sported during Episode 7, Kristin's style vs. Pam's style, and what its like playing such a bad ass character.
Jumping right in, Elle asks van Straten about the crimped hair we saw during Episode 7.  She replies that Audrey Fisher, the costume designer, had put Pam in a black leather Roberto Cavalli vintage dress for the scene, and they were wondering what to do with Pam's hair.  They Googled Roberto Cavalli, saw a picture with the crimped hair and they were sold.  The hair styling department however was not as optimistic.  After warning van Straten that it would take a long time to do she insisted on going with that look and an hour and a half later, the outcome was worth it!
Pam sports a variety of outfits ranging from yellow tracksuits to hot leather bustiers and when asked which of the outfits she gets to wear is her favorite, van Straten says it was a red leather dress that they got off Ebay that was from 1992.  So does Kristin share the same style sense that Pam does?  Not likely - van Straten says that she goes for comfort:
Well, Pam has a lot of time on her hands. She's immortal, and she doesn't have to worry about money, so she spends most of her day thinking about what she's going to wear. She dresses for every occasion. Even last year when her face was rotting, she wore lashes and lipstick. I, personally, like to get dressed and then do my makeup and hair in about five minutes. Lately, I've been throwing on Lululemon—it's so comfortable!—my comfy sneakers, no makeup, my hair in a ponytail, and I'm good to go.
Remember last season when Pam's face was rotting off for half the season?  van Straten says that it took 5 hours and three men to perfect that look.  After enduring that she then had to get up from the chair and do her scenes!
There is no question that Pam is one badassed woman.  When asked how she gets into character for that, van Straten says its actually quite easy:
Um, it's astonishingly easy for some reason! It's really fun to channel your inner bitch. You know we all have one but in life, but you'd lose your friends if you said what you were really thinking. So, it's really freeing to just get to read the lines and think, "What would be the harshest, most caustic way I could deliver that?" and do it!
This season we got to see some of Pam's back-story and how she was made, and the writers decided to make Pam a madame before her vampire days.  When asked what she thought of that, van Straten says that she thought it was actually quite perfect and beautifully written.  She goes on to say:
It just encapsulated everything we know about Pam, how ballsy she is, how committed to being a vampire she is, and how she really didn't want humanity anymore. It really didn't serve her, and it fit with a woman living in 1905, which was such a vulnerable time.
The scene where Eric (Alexander Skarsgard) released Pam was one of the more emotional scenes we have had on the show, and recently we have been seeing a softer side of Pam when it comes to dealing with Tara (Rutina Wesley), her newly made vampire.  When asked if we will continue to see that softer, gentler Pam, van Straten says we will see a slightly maternal side with Tara but that it will be minimal.  And what of a possible love connection between the two?  van Straten insists she doesn't know if the writers will go in that direction but she's wondering the same thing we all are:
I'm wondering with everybody else because I think, "Well, Pam is gay; Tara is gay…" Last year people were asking about it. But I don't know.
Source: Elle.com - Kristin Bauer van Straten Talks Vampires, Fashion and Beauty
Photo Credit: Getty Images